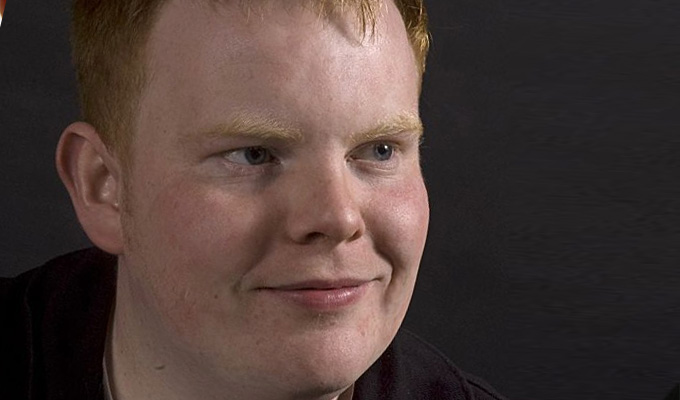 James Allenby-Kirk
Winner of So You Think You're Funny 2010.
Read More
Josie Long shoots her first feature film
Josie Long is making her first feature film, a 'twee romantic comedy' that turns into a dystopian, police state thriller.
The comic is currently shooting the as-yet-untitled movie in Glasgow with a cast that includes comedians Janey Godley, Sanjeev Kohli, Matt Winning, James Kirk and Chris Forbes from BBC Scotland sitcom Scot Squad, plus Harry Potter star Sean Biggerstaff.
The story focuses on former flatmates Josie and Darren, played by Long and Darren Osborne, the same characters that featured in the comic's Radio 4 series Romance and Adventure, as well as the short film of the same name and its predecessor, Let's Go Swimming.
Long says the low-budget production is inspired by the refugee crisis, Glasgow's Red Clydeside labour movement, the 'unsettling' science-fiction of novelist Margaret Atwood and the 1982 American film Missing, which starred Jack Lemmon and Sissy Spacek as the father and wife of a writer kidnapped in Chile's 1973 military coup,
It is being written and shot in two parts, with a second shoot scheduled for the Scottish islands Mallaig and Eigg from October.
Long told Chortle that her character, a Clydebank librarian, is 'this hapless woman who's trying to settle down and find love. But in the background, there are these slightly unusual political goings on, like something's brewing in the background but you can't quite put your finger on it.
'The conceit is that over the summer that you don't see, there's political unrest in the country and the army moves in – they declare a state of emergency that they call The Crisis as a way to take away civil liberties. Then it's about the characters from this mumblecore film trying to keep their self-involved, sweet little life, despite the fact that their whole world is falling apart.'
Explicitly political, the film 'is about how quite a few people in the United Kingdom feel ensconced from something like the refugee crisis, behaving in a very ungenerous or insular way about other people's struggles and attempts to flee difficult situations' she explains.
'There's a feeling that difficult situations would never come here. So we've written about what happens to people who are quite wrapped up in their own little bubble when something really difficult happens to them.'
Biggerstaff plays Long's boyfriend and Godley is her boss. Kirk is a friend of Josie and Darren's who plays on the same five-a-side football team as him with Kohli and Forbes, while Winning appears as a mortgage advisor.
The soundtrack is by Scottish folk musician The Pictish Trail, aka Johnny Lynch, and the film is directed by Douglas King, who also shot the shorts, for his 14c Studio production company.
Long describes Josie and Darren as 'ciphers' for her and Clydebank-born King's personalities and clarifies that they are 'in the same universe' as their Radio 4 and short film counterparts.
'It's almost as if a couple more years have gone on since they were living together' she explains. 'Josie's a little bolder and their relationship is still very strong, they're still really good friends.
'But Darren is desperate for an adventure. His girlfriend has left him and he feels a bit like he just wants to leave everything and run away, while Josie just wants to settle down but is looking in the wrong places.
Long, who co-hosts the Bookshambles podcast with Robin Ince, added: 'Me getting to be a librarian in Glasgow is kind of my dream job. And I've got a pretend boyfriend which was a real thrill, though filming it was awkward beyond belief because I can't really cope with pretending to have a romance with somebody.'
She acknowledges that making a film in two parts is an 'unusual, experimental way that may prove disastrous' 'but 'the second half is plotted completely. We're being a little bit flexible because we want to react to the actors and footage that we've got'.
Long had planned to shoot another feature, inspired by Ivor Cutler's poetry with the tentative title Glasgow Dreams last year, but funding fell through at the last moment. This film has been self-financed so far but fundraising to finish it will begin from the end of this week.
A cinematic release is planned for early next year, with a 'live' UK tour and Q&As similar to the ones she and King conducted for the shorts, featuring some of the performers in the film.
Long says she plans to make a new film every year from now on
She is appearing at this year's Edinburgh Fringe with a work-in-progress stand-up hour and with the Private Eye journalist Martin Williams in the campaigning show Investigations.
And she also revealed that she is writing a theatre show about love with Jonny & The Baptists singer Jonny Donahoe, and wants to adapt the Romance and Adventure Radio 4 series for television.
Here's the Romance and Adventure short:
And Let's Go Swimming:
-by Jay Richardson
Read More
Published: 23 May 2016
Agent
We do not currently hold contact details for James Allenby-Kirk's agent. If you are a comic or agent wanting your details to appear on Chortle, click here.