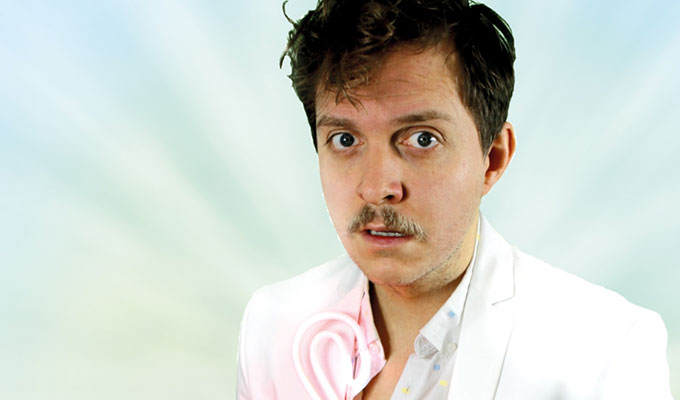 Joey Page
Began stand-up in about 2005
Read More
Joey Page: Reality is Outside, Paradise is In Your Brain
Note: This review is from 2013
Noel Fielding recently described Joey Page as a man with a 'head like a fantasy hand grenade', a description that's as bonkers as it is accurate. One thing's for sure, he certainly is explosive: happily peppering the audience with inventive comedy shrapnel as he paces back and forth on the tiny stage. In fact he's so full-on that some of the audience members are visibly taken aback… although that might also be down to the fact he's wearing a retina-scarring suit that looks like a TV test card.
Joey spends the first part of the show asking people a series of questions and using their answers to weave speedy, imagined anecdotes about their lives. It's a bit like watching a version of 8 Mile played out with absurdity instead of rap.
Joey is a clown in the most traditional sense: happy, baffling, playful and creative. His absurdist comedy is clearly inspired by the work of classic kings of whimsy Vic Reeves and- to a lesser extent- Eddie Izzard. It's also important to note that he bills himself as the world's first unobservational comedian, since he's uninterested in telling the truth.
These unobservations aren't just wacky nonsense, they're actually a clever subversion of traditional observational comedy. He talks (variously) about his attempts to avoid charity muggers and a time he was harassed by two lads on the bus, but uses imagined elements to lift the stories out of the realm of typical day-to-day 'don't you just hate it when...' style comedy, transforming them into something silly and moderately magical.
He breaks up these anecdotes with a few fun set pieces that give him- and the audience - time to get their breath back. The first is a 'PowerPoint' presentation (delivered through a cardboard square attached to a washing line) where he shows us pictures of the audience he drew earlier. The second is a Sky News segment that acts as a nice callback to an earlier, cheerfully ludicrous invented story about Eric Cantona.
A finale that includes an on-stage competition to win a Caramac and an unexpected visit from a celebrity guest (!) rounds the unconventional show off nicely. Unlike the noble Caramac, Joey's material might not be quite to everyone's taste, but fans of the surreal and ridiculous will love it.
Read More
Published: 8 Aug 2013
There's no escaping it. Joey Page is very Noel Fielding.…
1/06/2009
Past Shows
Agent
We do not currently hold contact details for Joey Page's agent. If you are a comic or agent wanting your details to appear on Chortle, click here.