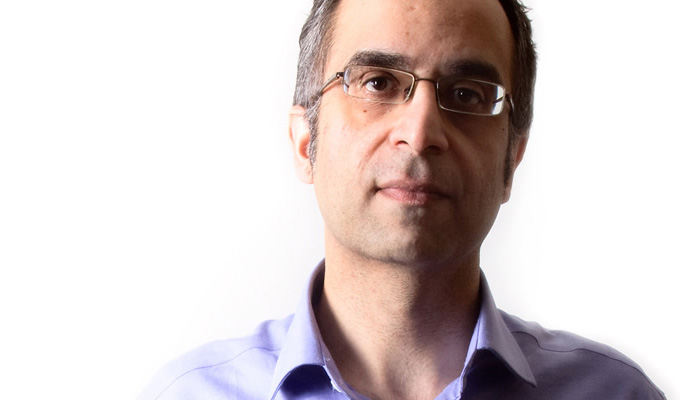 Inder Manocha
Inder Manocha: Unpronounceable
Note: This review is from 2006
Review
Inder Manocha is fine stand-up comedian but with this Edinburgh debut solo show he just didn't do himself justice. It's a real shame because people wouldn't know from this how clever, funny and subtle he can be.
Far too much time was spent on working the audience and getting into them, maybe 20 minutes or more across the whole show. He's not a natural compere and the theatre crowd on this night mainly didn't know the rules of chatting to the MC, after all it wasn't supposed to be a club gig. He wasted a lot of time with the children, aged 11 to 15 dotted around the audience, did the usual comperey thing of being rude to a man in the audience who has been polite enough to engage and answer questions (will people never learn?) and at times appearing to have a crack at some rather sleazy flirting. It was not his normal gracious demeanour and was uncomfortable to watch. For this show he acquired an arch and declamatory style, which didn't feel like his own voice.
He spent time on the idea that the majority of people mispronounce his name, which was as irritating for us as it must be for him: it's the kind of preoccupation that new acts have when they sound like someone famous or have picked a wacky name, it's far more entertaining in their heads than it ever is once vocalised. Then he had the gall to capitalise on a mishear of an Asian woman's name in the audience and named her Paki, which was a cheap gag even if it was him doing it, which supposedly made it OK.
He didn't want to talk about his ethnicity, he fumed about multiculturalism and political correctness, but it all felt a bit in need of a good director. The true-life anecdotes of his family coming to the UK from India, the characterisation of his uncles or his mother's mix of Gujerati and English could have been sold to us a bit more enthusiastically. The material about Asian children lacking role models having black heroes could be developed.
There was an interesting show here waiting to get out, but I lost the thread early on and I worry that in his head too it was all a bit scattered. There was never a clear aim and method here. He worked like hell on the stage but it was a couple of months ago that he needed help with this. It may have been a rough night with a closed down audience, but I don't think so. Better luck next time.
Julia Chamberlain

Read More
Published: 1 Jan 2006
It's the dilemma facing many comic from an ethnic…
6/01/2005
Past Shows
Edinburgh Fringe 2003