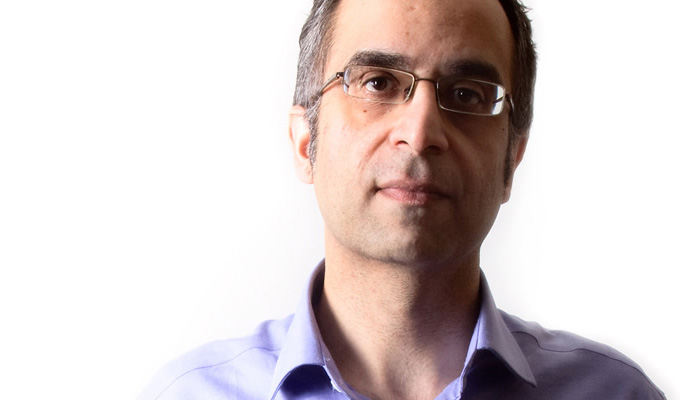 Inder Manocha
Why is 'ethnic comedy' in such a shambles?
I have been asked to take part in an evening of comedy storytelling called Immigrant Diaries at London's Southbank Centre, whose title is self-explanatory. But hang on. Is this yet another bunch of ethnics banging on about their ethnicity in the ethnic-loving capital of the world? Is this going to be more lazy right-wing bashing from smug, middle class liberals?
I feel your pain.
Although a fully paid-up middle class ethnic myself, I feel tempted to return to Bongo-Bongo Land every time I hear another comedian hurling the word 'racist' or 'Nazi' at anyone who questions the value of immigration or occupies a right-of-centre position. Preaching to the converted will get you a big laugh and a knee-jerk round of applause but isn't it time for something a little more nuanced?
Comedy and culture do not always sit easily together. Perhaps, dare I say it, it is because political correctness has in fact gone mad. I have been reliably informed by a fellow comedian that it is never acceptable to do a foreign accent because by definition it is racist. It inevitably involves promoting cheap stereotypes. I was so taken aback by this my turban almost fell off. I sometimes get the impression that comedians live in dread of reviewers who they fear are ready to pounce on the first strains of an ethnic lilt.
I am not convinced there has been a memorable ethnic comedy on television for years. I am hard pressed to recall a minority character on TV who has gone beyond the one-dimensional in the last decade. It might be argued that lack of depth is in the nature of sketch shows and sitcoms. But Alf Garnett, Rigsby, Reginald Perrin, even the simmering subtext between Ted and Ralph in The Fast Show, give the lie to this notion.
I am not suggesting that ethnic characters should be defined predominantly by their ethnicity. But the opposite is hard to understand. My worst fears were confirmed a few years ago when I was asked by a major TV broadcaster to read for a multicultural makeover of a popular 1970s sitcom. The original show itself had dealt skilfully with white-on-black racism and the gullibility of prejudice. The main characters had been transformed from English to Nigerian and Indian. Here was an opportunity to explore these identities, including the dynamics between these two cultural groups, perhaps even to throw a knowing glance back to the characters in the original show.
What I read could have been set anywhere and the words said by anyone. It was browned-up, neutered comedy. It would seem that the overriding concern of much TV comedy is not to upset anyone. Ironically the result is offensive. By not delving thoughtfully into minority culture experiences we are being served up superficial, disinfected, crowd-pleasing, easily re-commissioned cartoons. It's an ethnishambles.
This brings me neatly back to what I want to plug. Having done Immigrant Diaries at the Leicester Comedy Festival this year, I can safely say that it is different because it gives a chance to performers to express the full range of their cultural experiences. These are not stories simply about how racism is wrong and how diversity is lovely. We already know this. There are no caricatures stalking the stage from either the left or the right wing.
These are stories which explore the pride, self-doubt, shame, ambivalence, anger, inner strength and hope that arise from being the target of Islamophobia, anti-Semitism, establishment prejudice, death-threats and surviving to tell the tale. These are stories about being ethnic and preferring to listen to Spandau Ballet while all your white vegetarian friends are going on anti-racism marches.
They are stories about the inter-generational prejudices that exist in immigrant families, about seeing your grandfather as the 'foreigner' and yourself as the 'native'. They are, at the same time, universal stories about relationships, peer pressure, wanting to belong and wanting to be different which happen to be about immigrants. And fundamentally they are funny stories because they expose unexpected feelings, hypocrisies, Confusions and compromising situations. Immigrant Diaries celebrates immigration by humanising the experience, by showing that being an immigrant reveals the worst and best in us and the grey area in-between where we spend a lot of our time.
What better way to prove that we are all equal?
• Immigrant Diaries, part of the Changing Britain Festival, is on at the Southbank Centre on April 24. Click here for more information and ticket details.
Read More
Published: 1 Apr 2015
Some of the hottest comedy shows from the Edinburgh…
1/09/2003
The full line-up has been announced for this year's…
12/01/2003
Black and Asian stand-ups are to be showcased in a…
21/11/2001
Miles Jupp has won the So You Think You're Funny?…
27/08/2001
The finalists in the Channel 4-backed So You Think…
17/08/2001
The aspiring stand-ups who will be competing in the…
14/07/2001
Past Shows
Edinburgh Fringe 2003