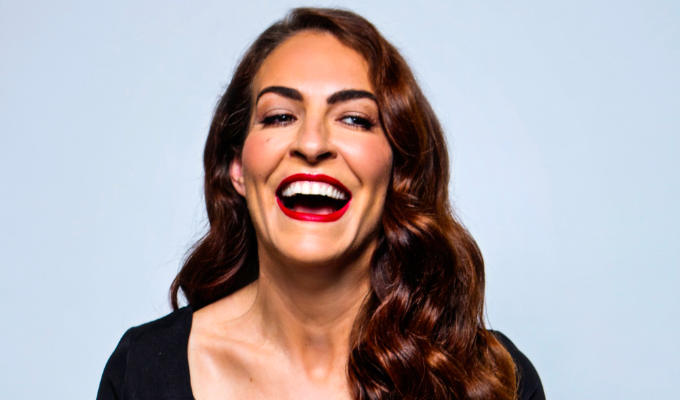 Esther Manito
Esther Manito is an Anglo-Lebanese comedian who was a finalist in So You Think You're Funny 2017
Read More
Anna Mann and others NextUp recording
Stand-up specials come in all shapes and sizes. HBO has half-hours and Netflix has been dabbling in 20-minute shows. Now British comedy-on-demand service NextUp has started making set-length specials, too, starting with this selection recorded last week.
For those at the taping at Rich Mix in East London, it's pretty much a normal gig, with unobtrusive cameras and friendly-but-cynical compere Esther Manito setting up running gags with audience members.
This sits alongside her scripted routines about the downsides of motherhood and the grief she gets for being a British-Lebanese woman in comedy from audiences not as welcoming as tonight's. She's an assured pair of hands with an emphatic delivery that drives home her punchlines – Manito is undoubtedly a comic who knows the value of dramatic repetition – and sets an upbeat mood for the evening.
First act Ryan Dalton makes quite the entrance – 6ft 7in with hair Farrah Fawcett would have been proud of in the 1970s and a bold choice of shirt.
His London-centric set is, however, not so bold, grumbling about clueless tourists on the Tube, announcements on the Tube or slow walkers blocking his path on the Tube. He puts a slightly subversive twist on some of this, but he struggles to elevate common grumbles beyond the merely relatable and into great comedy. He concludes with what I inevitably have to call a shaggy dog story about his alternative job as a pet-walker which again remains more affable than special.
Like Dalton, Amy Gledhill's made much of her hometown in her adorably warm-hearted set, especially the distinctive flattened vowels of native Hull speakers.
Her jokes are strong and her presence joyful. She effortlessly radiates a playful and silly spirit, laughing infectiously at her own gags with a carefree, faux-innocence that conceals the fact she must have hard them a hundred times before.
She's getting noticed on the circuit of half of the stupidly anarchic Delightful Sausage alongside Chris Cantrill - but her lively solo stand-up, busting with good humour, is a delight, too.
While Gledhill beams with happiness, the dour and deadpan Red Richardson could vie with Jack Dee for the title of most downbeat man in comedy. The demeanour fits his routine of disappointed complaints, starting with that most hackneyed of topics: budget air travel. But in his hands, it's a distinctive section, thanks to some creative writing.
Like every comedian with a detached delivery, the unflinchingly severe Richardson stands or falls entirely by the quality of the gags – so a routine about a pathetic trip to the nightclub, which doesn't have the same bite as the Ryanair segment, receives a noticeably cooler reception. His stern, embittered scorn, teetering on the miserable, is unforgiving, but when his inventive gags meet his judgmental attitude, the effect is potent.
The night concluded with Colin Hoult reviving his hour-long show in the guise of gushing thespian Anna Mann, How We Stop The Fascists.
In one sense it's a perfect, timely spoof of super-woke celebrities thinking the world can be saved by the power of their self-importance and terrible worthy-but-naive political theatre.
But mostly it's an excellent vehicle for this adorably exuberant character, finding joy in every audience interaction and with an intriguing back-story of multiple ex-husbands and dubious Spotlight credits that can be dropped knowingly. She has a raging ego, but also an infectious love for humanity.
Hoult also introduces us to some other characters; the Little Englander Farage fan smug and irritating as he bemoans perceived victimisation; Andy Parker, the blokes' bloke untouched by feminism; the passive-aggressive Momentum supporter Cheryl; and confused charity backer Marjorie. While clearly mocking archetypes and boasting obvious character flaws, none of these is a broad grotesque, with Hoult's subtlety of performance keeping them all credible.
Hoult occasionally lets the mask slip to slyly acknowledge the pretence of all this, but knows it's Mann's show: a larger-than-life but believable character, shining in parody, provocative audience interaction and sassy lines. Three years after (s)he first unveiled this show, it's a wonder the fascists haven't yet been beaten.
Read More
Published: 3 Feb 2020
There is no shortage of shows about motherhood at this…
23/08/2019
With its high ceiling, vast stage and ambient temperature…
25/08/2017
Past Shows
Edinburgh Fringe 2019
Edinburgh Fringe 2021
Edinburgh Fringe 2022
Agent
We do not currently hold contact details for Esther Manito's agent. If you are a comic or agent wanting your details to appear on Chortle, click here.