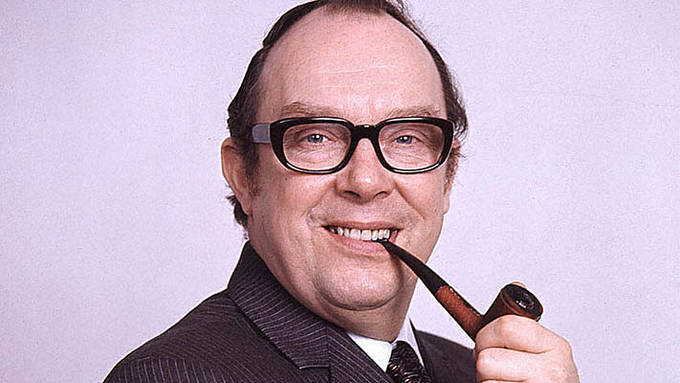 Eric Morecambe
Date of birth:
14-05-1926
Date of death:
28-05-1984
Probably the best-loved comedy star Britain has ever produced, Eric Morecambe owed his success to his mother Sadie's determination that he should make something of his life. When he was growing up in Morecambe, Lancs. she took work as a waitress to raise funds for his dancing lessons.
In 1939 - the same year he changed his name – he won an audition with impresario Jack Hylton as part of a talent competition, at which he won a place in a revue called Youth Takes A Bow at the Nottingham Empire. It was there that 13-year-old Eric became friends with 14-year-old Ernie Wise (born Wiseman) and, with Sadie's encouragement, started to develop a double act.
They temporarily split when they began their National Service during World War II. Wise served in the Merchant Navy, while Morecambe was a Bevin Boy: conscripted to work in a coal mine.
In 1952, Morecambe married Joan Bartlett and they would go on to have three children together.
After the war Morecambe and Wise reformed their stage act, and became a hit on the variety circuit – but their first foray into TV, 1954's Running Wild, was considered a flop. The People's TV critic famously wrote: 'Definition of the week: TV set = the box they buried Morecambe and Wise in' Morecambe carried the cutting in his wallet for the rest of his life.
The failure sent them back to the stage, where they refined their act. Three years later they hosted a weekly TV variety series called Double Six, which helped restore their reputation, and in 1961 Lew Grade offered them a series for London's ITV station ATV, pairing them with Frankie Howerd's writers Sid Green and Dick Hills.
Although the series started poorly, it developed more into a reflection of their stage personas and introduced catchphrases such as 'Get out of that!' and 'More tea Ern?' as well as Morecambe's famous paper bag trick. It also introduced guest stars to the format, who would be gently ribbed by Eric.
During the Sixties they made three films - The Intelligence Men (1965), That Riviera Touch (1966), The Magnificent Two (1967) – although none of them gave them the big-screen success they craved.
In 1968, after six ATV series, they left for the BBC, which had offered to make the shows in colour. But after the first BBC series 42-year-old Morecambe suffered his first heart attack, in the early hours of November 8, as he was driving back from a show to his hotel near Leeds.
After leaving hospital, Morecambe gave up his 40-a-day cigarette habit in favour of a pipe, took six months off and cut back on his live work.
During his recuperation, Hills and Green, believing he would never work again, quit as writers. John Ammonds, the show's producer, replaced them with Eddie Braben, who had just parted company with Ken Dodd.
Braben further developed their characters, especially Wise's, to give him more depth than the traditional straight man – and introducing aspects such as them sharing a bed . Initially Morecambe objected, but Braben convinced them by saying that if it was good enough for Laurel and Hardy it was surely good enough for Morecambe and Wise. With Braben's help, their TV shows went from strength to strength, and their 1977 Christmas show attracted an incredible 28.4 million viewers.
But in January 1978, the pair controversially left the BBC for Thames Television, for a higher salary and, crucially, the chance to make movies through their Euston Films subsidiary. However, the move cost them their writer as Braben opted to remain at the BBC and, although popular, their ITV series never reached the dizzying heights of their BBC ones. Also, the film they made – Night Train to Murder took six years to complete, only being screened on TV after Morecambe's death, and was a commercial and critical flop.
In January 1979, Morecambe suffered a second heart attack at home in Harpenden, Hertfordshire.
After that, he worked alone as well as with his long-term comedy partner. In 1980 he played the Funny Uncle in an ITV dramatisation of the John Betjeman poem Indoor Games Near Newbury, and the 1981 cinematic follow-up Late Flowering Love. And he wrote a number of books: Mr Lonely, a 1981 tragicomic novel about a stand-up comedian, the Reluctant Vampire in 1982 and its sequel The Vampire's Revenge the following year.
Outside comedy, he was a keen football fan and a director of Luton Town
Morecambe and Wise's final show together was the 1983 Christmas special for ITV. Five months later, Morecambe took part in a show hosted by close friend and comedian Stan Stennett at the Roses Theatre in Tewkesbury, Gloucestershire.
After his sixth curtain call, he walked into the wings and joked "Thank goodness that's over." He then collapsed, suffering a third and final heart attack. Eric Morecambe died in Cheltenham General Hospital at 4am, aged 58.
A statue by sculptor Graham Ibbeson, was unveiled by the Queen at Morecambe on the seafront at Morecambe in July 1999.
Read More