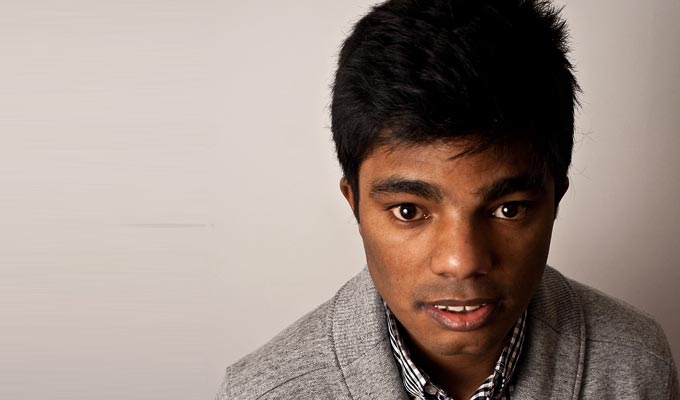 Don Biswas
Why I'm NOT quitting comedy
This is a response, in part, to the earlier Correspondents piece Why I'm Quitting Comedy
My name is Don Biswas, and I've been doing stand-up comedy for five and half years now. This piece is on why I still perform comedy even though, I only make about £200 a month from it.
About two years ago I was desperate to make it as a full-time pro comic after doing well in a few new act competitions. The desperation made me depressed and made me lose sight on the real reasons for my love of comedy, such as the creativity of coming up with new ideas, the pure enjoyment when a gig goes well and the chance to exploit the right to freedom of speech (well in most clubs).
It saddens me to see so many new acts desperate to make it as circuit pros, maybe chasing gigs they're not ready for, when they should just concentrate on becoming better comics (usually the two go hand in hand) and simply enjoying the ride of gigging.
Being a paid comic doesn't mean you're always a good comic. I've died during paid slots and stormed unpaid ones. Also comics shouldn't judge the pace of their career against other comics, we all go at our own speed.
Don't get me wrong I still want to get paid for performing, but to me that's just a bonus of the hard work I put in. I already have a part-time job to help me out financially.
Another reason why I still do comedy, is because it has allowed me to talk about things I am interested in, such as politics, and I've set up a political comedy night with fellow comic Mel Crosby to that aim. I find it much more rewarding, crafting and telling jokes about what I think our Government are up to and trying to make people see my world view (obviously they don't have to agree with it), then just solely being interested in becoming a professional stand-up.
For those who know my act, I still enjoying telling one-liners as well. Remember, comic greats such as Bill Hicks and Eddie Izzard, took years to work on their craft (maybe because they didn't get noticed straight away). I'm not saying I am trying to emulate their success, I am just saying that I believe that taking my time over my craft has made me a better comic.
Doing specialist comedy shows like the political show and Abnormally Funny People (where I get talk about having learning difficulties) has given me as much fun – if not more – than doing some paid 20-minute sets in clubs. And doing specialist comedy shows might help me or any other comic find their own audience, especially when there's a recession on the main circuit.
Without sounding cheesy, I also do comedy to express myself as a human being, to let people into the small world in which I live, and to show them inequalities going on in the world.
In short with more comics on the circuit and more clubs closing down, just enjoy the ride of gigging and the creativity that comes with being a stand-up. If you make any money out of it, that's just a bonus. Peace out!
Tweet
Follow @chortle
Read More
Published: 19 Oct 2012
Agent
We do not currently hold contact details for Don Biswas's agent. If you are a comic or agent wanting your details to appear on Chortle, click here.