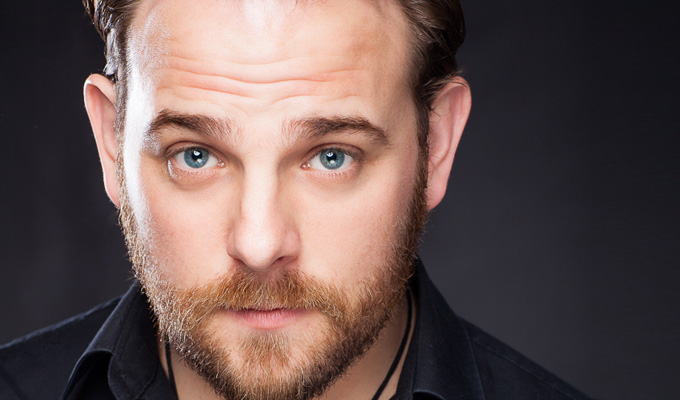 David Whitney
Movie role for 'headbutt' comic
A stand-up who infamously headbutted a heckler is to star in film called... Heckle.
David Whitney, who was fined £600 by Edinburgh Sheriff's Court following the 2010 Edinburgh Fringe incident, plays a stand-up in the movie, which premieres at the Cannes Festival next month.
And he admits there are 'obvious similarities' between himself and Wilton Johnston, his character who 'was on the verge of becoming very big when he fucked everything up and had to go back to the clubs'.
'He's not a million miles away but a cleaner, more mainstream version of myself,' says Whitney, a former Hackney Empire New Act Of The Year winner. 'He's probably a bit more old school, closer to the suit-wearing Live At The Apollo-type act than me. I'm a bit bluer, more alternative.'
Suzanne Kendall co-stars as Stacy Mitchell, an unhappy supermarket cashier in Selby, Yorkshire, who barracks Johnston at a pub gig. He invites her on stage but she gets more laughs than him, so he persuades her to try more gigs.
'Arrogance leads to Johnston's downfall,' Whitney adds. 'But through him helping her, she realises her horizons are wider than her sleepy town. And he stops being such a prick, less of a pretentious arsehole, discovering a little bit more about humanity.'
Director Robbie Moffat has said that the film was partially inspired by Punchline, the 1988 film which starred Tom Hanks as a cocky young stand-up helping Sally Field's inhibited housewife become a comic. Heckle was shot on location in Selby and at Green Screen Studios in York, and is written by Mark A. C. Brown.
'I think it really reads as if it was written by a stand-up, because even though Mark's never done it, he's hung out with me a lot, everywhere from open spots in pubs to The Comedy Store,' Whitney explains. Other comedians in the film include newcomer Mike Shephard, as a stand-up, and Dave Florez, who wrote Phil Nichol's last two Fringe plays, as Johnston's estranged manager.
Whitney says his club scenes were 'a little bit more ad-libby [than Kendall's] to try and give them the feel of actual stand-up.
'In some ways, because the plot is so close to my own life, I was a bit hesitant about doing it,' he adds. 'I wanted to keep my acting and stand-up distinct. But once I got involved, there was something incredibly enjoyable about it. When we first meet Wilton, he's being really offensive and dying horribly on his arse.'
Whitney maintains that he's experienced little negative reaction to the headbutting, which he alluded to in his Edinburgh show last year. 'No, not massively' he states. 'I'm sure some clubs don't want to be associated with it but I'm still playing big ones, and it's nearly three years ago now.
'I was joking on set that if film becomes really successful and it's my big break, I'll pretend my five years as a professional stand-up was me "methoding up" and preparing for the role.'
Heckle premieres at the Cinéma Arcades in Cannes on May 21.
- by Jay Richardson
Tweet
Follow @chortle
Read More
Published: 12 Apr 2013