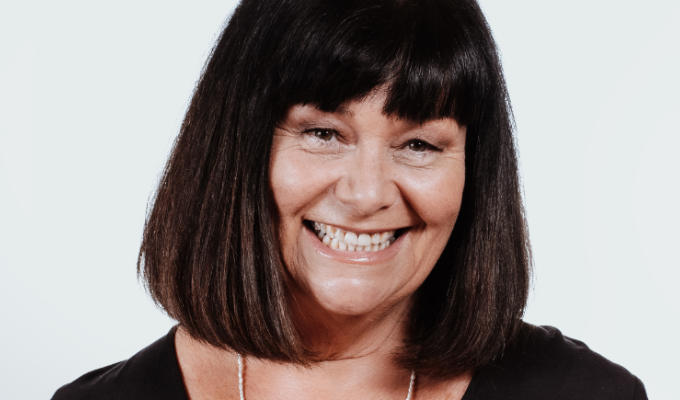 Dawn French
Date of birth: 11-10-1957

The Vicar of Dibley in Lockdown
With Christmas being one of the few times a family sits down to watch TV together, broadcasters tend to turn to much-loved sitcoms: comforting, amusing programmes that won't be a turn-off for any generation.
But with Covid crippling production, the well's pretty dry this year - which explains why Rev Geraldine Kennedy's much-vaunted return to Dibley, and our screens, comes in the form of three, ten-minute episodes.
They were all recorded for BBC One as virtual sermons, the ensemble cast replaced with the vicar addressing her webcam alone… although Hugo (James Fleet) does make an appearance in a second pop-up window.
One problem with this is that Geraldine was one of the least interesting characters in Dibley. Dawn French's character was the nice, stable personality, around which all the oddballs revolved – a vital role in an ensemble comedy, but her good-natured naughtiness is a bit flimsy when flying solo.
The second problem is that much of the humour is very familiar from months from everybody making the same wry comments about the situation we've all found ourselves in, from DIY haircuts to two-metre distancing to the awkwardness of reaching for the off button on Zoom calls.
That these episodes are set over the entirety of lockdown also mean comments about the exams fiasco (a gag worthy of at throwaway comment on Newsjack at best) and, erm, 'sharing the message of Easter' have obsolescence built in.
Then there is the already-notorious reference to Black Lives Matter and Geraldine taking the knee. Even though 'Black Lives Matter' should not be a controversial statement, there's no denying that such an earnest section in the comedy feels like virtue-signalling, especially given how few black characters have ever featured in the decades of work from co-writer Richard Curtis. But what should we expect from a vicar, if not preaching?
This scene comes in next week's second episode, which also includes a touching tribute to Emma Chambers, who played dim-witted verger Alice and who died in 2018, aged 53. French chokes back tears as she observes, 'those who die are eternally here, alive in our memories and in who we are because of how they changed us' - and it's hard not to be moved by the sentiment and the performance.
For even in these bite-sized samples, The Vicar of Dibley is a sweet, warm-hearted comedy, living up to Geraldine's stated sentiments to 'be gentle and kind… and appreciate every God-given day'. But it's a short step to being twee, even trite, which the mild, only fitfully funny, script doesn't always avoid. The slightness of the format and the near absence of a supporting cast only emphasise these shortcomings.
• The Vicar of Dibley in Lockdown is on BBC One at 8.50pm
Read More
Published: 7 Dec 2020
She called her show 30 Million Minutes to mark how…
13/11/2015
Whatever it takes to make the leap from jobbing entertainer…
26/06/2014
You don't survive 30 years in comedy without building…
1/03/2008
A decade is a long time to be away from the stage.Ten…
1/01/2000
Products
Past Shows
Agent
We do not currently hold contact details for Dawn French's agent. If you are a comic or agent wanting your details to appear on Chortle, click here.