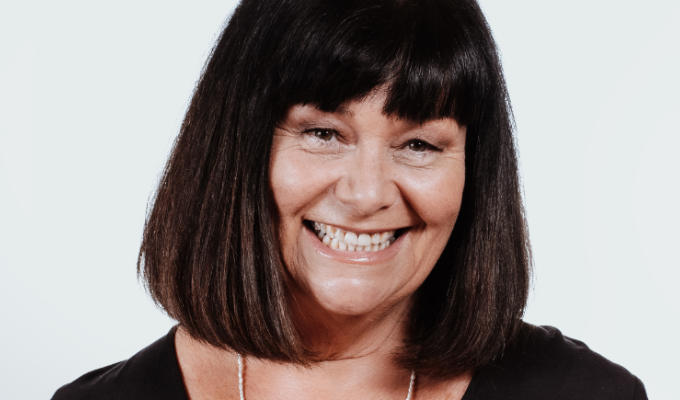 Dawn French
Date of birth: 11-10-1957

Dawn French: 30 Million Minutes
Note: This review is from 2015
She called her show 30 Million Minutes to mark how long she's been alive, but Dawn French has been on the road with her autobiographical anecdotes for so long that she's notched up another million in the process. And now it lands in the West End, slightly tweaked from its early days, but not much, as this is a tightly-written theatrical one-woman show, not fluid stand-up.
As is now the fashion, the stories drawn from her 2008 memoirs, Dear Fatty, are used in the service of a bigger message about what it means to be a daughter, wife, mother and woman. The importance of having a proud sense of yourself, not to be bullied by pressures of body image in particular, rings loudly and unsurprisingly for someone whose shape has been virtually public property in the 30 years she's been in the spotlight.
Much of this must be down to her RAF officer father, who she beatifies here as a paragon of kind, decent, loving and funny masculinity. She fondly recalls the speech he gave as she tottered out for the first teenage disco, dolled up to the nines in her purple suede hot pants: 'Never be grateful for male attention… Any man would be proud to have you on his arm. You are the prize.' That's the sort of empowerment she wants to spread today.
Her childhood stories will evoke a warm nostalgia for anyone born in the 1960s of before, and amusement at the fashions for those who weren't. She also vividly portrays family members – aptly since family is the cornerstone of the show – particularly the scheming 'fag ash' Lil, her 'evil' gran who sounds like a comic goldmine. And then we see the picture of her, pissed in a pub, and the image French painted is driven home hilariously.
The production, directed by Michael Grandage, makes excellent use of the photo albums, with vintage images projected on to a giant screen at the back of the stage. Best of all is the footage that illustrates the Queen Mother's visit to the family home at RAF Leconfield, proving the authenticity of French's preceding anecdote, one of the highlights of the show.
In many ways her childhood was halcyon, she wasn't aware money was tight, and a posting to Cyprus meant the young 'Moo' French spent most afternoons on the beach. The biggest blow to her idyll was not being asked to be a bridesmaid.
However, not is all what it seems and there are plenty of moments of sadness in her life, as there are in any. The gear shift between tragedy and comic is not always smooth, but she doesn't flinch from the inner torment her father hid from the family, her cancer scare or her hysterectomy.
These are heartfelt, although some of the more emotive moments border on the mawkish; slap some heartstring-tugging music behind it and it could be an X-Factor contestant's back-story video. Likewise, lines such as 'I walk in the footsteps of everyone who came before me,' feel a little like the sort of trite 'inspirational' quotes that make for tiresome Facebook memes.
But French isn't shy about giving voice to what she feels, whether it's love for her family or the feral hatred she had for the journalist who raked over the background of the daughter she and Lenny Henry adopted for the sake of an unauthorised biography.
Yet when employed in the name of comedy, that frankness provides some potently hilarious anecdotes – with a couple of surprisingly near-the-knuckle incidents with her mother bringing the house down.
As has been a hallmark of French's entire career, it's her ebullient, unaffected and effortlessly likeable personality that wins through, even over the shakier moments. Though the performance initially feels over-rehearsed, both audience and comedian relax into each other's company, and by the end even those who wouldn't consider themselves Dawn French fans will be uplifted… and happy to have spent 120 of their precious minutes getting to know her a little better.
Read More
Published: 13 Nov 2015
Whatever it takes to make the leap from jobbing entertainer…
26/06/2014
You don't survive 30 years in comedy without building…
1/03/2008
A decade is a long time to be away from the stage.Ten…
1/01/2000
Products
Past Shows
Agent
We do not currently hold contact details for Dawn French's agent. If you are a comic or agent wanting your details to appear on Chortle, click here.