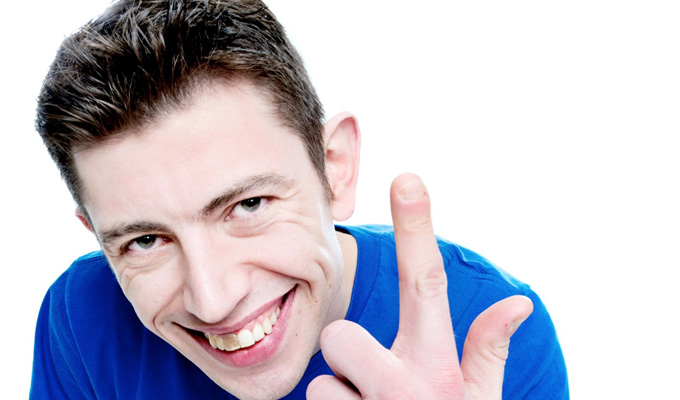 Danny Deegan
Danny Deegan: From Beginning To End
Note: This review is from 2015
It's not yet 9pm on Sunday, but it feels much later: the audience are relaxed – some after a full day of seeing festival shows – and the venue intimate. All this suits Danny Deegan, a laid-back storyteller of a comedian.
Some of his anecdotes are slight, but he is strong in establishing the scene and building the atmosphere, so holds the attention. Such emphasis on the set-up also lends impact to the payoffs, since the listener is so invested in the outcome. An accidental Carry On-style innuendo over the Freddo confectionery at a service-station checkout is given the epic importance of an undiscovered Canterbury Tale. Same with a more sinister-sounding double entendre involving his young cousin in McDonald's.
Deegan is keen not to leave anyone behind, prefacing stories with the phrases 'If you don't know what Skype is…' or 'if you don't know what magic mushrooms are…'. He's not a man in a hurry to get to a punchline, it's more important that no crucial information is left out, however seemingly obvious. And yes, it means fewer laughs – but he's working at his own pace.
Generally affable and mild-mannered, despite admitting that his face forms a more natural scowl, Bury-born, York-based Deegan is at his best winding up his drug-addled mates; either from the aforementioned recreational fungus or for more medical reasons. And his big closing story trades the lightness of most his situations for an ill-judged joke at Kuala Lumpur airport that led to a stand-off with armed police. He ends on a strong punchline, but it's testament to his narrative skill that we want to know what happened next… but he leaves us hanging.
Deegan probably doesn't have the killer jokes or distinctive personality to be your new favourite comedian – although John Bishop seems to have done all right for himself with a similar, Scouse style – but an hour in his company is certainly enjoyable.
Read More
Published: 9 Feb 2015
A tricky act to nail down, is Danny Deegan. In the…
27/10/2005
Most comedy competitions of any vintage should be able…
1/01/2005
Past Shows
Agent
We do not currently hold contact details for Danny Deegan's agent. If you are a comic or agent wanting your details to appear on Chortle, click here.