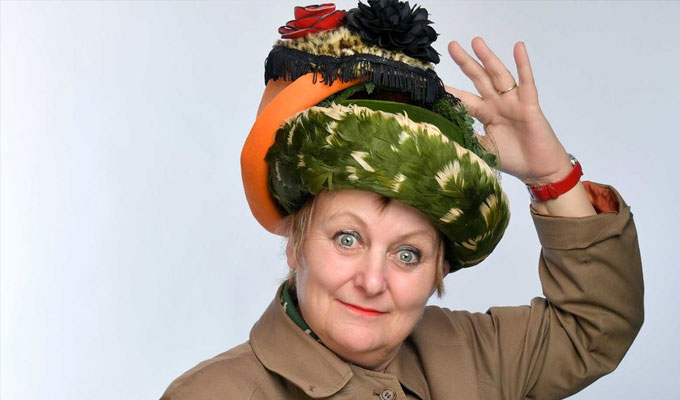 Charmian Hughes
When Harry Enfield ripped off my dress...
The Frost Report
My new show is about my early experiences in the world of 'alternative comedy' but there has always been outsider comedy that mocks the establishment. Then that comedy becomes the establishment.
As a child I watched The Frost Report. Most of it was over my head, but I loved Julie Felix and the sketches. Here three of our greatest comedy stars come together in a classic sketch on class.
John Thomson- Cheeky Monkey
Everything about John Thomson's portrayal of an end-of-the-pier jobbing comic collapsing under the pressure of a big break is brilliant. The pathos, pathology, frustration, then the anger.
The world of comedy is buoyed up by a huge chorus line of hardworking comics who may never make it big. Thomson shows us glimpses of how funny this bloke probably is when he is not being destroyed by the pressure of his own big moment after waiting 15 years for it. It could be a telly break, it could be a reviewer turning up- we have all experienced the catastrophe of not only losing our comedy erection but then shitting the bed.
Partridge twitching to intervene reminds me of Malcolm Hardee at the Tunnel Club, hovering at the side of the stage like a man with a rock ready to put the injured bird out of its misery. Beautiful!
Wilson And Keppel Sand Dance
Early alternative comedy clubs mixed up bills with a lot of spill-over from variety and circus. At the Tunnel Club, Malcolm Hardee was a great champion of acts like the ventriloquist Terri Rogers and comedy dance duo Clarence and Joy Pickles, with roots in old variety.
There were no stand-up classes, you had to learn by trial and error by doing open spots -but you could do a course in clowning or eccentric dance to build stagecraft. I went to Barry and Joan Grantham, who actually worked with Wilson and Keppel in the music halls.
French And Saunders
'Where are all the women in comedy? Why aren't there more?' Actually I think there have been loads of successful women in comedy, they just moved on when they reached a certain stage -into writing/producing for telly, acting, art, carpentry, to have children.
With careers pre-YouTube, there aren't many existing clips of headlining Comedy Store regulars like Jenny Lecoat (the first live stand-up I ever saw, now a telly writer), Wendy Lee (writer), Kit Hollerbach who was from the same Chicago comedy impro stable as Mike Myers, with whom she founded the Comedy Store Players, Donna McPhail (carpenter), Clare Dowie (playwright), Sally Holloway (comedy teacher and writer), plus Brenda Gilhooly, Bernadette Corrigan, Two Girls What Sing (emigrated to Canada), Caroline Gold (writer) and Caroline Cook (actor). Here are two of the ladies from the original alternative scene who made the dash into telly quite early on:
Harry Enfield: Kevin And Perry Go Large
I first saw Harry Enfield perform at the Tunnel Club in his double act Dusty and Dick in the early 1980s, but I'd met him briefly before at a friend's wedding where he whirled me around on the dancefloor so over-enthusiastically that I took off and landed on my bottom. As he helped me up he trod on the hem of my fragile organza dress so it unravelled into shreds around me. He seemed to be someone having to constantly resist random forces of slapstick assailing him.
Over a long career he has been consistently inventive. I've seen this film loads of times and still think it's hilarious. It works because the almost middle-aged Harry Enfield and Kathy Burke inhabit the role of teenagers Kevin and Perry with accuracy and sympathy and give them a good story vehicle.
Dave Thompson: Teletubbies
Dave Thompson has been doing comedy as long as I have. He is a brilliant writer, has helped me with my material and was my first comedy boyfriend. With a physical dance background and a training in drama therapy, Dave's big break came when he was given the role of Tinky Winky, the purple hand-bag carrying fur Teletubby. But Dave was sacked after being told his interpretation of the role was unsatisfactory.
To celebrate Dave as Tinky Winky while mourning his loss of his role, this is perfect.
• When Comedy Was Alternative (The Laughs And Loves Of A She-Comic) is on at the PBH Free Fringe venue Banshee Labyrinth at 15:10, starting Saturday.
Read More
Published: 6 Aug 2015
Past Shows
Agent
We do not currently hold contact details for Charmian Hughes's agent. If you are a comic or agent wanting your details to appear on Chortle, click here.