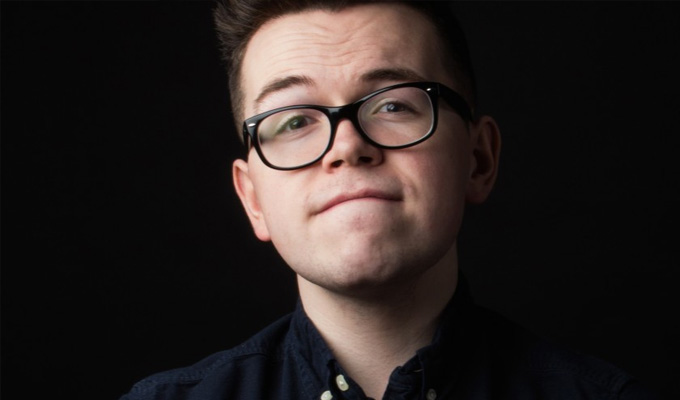 Christopher MacArthur-Boyd
'Incredible writing and a super-distinctive voice'
Limmy: Dark Souls III Let's Play
I was going through a bit of a rough patch with my mental health where I was sleeping all day and staying up all night. My only contact with other human beings was the lady who worked in the 24-hours petrol station (the only place near my mum and dad's house which was open while I was awake) and watching Limmy's livestream of playing Dark Souls III on the Playstation 4.
I'm a big fan of almost everything that Brian Limond has ever done, but there's something special about this. I must have watched about 50 hours of it. Most of it's been taken down. Zero artifice. True patter. It reminded me of being a wee guy and watching my dad play Tomb Raider on the original PlayStation.
I ended up meeting Limmy backstage at a thing, and I think I freaked him out a wee bit. I was telling him, 'Aw, I watched all your streams, man', and he was like, 'Do you play the games yourself?' and I was like, 'Naw. I'm just a weirdo who watches you play games, for hours on end.'
Romance Is Boring: Los Campesinos!
Los Campesinos! aren't a comedy band in the same way that Tenacious D or Flight Of The Conchords are, but I think they've made me laugh as much as any stand-up.
This album is absolutely hilarious. So overwrought and over-emotional. It came out when I was 17 and that is the perfect age to hear it. It's full absolutely banging lyrics like: 'The frequent public displays of sisterly affection/that left her feeling safe/left him with an erection.'
The lead singer described this album as being about 'the death and decay of the human body, sex, lost love, mental breakdown, football and, ultimately, that there probably isn't a light at the end of the tunnel' and if you swap 'football' for 'wrestling' that's a pretty good summation of my main interests.
John Mulaney: New In Town
A lot of people prefer the post-sitcom-failure rebirth of The Comeback Kid or the hoodie-wearing freshness of The Top Half but I think New In Town is the best John Mulaney special.
There's a trend in music of bands influencing each other off transatlantically and getting away with it because nobody can tell who they're borrowing from, like The Beatles emulating the American rock 'n' roll bands who they discovered when US troops were stationed in Liverpool.
There are other examples like Pavement ripping off The Fall, or the dance-punk revival of the early 2000s in New York being redolent of 1980s British post-punk. I think, based on interviews I've read with Mulaney, he's a pretty big fan of British and Irish stand-up, and he merges a certain aloof self-deprecating dryness from over here with classic American showmanship.
In this special, he's doing material about very basic things; airplane travel, prostate exams, drunken stories, encounters with homeless people. But he elevates the pedestrian subject matter with incredible writing and a super-distinctive voice. This and Animal Furnace by Hannibal Buress came out around the same time and I was obsessed with them when I started.
Bit of a cliche for a Scottish comedian to include Billy Connolly in something like this, but his stuff was a big part of my family life growing up. He was the only person that everybody in my extended family could decide was great. Uncles, aunties, grannies, grandads, mums, dads, and kids. He was everything to everybody.
It's the one where he's got a zebra-print shirt on, and his name's in big pink letters behind him, and the camera cuts away every three seconds to show you some B-list 1980s celebrity who's since been spirited away by the vampires of time and memory.
It came out in 1985, so that's about ten years after his big break on Parkinson, and a few months before he became teetotal. He's like a rock star but with zero arrogance. So, so funny.
Butt Kapinski
Me and Rosco McClelland went to see this together in Edinburgh a few years ago when we were doing a double-hander at the Counting House, based on a recommendation from Glaswegian alt-legend BMR, and it was probably the best live comedy performance I'd ever seen.
A one-person improvised film noir parody with crowd work that was as good as anything I've seen in the best clubs in the country, with Deanna Fleyscher as the titular Butt: a lisping, gender-inverting gumshoe bouffon with a lampshade coming out of her spine.
It absolutely blew me away. I liked the way it used Gaulier-style clowning but hid the working by getting rid of most of the traditional clown tropes such as red noses and whatnot. I just walked away from it shaking my head and questioning my life choices.
Nathan For You
Nathan For You is one of the few things on TV that regularly makes me cry laughing. It's a reality show about a socially awkward Canadian guy called Nathan Fielder who comes up with really convoluted ideas to help struggling businesses.
You start to question how just about everybody he meets in the show is insane, but I think it's legit. Most people are weirdos.
• Christopher Macarthur-Boyd: Home Sweet Home is on at Gilded Balloon at 22:15
.
Read More
Published: 13 Aug 2018
Past Shows
Edinburgh Fringe 2015
Agent
We do not currently hold contact details for Christopher MacArthur-Boyd's agent. If you are a comic or agent wanting your details to appear on Chortle, click here.