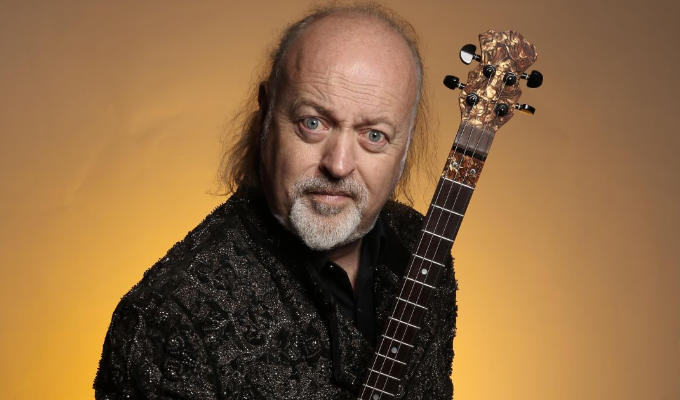 Bill Bailey
Real name:
Mark Bailey
Date of birth:
13-01-1964
Born and raised in the West Country,
Bill Bailey
showed an early passion for music, forming the school band Behind Closed Doors.  It was also at school that he acquired the nickname Bill, thanks to a geography teacher who was a fan of the song Won't You Come Home
Bill Bailey
?
He seemed destined for a career in music; being the only pupil at his school to study the subject at A-level, before attending the  London College of Music.  In his early years, he performed with an 'enthusiastic if unsuccessful', four-piece band called The Famous Five. But he says he always felt the urge to slip jokes into the set.
Bailey also had a passion for theatre, and he spent much of the Eighties touring with a Welsh experimental theatre company, which he combined with a job as a lounge pianist and a keyboard player in a jazz trio. But one night Bailey saw comic poet John Hegley, who inspired him to combine music and comedy.
In 1986 he formed a double act, the Rubber Bishops, with Toby Longworth, who was replaced in 1988 by Martin Stubbs.  Around this time he was also performing with  London topical comedy team Newsrevue.
Once the double act dissolved, he formed the pub band Beergut 100, and started performing stand-up solo.  In 1994, he performed  at the Edinburgh Fringe with Sean Lock with the show Rock, about an ageing rockstar and his roadie
The following he returned with his debut solo show, and in 1996 earned a Perrier nomination for his show Cosmic Jam. The show was later recorded for TV, but it took until 2005 for it to be released on DVD.
His Perrier success landed him several TV appearances, including a captaincy on the ill-fated Channel 4 sci-fi panel game Space Cadets. But three years after his Perrier success, Bailey was writing and starring in his own BBC Two show Is It Bill Baile?y, featuring  musical parodies, surreal sketches, and stand-up.
He continued to tour and  won the Best Live Stand-Up award at the 1999 British Comedy Awards. In 2001, he toured with Bewilderness and in 2003, he took to the road with Part Troll, following its debut at the Edinburgh Fringe. In 2007 he made the move to arenas, with the live show Tinselworm.
In 2000, he took the role as long-suffering Manny Bianco in Dylan Moran's sitcom Black Books, which cemented his burgeoning TV fame.
Now he is probably most famous as a team captain on comedy pop quiz Never Mind The Buzzcocks, taking over from Sean Hughes in 2002. Bailey has also appeared regularly on QI, Spaced, and as a guest on the likes of Room 101 and TV Heaven, Telly Hell.
Bailey has also been a straight actor. During the 2003 Edinburgh Festival he starred in a production of Twelve Angry Men, alongiside other comedians and two years later appeared opposite Alan Davies in an Edinburgh Fringe producton of The Odd Couple. He voiced the sperm whale in 2005's The Hitchhiker's Guide to the Galaxy movie  In 2007, Bailey appreared in a West End revival of Harold Pinter sketches, Pinter's People, which he helped bring to the stage.
He is also a wildlife campagner and presented Wild Thing I Love You which began on Channel 4 on October 15, 2006.
He became a father in 2003, and named his son Dax after the Star Trek: Deep Space 9 character.
Read More