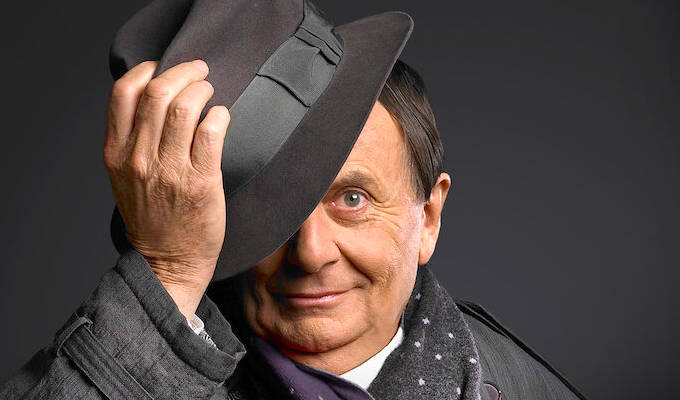 Barry Humphries
Date of birth:
17-02-1934
Born in the Melbourne suburb of Kew, Humphries was educated at Melbourne Grammar School and Melbourne University, where he read law, philosophy and fine arts. There he staged anarchic Dadaist pranks and exhibitions, with exhibits such Pus In Boots – a pair of Wellingtons filled with custard.
He began his stage career in 1952, writing and performing songs and sketches in university revues. At the start, Humphries had ambitions for straight theatre and toured in Shakespeare plays and joined the newly formed Melbourne Theatre Company.
But the major turning point occurred in 1955, when he created Mrs Norm Everage, a suburban Melbourne housewife who has over the years evolved into the glamorous gladioli-wielding 'gigastar' Dame Edna that has made his fortune.
In Sydney, in the late Fifties, Humphries joined the Philip Street Revue Theatre, Australia's first home for intimate revue and satirical comedy which allowed him to develop a cast of character such as grandfatherly Sandy Stone, sleazy trade union official Lance Boyle and socialist academic Neil Singleton.
In 1959 he moved to London and became part of the so-called Satire Boom, working alongside the likes of Dudley Moore and Peter Cook – performing at Cook's club The Establishment and starring in their film Bedazzled as Envy. He also worked with Joan Littlewood's groundbreaking Stratford East theatre company, and played Long John Silver at the Mermaid Theatre.
While in the UK he developed the cartoon strip about rugged Outback adventurer Barry (Bazza) McKenzie, who predated Crocodile Dundee and real-life Crocodile Hunter Steve Irwin. The character started life in Private Eye, but his exploits were also made into a film.
Humphries also appeared in numerous West End stage productions including the Lionel Bart musical Oliver! and Spike Milligan's The Bed Sitting Room.
Since this first foray into London, he has split his time between England, Australia and sometimes the USA – which he only really cracked with his 2000 Broadway show, one of innumerable solo shows he's performed around the world, usually as Dame Edna with other characters in a supporting role.
But his first London show, in 1962, was slated by the critics, and it took him seven years to return to the West End stage - eventually cracking it with his 1976 production Housewife, Superstar! The only other actor ever to appear on stage with Humphries in his stage shows has been Emily Perry, who played Edna's put-upon sidekick Madge.
Dame Edna has also made numerous TV appearance, including her own LWT chat show The Dame Edna Experience and a recurring guest role in Ally McBeal.
Humprhies' most famous creation after Dame Edna is slobbish Australian cultural attache Sir Les Paterson, who made his debut in 1974. The character was a hopeless drunk, and in reality Humphries too has battled a drink problem. In the early Seventies he was found unconscious in a gutter after a binge, and his parents checked him into a drying-out clinic. Since then, he has abstained.
He was awarded a CBE in the 2007 Birthday Honours, and among his other accolades are an Order of Australia in 1982, an honorary Doctorate of Law at Melbourne University in 2003, a Montreaux Golden Rose for his 1991 show A Night On Mount Edna, and a Tony award in 2000. His autobiography More Please won the J.R. Ackerley prize for biography in 1993
Humphries has been married four times; his fourth wife Lizzie Spender is the daughter of British poet Sir Stephen Spender. He has two daughters and two sons.
At the end of 2007, he underwent appendix surgery in Sydney, but developed complications that forced him to quit work for six months.
Read More