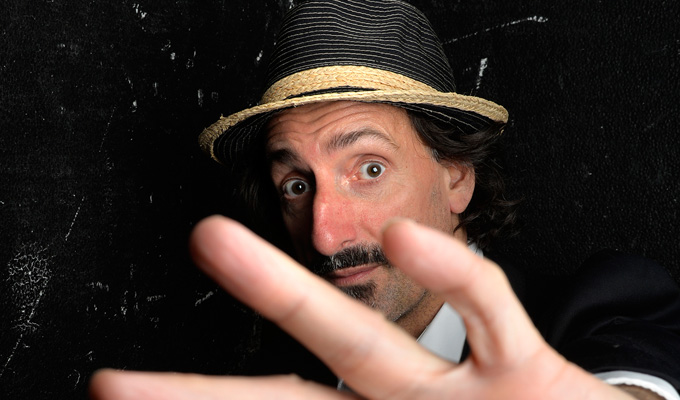 Addy Van Der Borgh
Bluesy Woozy Man
Note: This review is from 2016
Here's a show that snuck up on me. Addy Van Der Borgh's musical comedy show pastiching all things blues doesn't exactly spring out of the traps, but by the end I'd go as far as saying it had been a hoot.
Blues is fertile ground, it turns out. From the absurd names of musicians to the titles of songs, to the musical constraints of the genre itself, there's plenty to dig into. And Borgh realises much of this comic potential. Presenting himself as a grizzled old blues player called Bluesy Woozy Man, he runs through some of his back catalogue, affectionately sending up the genre in much the same way Rich Hall does with country and western, and Bill Bailey does with about any genre going. Borgh's gravelly voice is apt for the cause, as is his impressive way with a harmonica and piano.
Perhaps the show's defining quality is that Borgh never feels like he is trying too hard. Rather than painstakingly unpicking every aspect of the genre and overly demonstrating his knowledge, he plays with them instead: letting himself get carried away into bluesy scatting mid-sentence, or falling asleep mid-instrumental before picking it straight up again.
What it wasn't, was consistent. I found the pace and energy were frequently interrupted by something. That could be the stuttering pace Borgh has afforded his persona. Sometimes it's a sozzled ramble or a deliberate non-sequitur. There is some slapstick ineptness with the mic stand which only holds things back. Without wanting to labour the Rich Hall comparison too much, Hall leads his shows in a commanding way that doesn't inhibit the songs and material. Perhaps that's what this show could do with, or at least a little oil in the cogs.
But when it's good, this show is very good, and I found myself warmly disposed to this slightly ridiculous journeyman blues player, who constantly name-drops players and festivals, and can play a bit too (no blues knowledge is required to enjoy this show, incidentally).
In the grander scheme of the Edinburgh Fringe, this isn't in a fashionable show, but it is a funny and entertaining one; one which holds together over the hour and comes to a gratifying ending. For Borgh, this could be a comedy persona that really sticks.
Read More
Published: 7 Aug 2016
It's a shame to have to shoot the puppy that is Addy…
7/08/2010
As much a tour-de-force performance piece as stand-up,…
1/01/2005
Past Shows
Edinburgh Fringe 2013
Edinburgh Fringe 2016
Agent
We do not currently hold contact details for Addy Van Der Borgh's agent. If you are a comic or agent wanting your details to appear on Chortle, click here.