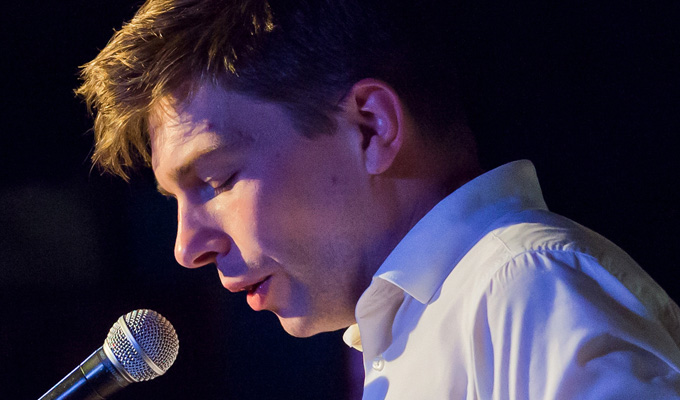 Andy Learmonth
Finalist in the Scottish Comedian Of The Year competition in 2008 and 2013
Read More
Andrew Learmonth: All the People I've Ever Loved Will Die
Note: This review is from 2015
After expressing surprise at how many people have turned up, Andrew Learmonth claims he's bad at starting a show, his shambling self-deprecation peaking with recollection of a tiny audience he once played to with Kevin Bridges, their careers having taken radically different paths since.
A downbeat mood had already been suggested by his intro music, had we only known it, a collection of the most popular songs played at funerals. In truth though, these were the usual MOR fluff, blandly ill-equipped to convey the enormity of death, something Learmonth, too, is currently struggling with.
With a three-year-old daughter, from whose psychic-advocating mother he's separated, he frets, amusingly, about how much influence he has upon her. And he worries in particular about explaining mortality to the child.
Disney films – from Bambi, The Lion King and Frozen, even the horrific straight-to-DVD Little Mermaid 3 – are all found wanting, too violently explicit in their framing of death for his tastes.
The subtext here though, is that Learmonth is more concerned about what legacy he'll leave when he shuffles off this mortal coil. The career of his cousin, Kezia Dugdale, deputy leader of the Scottish Labour Party, has rather eclipsed his own, diminishing him by association.
In his early thirties, single and alone for the first time since he was 18, Learmonth is reduced to swiping through Tinder for any sort of human interaction. He recounts a dispiriting one-night stand, reveals the stand-offish relationship he has with his parents and expresses regret at not having apologised to his ex.
All of which sounds pretty depressing. But it's not. Rather, these are little glimpses of poignancy sprinkled through a series of shambolic set pieces.
Two actors, unconvinced of the show's merits, are employed to recreate iconic Hollywood death scenes, or the Guardian's dream dinner date column, featuring James Corden's genuine wish-list including Alan Bennett, Jesus and Hitler. Learmonth also offers a series of perfunctory poems to unrequiting objects of desire, steeled against his romantic intentions as they serve him coffee or sit blithely unaware in restaurants.
The bathos here as he ostensibly contemplates death, approaching Ernie Wise-levels of Play Wot I Wrote pretension by demanding the cast stick to his script works well initially, as the abused, unpaid and uncertain actors advance their own inappropriate agendas.
But these interludes are subject to diminishing returns, typified by each of his subsequent poems being a paler version of the slyly funny original. Meanwhile, the amateurishness and technical gremlins which define the hour seem to grow increasingly less deliberate. And damningly, Learmonth is a comic who will actually announce a mid-show lull, without offering anything memorable to counteract it.
His greatest claim to fame remains the singer Sandi Thom writing a 'fuck you' song in response to a none-too-harsh review the sometime journalist wrote of her album. This prompts some soul-searching on his part about the purpose of criticism and a platitude about standing up to be criticised being part of living.
Unfortunately, he can't fashion this into any kind of conclusion and it seems significantly less weighty than the musings on mortality with which he began. Tellingly, he sends us away with a recreation of Spock dying in the arms of Captain Kirk.
There are plenty of funny, isolated moments in All the People I've Ever Loved will Die and aspects worth developing. But at the moment it's all over the place.
Read More
Published: 16 Mar 2015
As new act competitions go, the Scottish Comedian Of…
2/10/2013
Young Aberdonian Andy Learmonth has a strong, confident…
1/03/2009
Alan Anderson, the promoter behind the Scottish Comedian…
1/01/2008
Past Shows
Edinburgh Fringe 2014
Agent
We do not currently hold contact details for Andy Learmonth's agent. If you are a comic or agent wanting your details to appear on Chortle, click here.