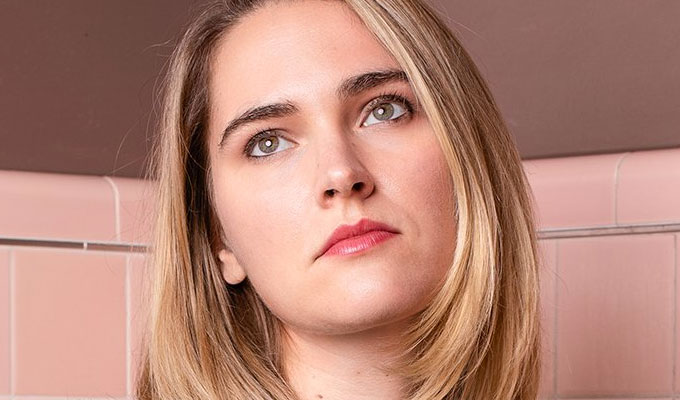 Jena Friedman: Not Funny
Like most women in comedy, American stand-up Jena Friedman tires of the 'inane, distracting and sexist' journalists' question: What's it like being a woman in comedy?
Though she deigns the question beneath her – 'it's fine' is her abridged answer – this collection of autobiographical essays is actually a comprehensive response from a comic acutely attuned to misogyny everywhere, and who has often used her platform to highlight and challenge it.
She got into comedy when, as a feminist-Marxist anthropology student, she conducted research into Chicago's improv scene that highlighted its sexism and racism. And she came to prominence by creating a spoof musical called The Refugee Girls Revue, an off-Broadway stage satire inspired by a range of dolls that sparked controversy for playing up to stereotypes – a chapter in her life she describes in perhaps a little too much detail for those not aware of it.
Her work led to a job as a field producer creating filmed on-location segments for The Daily Show during Jon Stewart's tenure – which played to her strengths by mixing comedy, social politics and gonzo journalism. A brilliant chapter here starts with a tribute to her beloved 'dead baby jokes', dark, shocking gags that always get a laugh as long as the teller takes command of the awfulness. That's simple enough as a theory, but she also credits such jokes with giving her a power to seize and disrupt the narrative that she used to challenge hardcore anti-abortionists in some powerful episodes, and will renew your faith in humour as a disruptive force.
'Comedy's powerful like that,' she concludes the chapter. 'It has the ability to disarm, to sugarcoat ideas and make people swallow them, even if they don't agree. Dead baby jokes gave me a power to distract and deflect but they also taught me how to write comedy to confront issues like reproductive rights head on and shock them into attention.'
She had an Adult Swim show that tackled similarly hard-hitting issues and worked on Borat's Subsequent Moviefilm, although like everyone else involved in that project, she's sworn to an ironclad NDA not to reveal the secrets. And her true crime series Indefensible she secured a major scoop in exposing the troubling misogyny of psychiatrist Martin Blinder, whose supposedly 'expert' testimony got a wife-killer acquitted on a defence which pretty much amounted to: 'She was asking for it'
Several essays highlight the sexism rife in the comedy industry, too, including among audiences. A very insightful chapter examines the crucial but undefinable role of 'likability' in whether a performer will connect with a crowd. For women this seems like a list of diktats on what they can – or more likely cannot – do on stage. 'For white men,' she writes. 'The likability formula is pretty clear-cut: as long as you're not a serial killer, you're likable.'
And for an amusing twist on that hoary 'What's it like being a woman in comedy?' line, she asked some of her famous male comedy pals such as Jon Stewart, Eugene Mirman and Patton Oswalt the same questions she faces, but with the gender reversed.
As she points out, comedy is an unregulated industry with no HR departments which leaves room for all manner of misconduct, from exploitation of power imbalances to sexual assault, and she has plenty of first-hand evidence to add to the dossier.
She has a sense of mischief and self-awareness that stops such sections becoming too soapboxy, but the outrage is undimmed and she doesn't pulling her punches to make the point. And she's definitely clear that it's #notallmen, with lavish praise for the good guys such as Stewart, Jeff Garlin and Mike DeStefano, a contemporary who performed brutally honest material about his heroin addiction but who died, in that bittersweet comedy phrase, 'too soon'.
For all the powerful and incisive segments here, some chapters are blatant padding, including some old sex-advice columns she wrote for a men's fitness magazine purely for the dollar (her responses are often scathingly funny, but become repetitive), or a hatchet-job review of a Jeff Koons exhibition. Meanwhile, the story of a nightmare pre-Covid gig gone awry is rather too longwinded (and your sympathy will evaporate when you hear how much she was paid, even as she complains about it)
But these do not unduly dilute the strength of Not Funny, which is partly a triumphant account of Friedman putting one over on awful people, and part an incisive and acutely relevant interrogation of sexism across comedy – and the rest of society.
• Not Funny: Essays on Life, Comedy, Culture, Etcetera by Jenna Friedman is published by Simon & Schuster and is available from Amazon for £13.89 in hardback, £11.99 in Kindle and £13.64 as an audiobook – or from bookshop.org, below, to benefit independent bookstores.
Thanks for reading. If you find Chortle's coverage of the comedy scene useful or interesting, please consider supporting us with a monthly or one-off ko-fi donation.
Any money you contribute will directly fund more reviews, interviews and features – the sort of in-depth coverage that is increasingly difficult to fund from ever-squeezed advertising income, but which we think the UK's vibrant comedy scene deserves.
Published: 23 Jun 2023