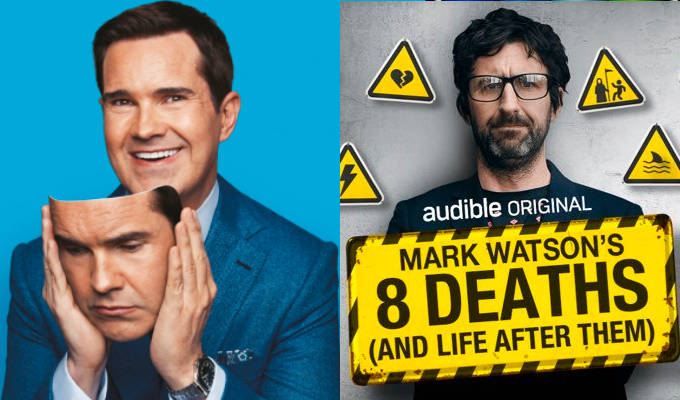 Before & Laughter by Jimmy Carr and 8 Deaths by Mark Watson
It's a cliché that stand-up is therapy for the comedian. But in these two books, Jimmy Carr and Mark Watson turn their experiences in the business into life lessons that could benefit their readers.
As two very different stand-ups, their approaches contrast markedly, even though there's some overlap in the advice they impart. Carr is high status. He celebrates how comedy turned his life around and how you could do the same if you follow his advice. Watson is low status. Several times he's screwed up his life even while being a comic of some success, but he has finally come to figure out why – and wants you to avoid the same pitfalls.
Carr's epiphany came when he realised that the superficially successful life he was leading was unfulfilling. He'd done well at school and Cambridge University and landed a good job in marketing at Shell. But it left him feeling dead inside, so as part of a quarter-life crises – when he also lost his mother and his faith – he took redundancy and became a comedian, working harder than anyone else in the business to get where he wanted.
The trigger was doing a course in neuro-linguistic programming, and the philosophy he espouses in Before & Laughter is rooted in those techniques. He wants you to understand that your destiny is your own, that you must find the path you want and commit to it. Take control of your future, fake it till you make it and don't put off doing things for fear of the consequences… but embrace compromise if it helps to get you there.
He sees his comedy as a superpower. Comedians are rebels, they tell the truth, see things others do not. They learn to accept failure as part of the path to success, acknowledge what their inner critic might be saying it, address it and move on. And, of course, laughter equals happiness – although there is also some truth in the 'tears of a clown' trope, he believes. Although for him depression is fleeting, and he considers the more constant anxiety the flipside of creativity.
While Carr found redemption in comedy and pursued it relentlessly, stand-up is something Mark Watson fell into, finding public speaking was one of his few natural abilities, at least by his own account. He didn't seek his path in life, he just found himself on it – not really knowing it even existed.
Not long out of university – Cambridge again – he won an open mic competition run by the Daily Telegraph and his future in the business seemed secure. Many of his subsequent crises of confidence came from when that career path wasn't as smooth as he expected, setbacks that proved to be more existentially worrying than they might initially seem.
The overlap with Carr's advice comes from pursing a life that was not what he truly wanted, and judging his worth by the standards or achievements of others. These metaphorical deaths of his ambition led to self-destructive behaviour which – now he is settled and accepting of himself – he can recognise for what it was.
While Carr is certain about the advice he shares, Watson is more circumspect, saying only these are the lessons he learned the hard way in the hope they might benefit others.
He exposes the vulnerabilities and insecurities that are part of his make-up and the deeply personal mistakes he made, which he shares with a wit, acceptance and honesty that mean they resonate. Even if you don't feel you need the life lessons he has to offer, such elements mean it makes for an engrossing, revelatory and candid memoir.
• Before & Laughter by Jimmy Carr is published by Quercus priced £20. It is available from Amazon, priced £10.
• 8 Deaths by Mark Watson is an audiobook only, available free to subscribers of Audible or £14.99 for non-members from Amazon.
Published: 22 Dec 2021
What do you think?