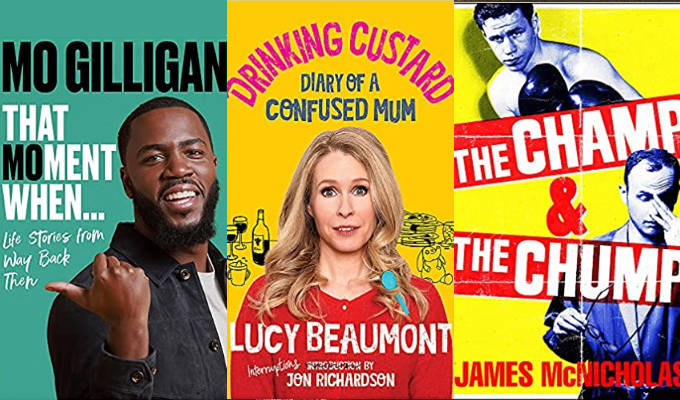 Christmas book guide: Mo Gilligan, Lucy Beaumont and James McNicholas
Looking for some last-minute gift ideas for the comedy fan? Here's the second part of our round-up of this season's comedy-related books…
---
THAT MOMENT WHEN by Mo Gilligan
Mo Gilligan's ascent through the ranks of comedy has been phenomenal. But as he says of this autobiography: 'Things don't just happen of their own accord. You have to work hard at them. You have to grind away in order to become successful. Well, this book is the story of my grind.'
That Moment When… charts his success as an inevitable product of that graft. He worked hard at a small club that allowed him to make a success of a bigger one. He worked hard at making social media content which got him noticed. He started booking bigger venues that seemed intimidating, and selling them out, Then TV followed on ever bigger shows. Now he's piloting a BBC version of a Jimmy Fallon music quiz show that will make him a prime-time household name.
While his inexorable rise is a testament to Gilligan's hard work, it's not a hugely exciting narrative arc as he goes from one success to the next – even if he tries to stay humble about it, and is generous towards his peers and the black British comics who came before him without the same reward.
It is an honest account of making it, capitalising on breaks such as his Coupla Cans sketch being picked up by Drake, rather than thinking such attention is a magic door to success in itself. That said, there are plenty of other hard-toiling comics who have never made one tenth of Gilligan's success, so grind isn't the whole story.
Fans will no doubt relish the memoir, written in his entertaining, ever-upbeat voice, and he comes across as a genuine, good-intentioned guy. But screw-ups make for much better stories!
• That Moment When by Mo Gilligan is published by Ebury Press, priced £20. It is also available from Amazon priced £10
DRINKING CUSTARD by Lucy Beaumont
This is very much a mums' book, another addition to the burgeoning warts-and-all 'honest parenting' genre led by the likes of Gill Sims and the Scummy Mummies.
Relatability is key as Lucy Beaumont takes the reader through her pregnancy up to daughter Elsie's toddler years. Throughout most of it she is convinced she's doing something wrong, falling short of whatever ideals of parenting will produce the perfect child – a feeling most parents will surely recognise. Some emotions and incidents seem exaggerated for comic effect and others, such as post-natal malaise, are downplayed for the same reason.
Beaumont is also torn by the middle-class status afforded to her by the fact her husband's on TV – even of acknowledging she has it better than most only exacerbates a nagging guilt when things don't go well. Jon Richardson puts in the occasional footnote to set the record straight, but this is her story, not his.
If stories of other people's parental travails are not your bag, there's nothing for you here. Even the flashbacks to her own youth or as a 'normal, single human being before everything changed' serve primarily to echo with the present. But if you're looking for an anxiety shared, Beaumont covers the topic with the same warmth and quirky honesty as she projects on Meet the Richardsons.
• Drinking Custard by Lucy Beaumont is published by Monoray, priced £18.99. It is also available from Amazon, priced £13.74
THE CHAMP AND THE CHUMP by JAMES McNICHOLAS
Based on James McNicholas acclaimed 2019 Edinburgh show, this book blends memoir and biography as the comedian compares his life to his grandfather, the middleweight boxing champion Terry Downes.
The differences are vast. McNicholas is a middle-class privately-educated out-of-shape actor-writer from a cosseted upbringing; Downes a tough slugger who literally fought his way out of poverty in post-war London to become known as The Paddington Express.
As if trying to prove something, the comic makes occasional dips into more macho worlds and always comes off worst, which he describes amusingly. There's a lot about changing ideas of masculinity underpinning the two life stories, a topic which McNicholas wears lightly.
If you don't have an interest in boxing, the detailed ups and downs Downes's career can become a bit repetitive once McNicholas has evocatively set the scene of sweaty arenas and brutal, bloody brawls. However, fans of the sport would probably feel cheated had his record not been covered in depth.
In any case, McNicholas draws parallels from almost every triumph or rare setback – and thankfully Downes was also something of an entertainer himself with many a post-bout zinger to be shared.
It also transpires that McNicholas has his own battles to fight. First in finding his way in the world and defining what it means to be successful on his terms away from family expectations – and then, more seriously, when he suffers a 'neurological storm' that leaves him dizzy and disorientated. Again he has a light – and honest – touch when dealing with what could be a difficult and terrifying experience.
• The Champ And The Chump by James McNicholas is published by Headline, priced £20. It is also available from Amazon priced £12.18
Published: 21 Dec 2021
What do you think?