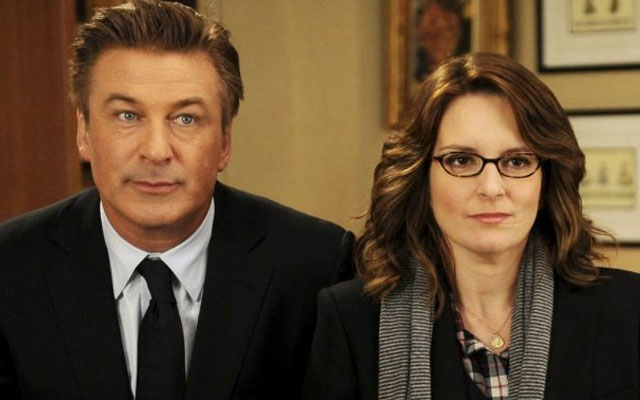 The 30 Rock Book: Inside The Iconic Show, From Blerg To EGOT
Every acclaimed comedy should be so lucky as to get a retrospective study as detailed, loving but clear-sighted as The 30 Rock Book.
Mike Roe's exhaustive account of Tina Fey's cult sitcom has generated headlines with passages about Alec Baldwin's bullying behaviour on set in the wake of the star's recent fatal shooting accident during production on the film Rust.
And news that a UK offshoot of Saturday Night Live is in the works at Sky can only further stoke interest on this side of the pond in the US style of improv-infused sketch storytelling that 30 Rock purported to be about.
A journalist, television writer and sometime improviser himself, Roe is first and foremost a fan. His admiration for what Fey and fellow showrunner Robert Carlock accomplished is reflected in the impressive depth of his research, incorporating more than 50 original interviews with cast, crew and fellow acolytes.
As he reiterates, far above consistency of character and rigour of plotting, the pacy, dense 30 Rock prioritised jokes. It packed in enough memorable lines to rival The Simpsons in its prime, such as when Fey's Liz Lemon asks her young assistant Cerie (Katrina Bowden) 'Do I look OK?' To which Cerie cheerfully responds, 'That's exactly how you look!'
The foregrounding of a woman's experience in the workplace, cutaway gags and sublime use of recurring guest stars would influence many sitcoms that followed.
Despite favouring a strictly chronological, episode-by-episode account of the show's seven seasons, Roe manages to indulge his nerd's appreciation of the sitcom's quirks and minutiae while never losing sight of the bigger story, its cultural impact and the context it was made in.
The initial idea of a harassed producer (Fey) working with a Fox News-type, right-wing foghorn presenter (played by outspoken liberal Baldwin) was ditched in favour of a closer reflection of Fey's experiences as head writer for SNL. The result – a tremendous show about an awful show – is light on its feet but packed with delights.
A particular joy is hearing how guest star Elaine Stritch intimidated and upset everyone whenever she appeared as executive Jack Donaghy's redoubtable mother, one of the otherwise absurdist show's countless instances of art imitating life. Also revealing are the inside jokes and blurring of 30 Rock's world with SNL and the insane intensity of Fey's work-life juggle as she simultaneously became a star and mother.
Nevertheless, Roe is not blind to the show's faults. Overshadowing 30 Rock's showcasing of a female comedy showrunner at a time in the mid 2000s when there were precious few on US networks, the book's big take way is the sitcom's often clumsy handling of race and issues with diversity. A recurrent use of blackface in particular has meant multiple episodes being pulled from streaming services at the creators' request, including both live episodes.
As with any punchy, satirical and often topical show, 30 Rock pushed boundaries, attacking Bill Cosby and Harvey Weinstein for their sexual impropriety, for example, long before the full extent of their abhorrent behaviour was well known. But those boundaries have really shifted and hardened in the years since, with critics and crew members thoughtfully reflecting on the now insensitive portrayals of African-American, Native American, Hispanic and trans characters. Fey and Carlock come across as learning too slowly, perhaps too enamoured with their model of a writers room made up of (predominately white) Harvard graduates and Second City improvisers.
Still, from uncertain beginnings, when it was on the cusp of cancellation after only its third episode, to its incredible haul of 103 Emmy nominations and talk of a reboot, 30 Rock was clearly special.
Roe rightly emphasises the potent chemistry of Fey and Baldwin's central characters, the defiant way the writers never compromised their developing friendship-mentorship for an unnecessary romantic storyline. And how Liz artfully inverted, yet ultimately reflected Fey's own desire to have it all - the successful career, relationship and family, what comedy podcaster Jesse Thorn characterises as Mary Tyler Moore transplanted into the world of SNL.
Fey appears to have been an absolute machine, the hardest-working, funniest person in rooms full of fiercely dedicated and loyal talent, who nevertheless was always eager to make herself look an idiot and lead by example.
Baldwin's portrayal is less flattering, with Bridesmaids director Paul Feig, who worked on the show, wearily describing him as 'a little challenging' and another crew member testifying that he openly threatened early director Adam Bernstein with assault.
However, from constantly intimating he might walk away in the early seasons, Baldwin came to recognise the magic they were creating and became the show's staunchest advocate by the end.
Jack McBrayer, who played self-sacrificing page Kenneth, seems to have been every bit as loveable as his character. And everyone involved (bar an anonymous, long-suffering personal assistant) is equally gushing in their appreciation and admiration for SNL veteran Tracy Morgan, despite his many chaotic public misadventures and controversies, which the writers fed back virtually wholesale into his character, Tracy Jordan. Slightly disappointingly, we get much less of a sense of Jane Krakowski, who played Tracy's rival in ego, Jenna.
Never a ratings hit, notwithstanding a brief bump when Fey was also playing vice-presidential nominee Sarah Palin on SNL, 30 Rock traded in 'two-percenter' jokes for the comedy cognoscenti, Roe argues convincingly. These were jokes that relatively few people got. But for those that did, they clutched them to their hearts. And if you're in that enlightened demographic, you'll devour this richly compelling cultural history.
• The 30 Rock Book: Inside the Iconic Show, from Blerg to EGOT by Mike Roe is published by Abrams at £18.99.
Published: 21 Dec 2021
What do you think?