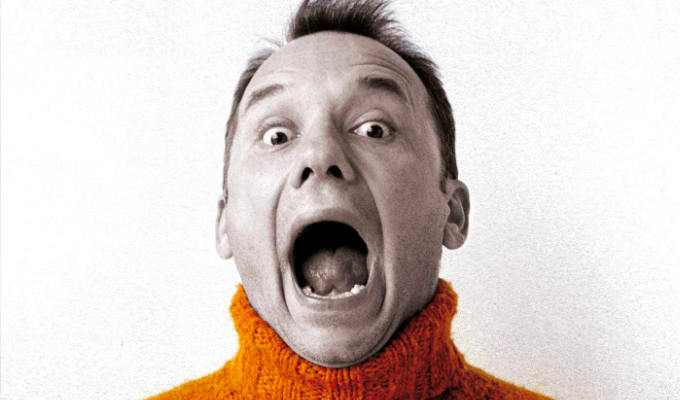 Bob Mortimer: And Away... The Autobiography
Bob Mortimer has had his life saved twice now. Literally by the surgeons who gave him a triple heart bypass in 2015, and metaphorically by Vic Reeves, after he stumbled into his comedy show in Goldsmith's Tavern in South London in 1986.
At the time, he was miserably trudging through an empty life as a disillusioned solicitor for a local council, suffering 'deeply and painfully' from depression. 'Every day I would wake up hoping that the dark cloud of depression might have magically disappeared overnight, but it never did,' he writes in his new memoirs, And Away… 'I longed for the day when I might laugh out loud freely and not through this veil of sadness that consumed me.'
When he first encountered Reeves, he thought he had experienced 'the past, the present and the future of comedy'. He would return each Thursday as the shows 'made my whole week as a solicitor bearable'.
Mortimer was accepted into Reeves's inner circle – coming to know him by his real name, Jim Moir – and started doing bit-parts on stage to help out, but never expected it to lead anywhere. When the show transferred to Channel 4, he expected to be replaced. Instead, one of the most enduring and influential double-acts of modern times was cemented.
And Away… blends showbusiness anecdote and personal turmoil to compelling and poignant effect. Mortimer is painfully honest about his early life in the long shadow of his father's death in a car crash, when Mortimer was just seven, and his crippling shyness.
'Horsefoolery' with his small cohort of friends in Middlesbrough was some escape; football was another. But despite a notable talent, he was so insular that coaches thought him not a team payer – and his isolation continued into college, where a bad LSD trip trigged the more debilitating depression.
The candid way he recalls all this makes Mortimer's subsequent success, once emerged from his shell, all the more heartening. It also acts as a brake on the second part of the book becoming mired in showbusiness luvviness.
He is certainly effusive in singing the praises of fellow performers such as Matt Lucas, Reece Shearsmith, Mark Lamarr and Matt Berry, and work such as Catterick, The Smell of Reeves and Mortimer and House Of Fools – but we know Mortimer to be a genuine, warm cove, so it all feels authentic. He is more ambivalent about Shooting Stars – though it remains a fan favourite – while admits to being out of his depth appearing as an actor in the BBC remake of Randall & Hopkirk (Deceased).
His heart surgery clearly gave him a perspective on life, and a recurring narrative pivot for the book. The procedure initially took him into another mental slump, which was finally lifted by old pal Paul Whitehouse taking him fishing.
That, of course, became an accidental TV hit, bringing Mortimer newfound acclaim and contentment. For a man always happy in Reeves' slipstream, Mortimer has now become a national treasure in his own right, thanks to Gone Fishing, Taskmaster, Would I Lie To You? the Athletico Mince podcast and as Train Guy online – each with their own fan bases.
Mortimer has had such a rich life that you would not think it needs any embellishment, But in a nod to Would I Lie To You, his memoirs include some fibs. It's an irritating gimmick, to think some of the stories the reader becomes so invested in might be untrue.
Did he and Moir really go naked scorpion-hunting while shooting a Boost chocolate bar advert in Spain? Did the young Robert really espy a Shetland pony in the house of a weird old lady – who then paid him to dispose of a toilet seat? Did he really once get mugged by one of his legal clients, who backed off when he recognised his solicitor? We might never know…
Accidentally burning down his family home by setting off fireworks indoors is a true story, as he hilariously told it Rob Brydon et al on TV. Here the humour is tempered with a more emotive edge, typical of a book that deftly combines all the varied aspects of Mortimer's eventful, fascinating life and paints a fully three-dimensional picture of this much-loved figure.
• And Away… by Bob Mortimer is also available from Amazon, priced £10 in hardback or £12.59 as an audiobook
Published: 11 Oct 2021
What do you think?