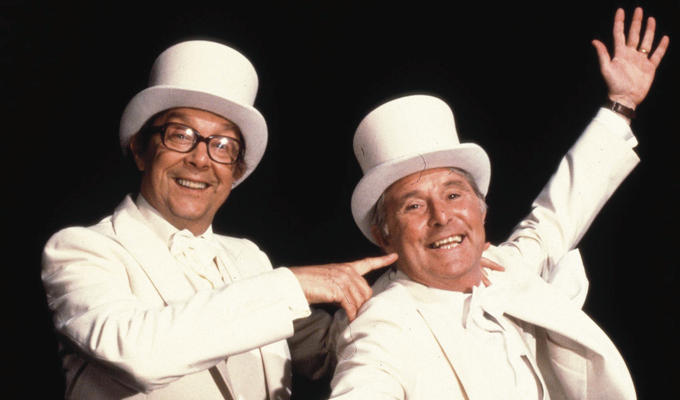 Sunshine And Laughter: The Story of Morecambe & Wise
It's testament to the enduring appeal of Morecambe and Wise that I already have nine books about them on my shelf. Louis Barfe's makes it ten.
With such a hefty existing body of work it was always going to be hard for him to find too much that's a revelation, but Barfe is a stickler for detail and fills in some of the finer points of their careers, which sometimes offers a slightly different perspective on the assumed wisdom, even if the main facts are well-known.
Their first TV vehicle, Running Wild, for instance, doesn't seem to be quite the career suicide its often portrayed as – although it certainly gave the fledgling broadcast stars a new impetus not to be complacent. Eric famously carried a damning review - 'Definition of the week: TV set – the box in which they buried Morecambe and Wise' - in his pocket for the rest of his life.
Nor did I realise that the reason the pair who were so inseparable on stage didn't socialise much off it was that their wives didn't get on – a fact understandably pounced upon by The Mail on Sunday in their serialisation of the book. And maybe Eric's mother Sadie wasn't quite the single-minded pushy parent she's usually depicted as, either - though she was clearly the driving force behind her son's career.
Eric and Ernie both started off as juvenile entertainers in the variety halls, a distant world which Barfe evokes. Eric Bartholomew, as he was born, would don a tailcoat, giant spectacles and a beret, his hair in a kiss curl and carrying an outsize lollipop to sing his songs – at least until teenage embarrassment got the better of that idea. Ernest Wiseman began in the pubs with his dad, an amateur singer, before becoming a young song-and-dance man.
They worked together in junior revues, but their partnership was cemented by two chance encounters. The first was when Ernie was struggling for digs in Oxford, and Sadie doubled him up with her son - perhaps the genesis for their later bed scenes on TV. The pair found they got on well and, at Sadie's suggestion, forged a double act, with the ever-pragmatic Ernie concluding it was better to bear the travails of life on the road with a friend.
Yet their act was forced apart by the war, and it was only a second stroke of fortune that reunited them. In 1945, a newly demobbed Wise, then 20, was walking along Regent Street in Central London when he spotted what he thought was a familiar face across the street. No prizes for guessing who. 'As chance encounters go, it must rank as one of the most extraordinary and significant in the history of entertainment,' Barfe writes.
They eventually started parleying their live experience into TV appearances, though a major breakthrough always seemed to elude them – and there's no doubt the failure of Running Wild in 1954 was a major knockback. Lack of a good script was a problem.
Johnny Speight, the creator of Till Death Us Do Part, spotted that they should ditch the harder edge to their patter and become warmer, like Laurel & Hardy. And while they had some success with their original writers Dick Hills and Sid Green (who, for example, wrote an early version of the famous Grieg Piano Concerto sketch), it was with Eddie Braben they hit paydirt.
The Liverpudlian, who'd previously written for Ken Dodd, managed to bottle the innate chemistry between the two, playing up their naivety and making Eric fraternally protective of Little Ern and his delusions of grandeur. It was this magic formula that made their Christmas specials must-sees, still repeated to this day, that could attract almost A-list star they wanted.
Fittingly, Barfe is equally well-disposed towards his subjects, and the prose is written with affection – even concern when it comes to Eric's well-documented health problems. 'Eric was smoking between 60 and 100 cigarettes a day and living on his nerves,' he quotes Ernie as saying
His first heart attack came in 1968, a second in 1979 – both more serious than portrayed in the media at the time – and the final fatal one in 1984, just as he came off-stage from what should have been a genteel Q&A. But, ever the showman, he couldn't help but act up for the crowd.
Such colour about the characters of the much-loved comedians is mixed with Barfe's usual forensic research, cross-checking dates and delving into the archives. As is his wont, almost 70 pages is dedicated to listing all their appearances together - which has to be for completists only (and seems like a bit of a waste of tree for everyone else) – but it shows he's done his homework for this book what he wrote.
• Sunshine And Laughter by Louis Barfe is published today by Head Of Zeus, priced £25. Click here to order from Waterstones fo £21.99
Published: 8 Jul 2021
What do you think?