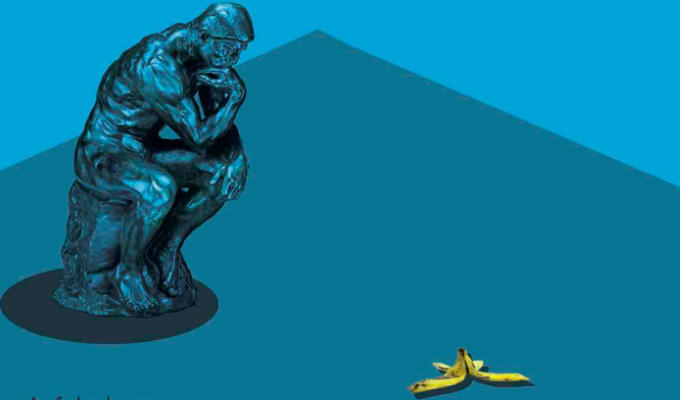 Contemplating Comedy by Jonathan Levitt
I'm not sure what's the worst aspect of Contemplating Comedy: the fact that author Jonathan Levitt has simply lifted hundreds of jokes written by other people - or the ill-considered drivel he's surrounded them with to justify that theft as some sort of insight.
Of course the book is frequently funny, because he's drawn on some of the greatest joke-writers around: Tim Vine, Stephen Wright, Woody Allen and countless more – usually credited, but sometimes not. But even from such a robust foundation, Levitt has managed to construct an absolute dog's breakfast.
His technique when looking at jokes is to group half a dozen or so together and invite the reader to pick their favourite. 'The idea is to present plenty of funny lines in an engaging way as opposed to just listing them,' he says. The distinction is marginal, however, because there's so little context that even 300+ pages in, he's ending lists of gags by simply saying '4) and 6) I liked most' without further analysis.
Although perhaps we should be thankful for small mercies. Sometimes his efforts at 'contemplating comedy' go no further than sucking the joy out of any gag by over-explaining its literal meaning.
For example? '"I started a business building boats in my attic. Sales have gone through the roof" is a little joke that plays on the idiom "sales have gone through the roof" meaning that sales are very high and you are making money.'
Oh, that makes it so much funnier! And if you're still lost, he adds: 'An idiom is something that can be defined as a group of words having a meaning established by usage which is not deducible from those of the the individual words. A phrase is a just a small group of words that stand together as a a conceptual unit.'
You'd almost think this was a primer for people whose first language was not English, but it clearly isn't. How many readers, I wonder, would trip over the word 'phrase' but not the word 'deducible'?
Levitt doesn't confine himself to jokes, but offers bland assertions on many aspects of life in general. On Covid, for example, he adds to the sum of human knowledge the observation: 'What has happened has happened and apportioning blame will not change the situation.' Hardly an idea worth committing to a tweet let alone print.
It's typical of a book that seems to include random notion that seems to have flickered across Levitt's mind. Yet he writes without ever chancing upon either an original thought or a pithy way of expressing an unoriginal one, while always having the mildest of convictions. 'The sheer number of suicide bombers in recent years is genuinely alarming', comments Mr Controversial, or: 'Generally speaking there are some things which men, on average, are better at than women and equally there are things that women are, on average, better at than men.'
It might not surprise you to learn that Levitt is not an expert in humour. The cover blurb informs us he's an Oxford maths graduate turned chess grandmaster who now makes a living betting on cricket. And to be fair, there's an interesting chapter or two on psychology, innate bias and our often misplaced instinct when it comes to assessing probabilities - all topics that fall within in his wheelhouse, but with bugger all connection to the topic the book's supposed to be about.
The cover claim that this is 'a fabulous collection of laugh-out-loud funny lines' is true - it's just that the thousands of words of misjudged baggage that surrounds them makes it virtually unreadable, and certainly not even close to offering the analysis the title promises.
• Contemplating Comedy has been published by The Caxton Press, priced £9.99. Buy here.
Published: 27 Jan 2021
What do you think?