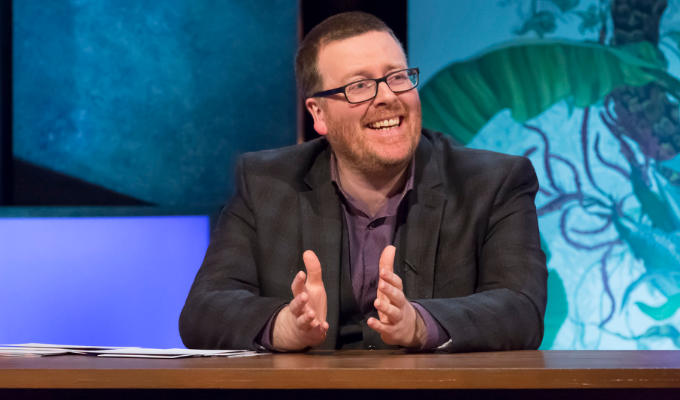 The Future Of Politics by Frankie Boyle
The Future Of Politics is not a full book, more like an extended version of one of Frankie Boyle's newspaper columns – a throwback, perhaps, to the pamphlets that were once so pivotal in revolutionary public debate. He's Thomas Paine with paedo jokes.
The 64-page essay has been released as part of a series called Futures, whose grandly stated aim is to 'change how we think', no less. That's a tall order for a comic – and Boyle understandably falls short of achieving the significant, coherent vision so boldly promised by the title. Indeed, in such a volatile political landscape only a fool would predict what the future holds, which may be exactly why the publishers commissioned a modern-day jester to do it.
Boyle nevertheless offers a broad overview of the state of the nation with plenty of acerbic, astute insight, especially on some of the systemic issues that often get overlooked in the hurly-burly of daily, tribal politics. Especially the enduring myth of Empire in the national psyche that spawns both systemic racism and the myopic Brexit hypocrisy that means 'we seem to be sanguine about foreigners owning our infrastructure, but we just don't want them picking our fruit'. And I certainly learned something about Scotland's recklessly ill-judged bid to become a trading superpower in the 17th Century that backed it into the corner of a union with England.
Ineffective left-wing keyboard warrior liberals, and pro-EU zealots aren't entirely off the hook – though his own side are never going to receive anything like the impassioned bile he tips over the right.
And how scabrously he assails those in his sight. These few pages drip with bitter opprobrium, hilarious for the brutality of their language and imagery, often deeply personal. Boris Johnson is the 'evolutionary dead end of the Honey Monster', Keir Starmer has 'the stage presence of the Higgs boson', and Michael Gove is subject to a fat paragraph of ad hominem abuse for looking like 'a witch tried to turn a schoolboy into a snail and forgot the words halfway through'.
Despite all this righteous anger, expressed both artfully and savagely, Boyle concludes with an upbeat call not to despair, to be hopeful that we can emerge from this toxic, delusional, unfair political landscape and march towards some co-operative utopia. After such a passionately embittered essay, his positivity seems misplaced, but you have to admire his unlikely optimism.
The Future Of Politics might not be the grand essay of our age, but for just a few quid it provides a welcome cathartic, jet-black laugh at the ruling elite – as if there is anything elite about them – very much in the vein of his stand-up, or New World Order TV show.
• The Future of British Politics by Frankie Boyle is available from Amazon priced £2.99 on Kindle or £5.19 in paperback. Physical copies are also available from Bookshop.org, priced £5.57, which helps support local bookstores.
Published: 9 Dec 2020
What do you think?