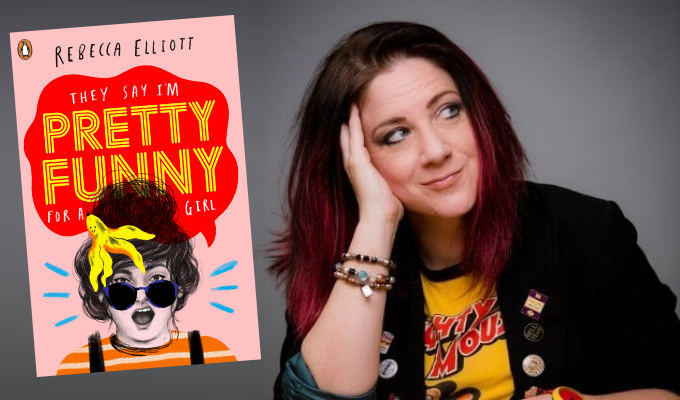 Pretty Funny by Rebecca Elliott
A tale about the transformative power of comedy, at least for the social misfits who perform it, Pretty Funny is the first young adult novel from kids' author Rebecca Elliott.
Her heroine, Haylah Swinton, is a semi-outsider at school. She's best mates with a couple of popular girly girls but has confidence issues that mean she doesn't quite fit. A lot of this is tied up in her body image – she's nicknamed Pig because she's overweight, and talks a lot about her weight even while insisting she's comfortable with it, a paradoxical state of mind that can be irritating to read, though it surely reflects the love-hate relationship a lot of teenage girls have with their bodies.
Home life is chaotic. Her mother is a frazzled health worker whose shift patterns leave Haylah the surrogate parent to annoying four-year-old brother, Noah. Her escape, her defence and her identity lies in being the 'funny one' in her group, while bingeing on stand-up clips at home and harbouring ambitions to become a comedian herself one day, even if she lacks the confidence to do anything about it.
The engine of the plot is her crush on Leo, an older, cooler guy who performs stand-up in a school show, so fuelling her desires. Could comedy be the thing that gives her a shot at becoming close to him, if she could only overcome her crippling nerves and fear she's not attractive enough (despite being so totally OK with her size, let's not forget)? There are no great surprises in this love-interest storyline, but it drives the narrative effectively, building to a satisfying and empowering (of course) climax.
Self-absorbed Haylah's not always the most sympathetic of characters, and a couple of her more manipulative moves are rather too conveniently forgiven by friends and family. But ultimately Elliott has you rooting for her creation, nonetheless.
The dialogue's entertaining and witty, without trying too hard to appear sassy (the title is accurate on its level of humour). Even the stand-up, so hard to write convincingly, was recognisable as the sort of routine a comedy-savvy teenager might come up with. But some of Noah's surreal ways of playfully misbehaving seem forced, and the supporting characters are often one-dimensional cyphers to contrast with Haylah.
Flawed but ultimately feelgood, Pretty Funny's essential moral – that finding a way to express yourself is so much more rewarding than bending to seek the approval of others – should speak volumes to its target audience.
• Pretty Funny by Rebecca Elliott has been published by Penguin. It is available from Amazon priced £6.55 in hardback or £4.99 in ebook.
Published: 25 May 2020
What do you think?