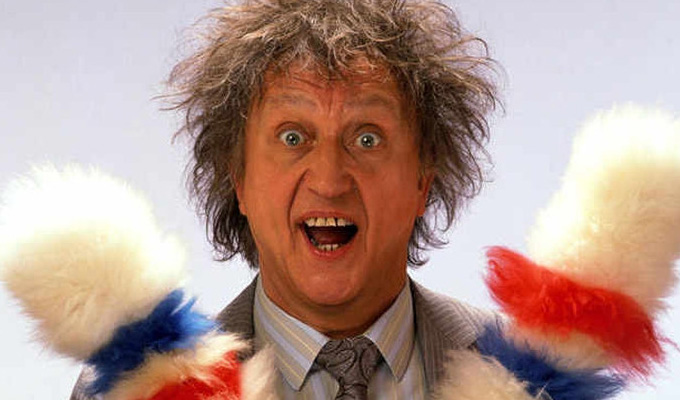 Ken Dodd: Happiness and Tears by Louis Barfe
When Ashtar Al Khirshan was making a serious-minded profile of Ken Dodd for the BBC's Arena arts strand in 2007, the director kept pushing to find out what was going on behind that clownish exterior of bedraggled hair, buck teeth, wide-eyes, scruffy clobber and ever-present tickling stick.
'Why are you trying to lift the curtain?' the comedian would admonish him. 'People like curtain.'
And indeed, for all the peculiarities that occasionally emerged over his life Dodd was ultimately unknowable, which is just how he would like it. Louis Barfe's new biography, from which this anecdote comes, can only therefore guess at the 'real' Dodd.
In interviews, the comikc would stick to the same biographical stories, deflecting any attempts to dig deeper with a joke. Even when on the psychiatrist's couch for Dr Anthony Clare's usually probing Radio 4 interviews, Dodd would only disclose what he wanted to disclose.
One trait sometimes suggested is that the comedian was controlling, and that certainly applied to his public profile, as well as the inherent control over an audience that his job entailed.
His notorious 1988 fraud trial for tax evasion shone an unwanted spotlight into his carefully guarded world. Hundreds of thousands of pounds in cash was hidden in wardrobes or under beds, which perhaps suggests an absent-minded approach to money or a distrust of banks from an obvious eccentric.
But twin invoices for the same gig – one on the books and one off – and the £777,453 of banknotes he personally took to the Isle of Man, some hidden in his shoes, suggests something a lot more calculating.
The trial – in which he was unexpectedly acquitted thanks largely to the legal brilliance of his QC George Carman – is one of the things everyone knows about Dodd. It cemented his already golden reputation as a hero in Liverpool, a city that has always cherished putting one over on authority.
The other thing everyone knows about Dodd is the buttock- and bladder-challenging durations of his gigs. Tales of him going on stage at 7pm and not coming off until the small hours abound – even if the shows were filled with old-fashioned variety acts, not just him on stage.
Barfe suggests two reasons for this. The first is his sheer love of performing; the second was a more canny manoeuvre to secure some precious word of mouth about his shows. How many audience members would tell their friends and colleagues the next day what time they finally got home?
Being on stage was all Dodd lived for and all he ever wanted, taking part in amateur theatre from a relatively early age while learning his patter during his day job as a door-to-door salesman for bleach. The job, he would always say, was also the inspiration behind the 'giggle map' he kept, in which he recorded which jokes went well where. Both were based on trying to sell the right products to the right customers
One of his first professional engagements was in Nottingham in 1954, when he was billed as Professor Yaffle Chuckabutty, 'operatic tenor and sausage-knotter'. Though clearly an industrious worker, Dodd never really had any struggles professionally from that point on, rising and rising through the business in the 1950s and 1960s.
Barfe comprehensively chronicles how his wages rose and how the BBC and ITV would vie to put him under contract. He had hit singles (Tears outsold The Beatles to become the bestselling disc of 1965) and enjoyed a record-breaking 35-week run at the London Palladium.
Not that he enjoyed the trappings of being an entertainer at the top of his gane in the Swinging Sixties, being contented with his lot. He eschewed showbiz parties, far-flung holidays or even fancy cars, despite the miles he would cover on the road, trying fulfil his aim of playing every theatre in the UK. Even as a multi-millionaire he lived in the same house where he grew up in the Knotty Ash suburb of Liverpool – not a fictional place as some might have thought from his fanciful act – and would try to return there each night, if he could.
If his TV and radio outings couldn't capture the alchemy of his live show, the offers never stopped and audiences kept coming to hear the cheesy jokes and syrupy ballads.
There was certainly something magical about his performances on stage. There had to be with the sort of cornball jokes that were his stock in trade. Barfe's book quotes Bob Monkhouse recalling: 'I have never heard such screams of joy from a crowd anywhere. The cause of this hysteria is this creature from another planet, a clown escaped from some circus asylum.'
Barfe suggests the psychological control of the audience was what Dodd was interested in, though his baulked at suggestions that his long shows evoked a form of Stockholm Syndrome.
Doddy's act remained stuck in a world of travelling salesmen and seaside boarding houses that might have been timely in 1954 - though even then expressions like 'By Jove!' would surely have been dated even then – but never moved on. As his gag-writer, fellow Scouser Eddie Braden played up the surreal elements – until Dodd's skinflintedness drove him into the arms of Morecambe and Wise and even greater heights of comedy inspiration.
Not that Dodd's old-fashioned sensibilities mattered to his fans. In fact, he made it an essential part of his appeal. In both content and style he was a living history of the days of the variety hall.
A keen student of the history of comedy, Dodd would be able to trace his lineage back even further. He was a fan of that 'great scriptwriter' William Shakespeare, while that ubiquitous tickling stick is an ancient throwback to Pulcinella's cudgel in commedia dell'arte.
Dodd's love of the old arts meant he even stuck with unreconstructed ventriloquism. However uncool, or even unloved, the art, his Diddy Men became part of the brand, and as Barfe recalls when, he Dicky Mint doll was stolen from Dodd's car outside Liverpool Cathedral, he was placed on the official missing persons list.
As well as lashings of press-cuttings research, Barfe has conducted interviews with those who encountered Dodd to try to flesh out the picture, even if he had no access to those closest to him who might know the true man. And by that I mean Anne Jones, his confidante, formidable manager and fiancée of 40 years.
He didn't like to commit, did Ken. Previously he was engaged to a nurse called Anita Boutin for 24 years, until her death in 1977, He did finally marry Anne – just days before he died, thus dodging inheritance tax and having the last laugh at HMRC.
While Happiness And Tears isn't as substantial a book as it looks – a good third is devoted to a 'Doddography' listing his appearances which is for completists only – it offers a brisk, yet comprehensive and meticulously researched, account of this unique comic's untroubled rise, and at least hints at the man beneath.
And to take just one moment to judge this book by its cover, the Andy Hollingworth portrait that adorns the sleeve is a rather wonderful photograph of the comedian looking uncharacteristically thoughtful. Exactly what is going on beneath that unkempt hair, however, we can only guess.
Ken Dodd: Happiness and Tears by Louis Barfe is published by Head Of Zeus, priced £20. Click here to buy for £10 from Amazon or here for from Foyles.
• Louis Barfe will be talking about Ken Dodd at the Chortle Comedy Book Festival at the British Library in London on January 19. Click here for day tickets, priced £20 to £40, or here for tickets for just the Ken Dodd session at £9 (£4.50 concs).
Published: 6 Jan 2020
What do you think?