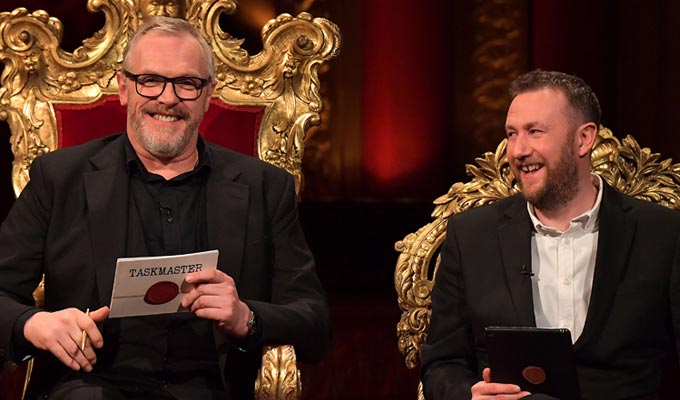 Christmas comedy books 2018
Looking for some last-minute Christmas presents. Here's our take on some tie-in comedy books on the shelves of your local bookstore (or Amazon if you must) this festive period:
Elis and John Present the Holy Vible
Given their status as 'commercial digital indie radio legends' – their words – and podcasters of note, this is probably a title that will sell better as an audiobook than in print..
Even in its written form it can feel like a transcript of their on-air interactions, full of their catchphrases and running gags, such as John Robins's Queen obsession and Partridgesque turn of banality, while the more mischievous Elis James prefers the more obscure Gorky's Zygotic Mynci. You can hear their voices on every paragraph.
It's possibly too in-jokey for a general reader unaware of their work – not that such a person is likely to be rushing to buy this spin-off in the first place – and long-term fans may well be aware of the content already. But the book is an extension of the clubby, possibly even clique vibe of their radio work, based on a genuine friendship that comes off the page here, too. And bantz, there's some depth, not least when Robins discusses depression, the subject that also underpinned his 2018 Edinburgh Comedy Award winning show.
Click here to buy from Amazon for £13.05.
Cunk On Everything
As brought to life – if that's not too strong a word for her torpid inertia – by Diane Morgan, Philomena Cunk has become one of the delights of television, with her muddle-headed but absolutely certain opinions. With ignorance no bar to conviction, she is an astute parody of cynical talking heads.
This spoof encylopaedia offers her take on everything from the sublime,the heat death of the universe, to the ridiculous, weeing. It is certainly a more substantial offering than you might expect from a TV tie-in.
Cunk's voice is readily identifiable in every sentence her creators Joel Morris, Jason Hazeley and Charlie Brooker have written, so well have they drawn her. But it also quickly grates, the generous quantity of gags blunted with page after page of the same.
It's funny, but monotonous: 'Newspapers are a sort of paper version of Twitter for your nan', Cunk opines. 'Soup is like food except it is a drink'; the Domesday Book is the 'Fifty Shades of Grey of its day'. Perhaps a tome to dip in and out of, rather than try to consume in earnest.
Click here to buy from Amazon for £9.99.
Taskmaster 200 Extraordinary Tasks For Ordinary People
One of the joys of Dave's runaway success is figuring out how you might approach the challenges Taskmaster Greg Davies metes out. Well now you can try, for series creator and sidekick Alex Horne has offered all the ingredients for a home game in this first book from the series.
It's easy to imagine this becoming the basis for Taskmaster parties around the country, and indeed Amazon also offers a package deal with a cardboard mask of Davies's face, for the full TM experience.
There are solo and group tasks, and in some cases you're invited to send in your finished efforts in to Horne for him to pass judgement at the end of the year.
It might take some work on your side to figure out which of the 200-plus challenges are best suited to your situation as they range from the simple, such as the warm-up challenge of drawing a self-portrait with your eyes shut, to more esoteric task such as 'make a Swedish person blush', a level of difficulty that will depend on your circle of friends.
And when you're done, you're invited to destroy the book in the most beautiful way possible (no doubt helping repeat sales).
Click here to buy from Amazon at £6.99
No Such Thing As A Fish Book Of The Year
From the hit podcast created by QI's researcher 'elves', this second annual offering is basically a collection of all those weird little stories that have dotted the edges of newspaper pages over the past 12 months.
You might recall a lot of these – some were pretty big stories – but the team find quirkiness in the minutiae.
In the past 12 months, Nasa sent a man with a fear of heights to the International Space Station, an art instillation comprising 120 umbrellas had to be removed because of the rain, and Ikea encouraged women to pee on their adverts. If headlines like that pique your interest, this sizeable entertaining-because-it's-true collection should be right up your street.
Click here to buy from Amazon for £9.99.
Chabbudy G: How To Be A Man
Perhaps we should expect nothing less from Kurupt FM's resident wheeler-dealer, but this is probably the most blatant cash-in of this batch: an over-priced stocking filler with lots of big pictures taking up space and stretching simple jokes over a few pages of blether.
The alter-ego of Asim Chaudhry offer such tips as 'how to boss a job interview', how to dress, survival tips and how to chat up women: 'viciously insult the lady seven times and then give her one compliment' , which actually sounds pretty unpleasant.
The Daily Show Presidential Twitter Library
Actually, this probably could be considered lazier than Chabbudy G's offering: a collection of Donald Trump's oddest and most deceitful tweets. It is a big book.
Quite some work has actually gone into cataloguing the outpourings his deranged, scared mind in some attempt to make sense of it. The commentary is brief, but funny and informative.
However the remaining question is who – apart from perhaps special counsel Robert Muller – would want to read these insane brain farts again and again…
Click here to buy from Amazon at £14.99.
• Alex Horne and Elis James and John Robins will be appearing at the Chortle Comedy Book Festival at the British Library on January 13. Click here for tickets and further details.
Published: 19 Dec 2018
What do you think?