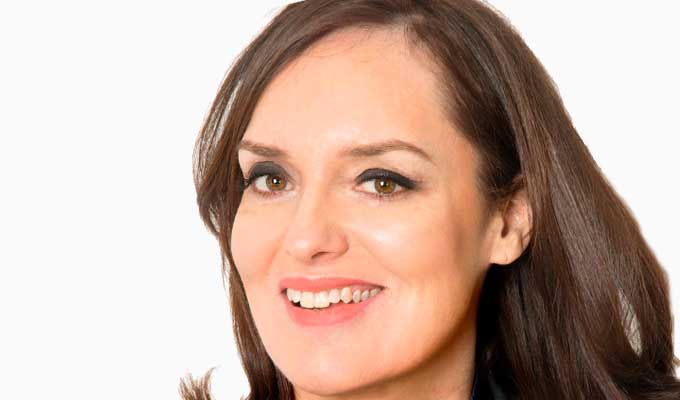 The Guilty Feminist, by Deborah Frances-White
I'm a feminist but… I haven't got a woman to write this review.
However, blokes needn't be banished from the brand of guilty feminism that has proved so successful for Deborah Frances-White through her hit podcast, just as long as they are allies to the cause. In fact, she acknowledges that the patriarchy does a disservice to many men, too, fostering a damaging toxic masculinity. That's how careful she is to make sure everyone's included.
She's especially keen to check her privilege at every turn, aware that there are plenty of social systems that give middle-class white women like herself a boost that's denied to many of her sisters and ensuring that's not overlooked. 'Intersectionality' isn't the prettiest word, but it's clear from this spin-off book from her hit podcast, that its ethos is important to the comic.
Occasionally this book gets a little preoccupied with the dry theory of such things, such as in the opening stages when it charts each numbered wave of feminism. But mostly Frances-White knows that actions speak louder than treatise, and this sincere and readable tome is packed with real-life examples to inspire.
Indeed, the premise of her Guilty Feminist brand is that the drive for equality does not require unquestioning adherence to a set of strictures laid down from on high. For why replace one rigid hierarchy with another?
Each chapter, like her podcast, starts with the 'I'm a feminist but…' statement to acknowledge that ambiguity. The funniest confession is probably: 'I'm a feminist but one time I went on a women's march and popped into a department store to use the loo and on the way back I got distracted trying out face creams and when I came out, the march was gone.'
Frances-White's own guilty pleasures include Dirty Dancing, the reality show Say Yes To The Dress and Pretty Woman. She argues the first two are feminist enough, and Julia Robert's Pygmalion story might be, but is still problematical.
Fun as such debates are, Frances-White is keen to make this book a guide that's practical and rousing; a call to encourage women to take steps towards the future they want and offering hope that it can be achieved.
Her own background proves that things can change. As she's discussed in her stand-up, she used to be a Jehovah's Witness. And breaking out of that highly regimented sect, where women where institutionally ignored even more firmly than in wider society, has given her both a practical toolkit for changing things, and a belief that ingrained structures can be overturned.
So much of the Guilty Feminist book is about suggesting ways in which women can make incremental differences, not to be overwhelmed by the size of the task. She talks of her own podcast as a 'microclimate for women to shine' and has seen first-hand how positive effects snowball.
In her spirit of collaboration, the book is not only defined by her ideas, as there are interviews with the likes of comedian Zoe Coombs Marr, actor Susan Wokoma, disability rights activist Becca Bunce and an essay from Hannah Gadsby on why the marriage equality plebiscite in Australia prised open wounds, not healed them.
Frances-White's way out of the Jehovah's Witnesses was, in part, through improv, so perhaps inevitably one of the chapters is entitled 'the power of yes'; but she also stresses the power of 'no', urging women to stand their ground. That performance background also taught her to speak up, and she wants to encourage others to do the same in their workplaces
Inspiration comes from historic figures, such as the pioneering (and fascinating) 17th Century poet Aemilia Lanyer, and more modern ones like Michelle Obama. Not to mention rewriting the 'once more unto the breach' speech from Henry V, which would stir anyone into action.
Though the book is a state-of-the-movement overview of the complexities of feminism, Francis-White offers up some different perspectives, too. For example, while consent is rightly a red-button issue she wants to reframe the whole language.
'While we continue to talk about sexual consent as of we are reluctantly allowing a neighbour to build a fence on our land, against our wishes but not our will, we play into the idea that the power imbalance expressed in the boardrooms, business and backrooms of society will naturally be extended to the bedroom,' she writes. 'We need to start talking about coercion. Men have been trained … that women's bodies are there to be colonised. Our bodies are not something to be conquered. Our genitals are not a place to plant a lag. While we speak about consent too often we may be co-creating a culture in which some men are looking for signs of acquiescence, giving in and resigned permission rather than arousal, invitation and initiation.'
That's typical of the thoughtful, heartfelt writing. The book is not very often funny, in case you were expecting that from a comedian. But rather she's deployed her stand-up skills to communicate directly and efficiently – at least mostly.
There are occasional lapses into the arcane (a passage about a worthy project based around Holloway jail in North London manages to name five slightly different campaign groups in one sentence, giving each their due but bogs the bigger picture down). However, overall the Guilty Feminist is a positive call to action, inspiring rather than daunting for the increasing band of people wanting to be better feminists, even if they are not there yet...
Published: 8 Oct 2018
What do you think?