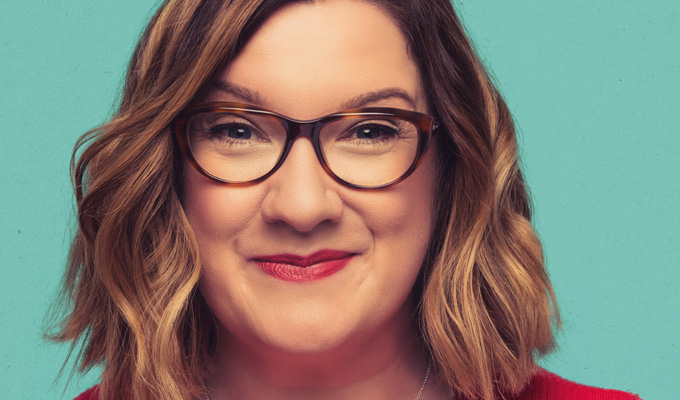 How To Be Champion by Sarah Millican
Sarah Millican's first book falls partway between biography and self-help guide. You sense that she's a modest woman who feels a simple story of her life might be considered arrogant, so tempers those fears with a more altruistic purpose.
'I've written about my life to show that things don't have to be perfect for you to be happy.' She says in the sleeve notes of How To Be Champion. 'Just do your best.'
Millican's down-to-earth style means the aims for getting through life are pretty modest, describing the state of champion as being 'pretty good… on an even keel'. No grand hyperbole here, just the hope this will help people cope a little better
Her personal chatty approach means the book sometimes feels a bit like a blog in hardback, partly memoir, part life tips gleaned from her experience – and even occasionally a scrapbook of things like her favourite cake recipe. Many of the chapters are in easy-to-digest list formats, whether or not explicitly stated in such titles as Things My Dad Taught Me, The Six Men I Have Loved, and Ten Good Things About Being Overweight.
That last one is a rejoinder to another: Sometimes I Hate Myself, an honest admission that she is sometimes dogged by body issues, often not helped by the press coverage she gets. But she's also frequently successful in reminding herself that looks and dress sense ultimately aren't important compared to character, wit and intelligence.
How To Be Champion certainly contains several messages to her knockers - both the online trolls and the ones that fill out her bra. 'You give me excellent cushiony hugs… you are good at motorboarding…you can accidentally click a link on my laptop', she gushes.
Such positive messages are what she wants to impart, and most chapters end with a How To Be Champion panel of life advice, summing up the lessons learned. 'Be yourself or else you'll have to keep up the pretence forever'; 'Go with your gut instinct [when on a date]… I don't hang around if it doesn't feel right'; 'Be a good friend; it's the best thing you can be.' There are even a few inspirational quotes from other people which are just waiting to be Instagrammed, such as Tim Notke's 'Hard work beats talent when talent doesn't work hard.'
Insecurities – and a desire to be a writer – started young. As a shy wean she used to write poems, but could only recite them to her family from behind a curtain. Another glimpse into her childhood personality in Newcastle comes from the story of her wearing a T-shirt stating 'I love school… when it's closed,' but was so worried what the teachers might think that she tucked it in to conceal the punchline – leading to 'a decade of bullying'.
The list of other things her classmates targeted her for include wearing glasses, her ability to get on with the teachers, her lack of sporting prowess or simply just being in a toilet, where the other girls peered over the top of the cubicle to intimidate her. 'I really wish I could meet up again with those girls and force them to watch me shit now,' she writes with typical directness. 'My IBS is regularly awful'.
There are other, often happier, memories, too, of perms and school discos and getting 'sad cuddles' from the dinner ladies during the miner's strike, as her dad was an electrical engineer in the pits. Of discovering boys, of fostering a lifelong obsession with stationery… and finding a love of writing that would eventually be her salvation.
For Millican's life, as has been well documented, span on a single devastating event. The Divorce.
After a chequered history of dating, from the controlling one who took advantage to the wet flannel with no opinion, all briskly despatched here, Millican got engaged to the man who would be her first husband – who remains nameless – after knowing him for just a couple of months.
The split, at the age of 29, devastated her and she recalls frequently crying at work. They saw a marriage counsellor who said the relationship was irredeemable at their very first session – brutal! – and they decided to go their separate ways as they walked to the nearby Frankie & Benny's after the session. (Nevertheless, Millican believes therapists since have gone a long way to helping her in life).
It's very sad, and there's a distinct feeling the wounds go a lot deeper even than the comedian can quite bring herself to let on, the jokes something of a coping mechanism. There's as much about the revelation that her ex liked broccoli as there is on the reasons for the split that sent her back home to her parents, where she stayed for two-and-a-half years.
At a low ebb, Millican somehow convinced herself to go and see Linda Smith at the local theatre. 'And wow!' She writes. 'I sat alone in a crowd of excited comedy fans. No one knew how my insides hurt… And I laughed. Of course I did. It was Linda Smith, the first female comic I'd ever seen live. I walked out and my life was just as shit as when I went in, but I'd had a breather, a release, a bloody good laugh.' Of course, now she looks back at that day and hopes her comedy, and maybe this book, can do the same for others.
Stand-up was certainly cathartic for her. Looking for something to fill her life, she signed up for a performance course where she discovered she had a knack for making the rest of the group laugh. The rest is history.
'People deal with break-ups in a variety of different ways,' she writes 'Well, just three: cocks, fannies and booze. Often all together. I chose to stand on a stage in front of strangers and try to make them laugh.'
Jokes about her divorce – and especially her blunt dad's accidentally callous, response to her grief – got Millican noticed on the stand-up circuit. 'Divorce was the making of me,' she says - but she needed to be taken apart first, and that was tough. But she's also found a very kindred spirit in her new husband, comic Gary Delaney, who's a constant, playfully witty, presence in the contemporary sections of the book.
From the second act of her life, she offers tips on how to be a comedian, including Millican's Maxim, famous on the circuit, that you should never dwell on a bad gig nor revel in the afterglow of a good one beyond 11am. Ever forward!
She goes on to speak of her love of gardening and of pets, how she doesn't want kids and pushes back against pressure that she should, of her efforts to launch an online women's magazine that didn't amplify insecurities and obsess on appearance, and her #joinin campaign to make people feel less lonely on social media on Christmas Day.
This second half is a real ragtag of her interests and passions, less substantial the 'origin story' tales, but always written with the sort of warmth and sincerity that hallmarks her stand-up. Her book is, in short, champion.
• How To Be Champion by Sarah Millican has been published by Orion Books, priced £20. Click here to buy from Waterstones priced £10
Published: 10 Oct 2017
What do you think?