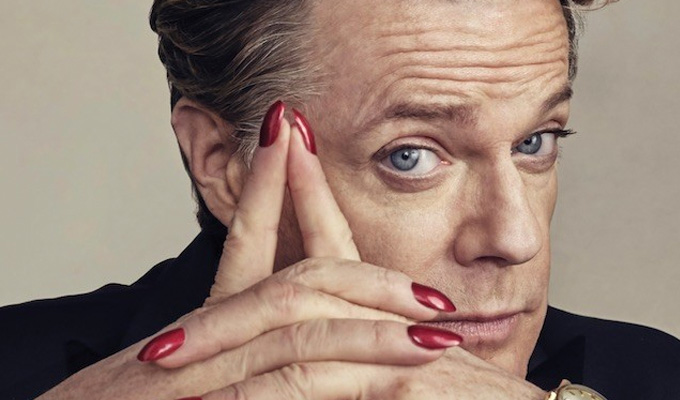 Believe Me: A Memoir of Love, Death and Jazz Chickens by Eddie Izzard
Eddie Izzard thinks himself 'a naturally boring person', which is a needless modesty for someone who has always seemed to defy conventional thinking. But even his achievements, from pioneering comedy shows, to publicly coming out as a transvestite long before gender issues impinged on the mainstream, from running ridiculous numbers of back-to-back marathons to tireless political campaigning – all are dismissed as mere 'occasional spikes of interestingness'.
It's fair to say he has the traditional British trait of never wearing his heart on his sleeve. His comedy is almost never about himself, and even these memoirs only sometimes delve deep into his soul. He puts his success down to tireless hard graft more than any talent, and so the book reflects the process of getting to where he's got more than any emotional searching.
But he's certainly had a fascinating life for someone allegedly so boring, and he uses his stage for spinning an entertaining yarn as deftly on the page as he does on the stage.
It was told on screen in 2009's Emmy-nominated Believe: The Eddie Izzard Story. Even then, director Sarah Townsend had trouble getting much out of him, and she is the comic's ex, so already knows the most intimate details.
The crux of that movie was the moment when he linked his phenomenal drive to his mother's death when he was six. 'Everything I do in life is trying to get her back. I think if I do enough things… that maybe she'll come back,' he memorably surmised.
But even that conveniently tidy psychological assessment doesn't really explain things fully. You might wonder, for example, if his father's absence - working away so he could bring up a family solo – had something to do with Izzard wanting the spotlight.
Like so many future entertainers, Izzard started off doing teddy bear shows for his parents. Unlike most, he would travel out to Pinewood Studios, trespassing in the vague hope of being spotted, such was his determination to break into films. Literally breaking in. However one route was blocked to him: he never got to perform in school productions, because as a clarinet player he was always more needed in the orchestra than on stage.
This book certainly fleshes out Izzard's early life, with colourful background about his time as a sugar-addicted schoolboy, boarding in Porthcawl and growing up near Bangor in Northern Ireland. His father, Harold, was an accountant with BP, which explains his absences (and why Izzard was born in Yemen), while Izzard Sr also instilled a confidence and lateral thinking in young Eddie.
There is also, from an early age, evidence of an adventurous spirit, from playing football (pretty well, by his account) to being in the Scouts – surely the foundation for the 'action transvestite' he would become.
The drive to be a performer saw him heading off to the 1981 Edinburgh Fringe when a student with no clue as to what it entailed – hitching from Sheffield to the Scottish capital just to get the application forms. Though he admits 'the only fly in the ointment of this entire story is that the show was crap'. An interesting point is that tickets for the sketch show he and his fellow students put on were 30p. Allowing for inflation, that would be £1.19 in today's money.
Izzard cites going to Sheffield rather than Cambridge as a godsend (or would, if he believed in God), since if he'd joined the Footlights, as he dreamed of, 'I would never have learned how to build a show out of thin air.'
It was also one of the earliest indications of the determination Izzard has to get things done, from running 43 marathons in 51 days to getting his pilot's licence – just because, by his logic, that was the simplest way to overcome a fear of flying.
Izzard says he liked to make things hard for himself in comedy, too, figuring that putting his own obstacles in his path 'will be good training for when things do actually get hard.' So he'd volunteer to take the unwanted opening slots on a bill, or ad lib a set just for the hell of it.
This spirit made him pioneer the way most comedians plot their career today (albeit without the stint as a street performer Izzard underwent before moving inside). But no sooner, it seems, was he on the circuit than he was itching to get off it, even though it was lucrative at the time. The aim – and he always has an aim – was to carry a show on his own name, so he took the unprecedented step of turning down a run of Comedy Store dates to book out the Bloomsbury Theatre. He worked on his image with Townsend, who also directed his stand-up shows, thinking about the whole package.
He also recorded his DVDs independently – two decades before Louis CK did the same – so he could keep the copyright. Even now he is pushing new frontiers to become a genuinely international stand-up, not just confined to the English-speaking world.
The determination gave him an ascent that seems almost impossible by today's standards. His first stand-up gig was in March 1988; Live At The Ambassadors was filmed in 1993. And no sooner was he a star in the UK, he set his sights on America,
both as a stand-up and landing film and TV roles.
As it describes this ascent, the book can go off on tangents - 'no shit,' says everyone who's ever seen an Izzard stand-up routine – yet there are always entertaining, if not always relevant.
His coming-out stories are the most revealing and the most heartfelt as his confusion over sexuality and gender – felt both internally and from society – finally settle into his thinking himself variously in 'boy mode' or 'girl mode'. Even in today's more enlightened times, readers with a less conventional orientation might find succour in his experiences, from seeking the community of a help group, to overcoming the terror of being teased by a pack of girls who'd caught him changing in the public toilets.
We get what's surely only a glimpse of how tough things must have been for him. But the message of Izzard's life is that self-belief and an unflagging work ethic can get you places. Though you probably need some talent as well.
• Believe Me: A Memoir of Love, Death and Jazz Chickens by Eddie Izzard is published by Michael Joseph, priced £20. Click here to order from Amazon for £9.50.
Published: 12 Jul 2017
What do you think?