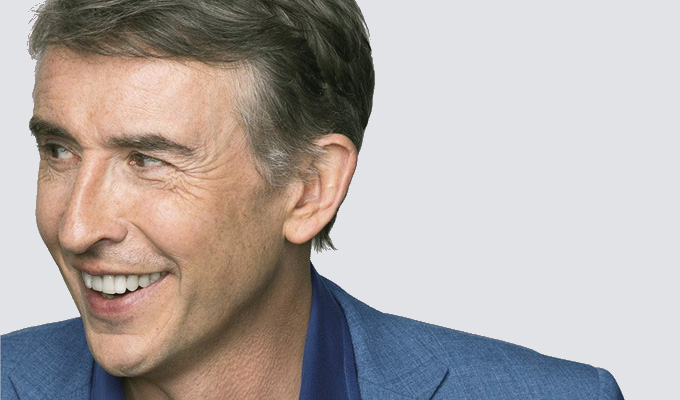 Easily Distracted by Steve Coogan
'Critics tend to lazily define me by my performance as Partridge,' Steve Coogan writes wearily in his autobiography, showing that creating one of the finest ever British comic characters can be something of an albatross when it connects so deeply with people. How many times must wags have shouted 'A-ha!' at him in the street?
Yet even using Coogan's own words, parallels between his life and that of his most famous creation are easy to draw. And he semi-reluctantly confesses that there is much in the petty, proud, insecure, clumsy presenter that comes from within himself – and he's come to appreciate laughing at those 'ridiculous' traits.
'In simplest terms I have embraced my weaknesses and have been liberated by laughing at myself,' he admits. 'I have flagged up my imperfections and let Alan Partridge absorb some of my foibles.
Yet while the subtitle of Partridge's brilliant spoof autobiography of 2011 was We Need To Talk About Alan, Coogan initially feels like he wants to talk about anything but.
We start with a brief section on his Edinburgh breakthrough, and then several chapters on Philomena, the 2013 film about the Irishwoman who spent 50 years trying to track down the son forcibly adopted as she was unmarried. Of course, there's plenty to be proud about in penning an Oscar-nominated screenplay and landing an audience with the Pope for your work. Yet there's also a slight undertone of him crowing over his success against those who said he'd never amount to much, never escape the pull of Partridge, never be able to tackle anything serious.
'I'm a serious person,' he solemnly declares. 'I like to do funny things.'
Depending on your perspective, you might also consider him to have a chip on his shoulder about his lower-middle-class background, or have valid complaints about the privilege of the few in an inequitable world.
It certainly gave him a sense of being an outside among the Oxbridge lot with whom he created On The Hour, from which Partridge spawned. And even on the live circuit he was an outsider, not part of the 'jeans and T-shirts' camp of alternative comedian nor one of the old-school entertainers, despite starting out as an impressionist. Where his contemporaries were being painfully right-on, he was coining it in with voiceovers to fund his most enduring of habits: cars. He can be the only comedian who's ever driven to his daily shows at the Edinburgh Fringe in a British racing-green Mazda MX-5 with a souped-up £4,000 engine – and that even before winning the Perrier.
He gets to that point, eventually, in a book that has no concern for chronology. After the Philomena chapters – which can feel a bit like a press release for the film – we move backwards through his Michael Winterbottom collaborations, 24 Hour Party People, The Trip – and then his campaigning against the press, including his Leveson appearance.
Only in part two do we go back to his youth, the product of a Catholic family in the Manchester suburb of Middleton. These scenes are evocative, both in painting a vivid picture of his parents, a warm, charitable couple, keen on education for a better life for their offspring and society, and in describing a pre-digital age. Coogan may have only just turned 50, but his childhood will seem like a world away for younger fans, or peculiarly familiar for those of a similar vintage.
He initially fell in to comedy to get his card from actors' union Equity, allowing him to work professionally. He studied drama at Manchester Polytechnic School Of Theatre; the snooty London-based schools having turned him down, exacerbating his feelings of not having the 'right' background. 'I felt like Frank Spencer drowning in a sea of Mr Darcys.'
Coogan's gift for accents quickly got him noticed, with that lucrative work on adverts and a coveted gig voicing Spitting Image puppets. Immodestly, he recalls Rob Newman telling him: 'I thought I had it in the bag as the edgy new impressionist on the block and now you've turned up out of nowhere.'
Coogan notoriously enjoyed his money, funding his excesses. Though he urges: 'Judge me on the work, not on the cocaine and the strippers.' So if you're looking for the 'my drugs hell' stories, this is not the place to find them, though he does tell a salutary tale of how a coke binge gave him a panic attack.
Perhaps given how much he's campaigned against media intrusion, it's no surprise that he's chosen not to 'invade his own privacy' as the newspapers would have it, by dwelling on his women and drugs habits. Though they have, at times, affected his work. He cancelled a week of dates in the West End because he was 'partying too hard'. Though the publicist lied and said he had 'laryngitis'. And in the second series of I'm Alan Partridge in 2002, he'd find himself falling asleep in the middle of a take as he'd been up all night.
Bu he insists: 'If I misbehaved without affecting wider society then that was my own business and that of these directly involved only. If I offended people, which I often did, that was also for me to deal with in private.'
Sometimes the po-faced Coogan comes out, and strikes – and there's no avoiding this – a Partridgesque tone. Of the jokes Stewart Lee and Richard Herring constantly made of having been responsible for Partridge as they wrote his first sketches, Coogan asserts: 'It is sometimes said that the invented Alan Partridge. Let me be clear. They did not.' And clearly the idiot of On The Hour is a world away from the three-dimensional creation persists today, thanks to co-writers Neil and Rob Gibson for breathing fresh life into Mid Morning Matters-era Alan (which Coogan acknowledges here).
But often the writing of Partridge involves his collaborators writing down Coogan's immediate, unfiltered reactions, and editing, exaggerating them into a script. So even though there's relatively little in the book about Partridge, compared to the impact he's had, Coogan seems to have partially come to accept the legacy. 'Alan's distinct lack of cool made me cool,' he concedes.
Nonetheless Easily Distracted certainly gives a strong idea of where Alan comes from (perhaps inadvertently) and plenty of snippets about Coogan's comedy career, from falling out with Patrick Marber to the real-life origins of student-hating Paul Calf – and how Bruno Tonioli taught him how to walk as the brassy Pauline.
But he wants you to know he's more than that, describing himself as 'someone capable of good, serious work'.
• Easily Distracted by Steve Coogan is published by Century, priced £20. Click here to buy for £9 from Amazon.
• Who said it: Steve Coogan or Alan Partridge? Take our quiz to see if you can tell the difference.
Published: 26 Oct 2015
What do you think?