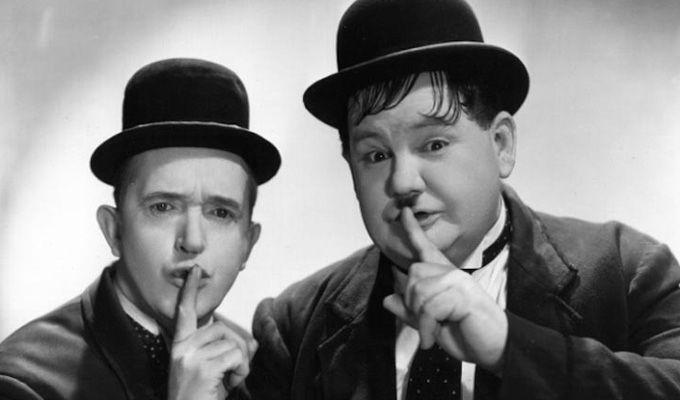 Keeping Quiet by Julian Dutton
Visual clowning might fall out of fashion from time to time but as Sky's announcement of a series of physical comedies this week demonstrates, each generation has its passionate and accomplished adherents, extending the legacy of the greats to new audiences.
In this lovingly compiled and thorough history of the genre beyond the advent of sound, writer and performer Julian Dutton extols the artistry of dumb-show, pantomime and slapstick, rejecting the notion that it's necessarily retro or survives only through nostalgia.
A more analytical companion piece to Paul Merton's Silent Comedy, and broader in scope, Dutton's book critically picks apart the work of Chaplin and Laurel and Hardy, has little time for Harold Lloyd, and challenges the idea that Buster Keaton's creativity waned with the arrival of the talkies.
Indeed, he repeatedly offers examples of performers such as Jerry Lewis, Peter Sellers and Lee Evans, whose best work came when they stripped out the dialogue, at the same time highlighting instances where non-diegetic sound enhanced visual humour. While Dutton is admiring of Groucho, it's Harpo Marx who fascinates here, his era-spanning influence rivalled only by Stan Laurel and Jacques Tati.
He emphasises the role television played in preparing many of the great clowns for film but it hardly plays second fiddle. Advances in technology fostered tremendous ingenuity and invention in sight gags on both sides of the Atlantic, especially from Marty Feldman and the now overlooked Ernie Kovacs. Similarly, the author appreciates the role that the stage played in shaping timeless routines, the freshness of their impact honed from countless nights schlepping around theatres.
The book runs right up to Mr Bean, Harry Hill, Reeves and Mortimer and Dutton's own recent series, Pompidou, which he co-wrote with the show's star, Matt Lucas, and for which this book acts as a primer. Dabblers in visual comedy like Monty Python, Morecambe and Wise and Dave Allen are woven into summarising chapters about the 'die-hard' exponents of silent humour, the author's extensive knowledge of the connections and supporting players providing a rich, engrossing and unbroken history.
As with the silent cinema legends, Norman Wisdom, Benny Hill, Ronnie Barker and Eric Sykes are all afforded their own chapters. But the key figure returned to throughout the book is Tati. Bridging the likes of Keaton with Sellers and the US and European traditions across the 20th century, the Frenchman is held up as an exemplar of what can be achieved with clarity of artistic vision, even if his ambition ultimately broke him.
There are amusing accounts of his meetings with Hill and Sellers but Dutton also provides concise, scene-by-scene deconstruction of masterpieces like Mon Oncle and Playtime, a service he performs on virtually every page for everyone, but rarely with such admiration.
The varying motivations and enduring appeal of characters like Tati's Monsieur Hulot, Inspector Clouseau and Mr Bean are persuasively teased out. And if there's a conclusion to be drawn from Keeping Quiet, beyond Tati's exceptional influence, it's the awareness these clowns have of their lineage.
Tropes of clumsy workmen, traffic frustration and knockabout boxing matches recur time and again. Yet even when the similarities are obvious, Dutton tends to be generous, suggesting homage rather plagiarism, with everyone's open and glowing acknowledgement of their predecessors confirming the view that even as far back as Shakespeare, there was nothing new under the sun.
The advent of YouTube, though no real way to savour many of the scenes cited, does at least allow the reader to appreciate how Morecambe and Wise's famous breakfast sketch to the tune of The Stripper built on a prior version by Benny Hill, the portly comic himself a voracious devourer of international cabaret.
The book culminates with Pompidou, but I'd have liked to have seen more contemporary US examples – there is a brief passage on Jackie Chan but only fleeting mention of Jim Carrey and Steve Martin, with nothing on Leslie Nielsen.
And it's fascinating to speculate where the current vogue for stand-ups embracing French and US clowning tradition, with performers like Dr Brown, Sam Simmons, Luisa Omielan or John Kearns, might take physical comedy in the future.
Regardless, Dutton has produced an absorbing, affectionate but critically rigorous account of a grossly undervalued area of comedy performance.
• Keeping Quiet: Visual Comedy in the Age of Sound by Julian Dutton was published yesterday by Chaplin Books, priced £15.99. Click here to buy from Foyles at £12.79.
Published: 24 Apr 2015
What do you think?