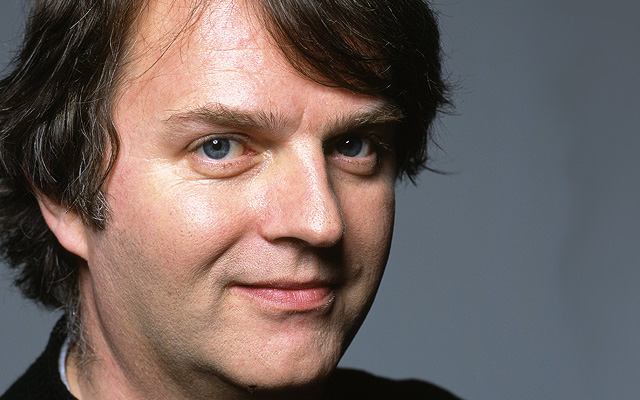 Only When I Laugh by Paul Merton
Paul Merton has written about his life in showbusiness before. His 1996 'memoir' My Struggle (or Mein Kampf in German) presented a fantasy version of his career, beginning as baby star of the 1930s and drawing on his genuine encyclopaedic knowledge of entertainment history to spin a tall tale.
Only When I Laugh is the real deal, and actually doesn't convey much of a professional struggle at all. He may have lived in a dingy bedsit when young while working at the Tooting employment office, but quickly found successes with his sketches and stand-up, which he performed on the fledgling alternative circuit so small that he was one of only ten comedians at the Edinburgh Fringe.
Timing's usually said to be the secret of comedy, and Merton was lucky to be ready to start out when the Comedy Store launched, opening the door for a working-class boy like him to follow his dreams. Until then, he notes, the ways in were to play the working men's clubs, the holiday camps, or be from Oxbridge.
Yet he knew he wanted to be a comedian since a visit to the Bertram Mills Circus at the age of four, when he was mesmerised by the clowns. Something of a solitary child –  at least until he hooked up with likeminded soul John Irwin to write sketches while at sixth form – he would spend many an evening watching old black-and-white comedies on a projector he rigged up in his bedroom. He would become a dedicated student of the art, and rather obsessive: he once sat on a bench in Hyde Park at 5.45am each day for a week, hoping to glimpse Michael Crawford, who said he jogged around the vast space every morning.
Not that his imagination was encouraged. It seems no showbiz autobiography is complete without a story of how nuns shouldn't be entrusted with children's education – and here Merton's nemesis was Sister Galista who 'looked like an angry pint of Guinness' and berated him for 'writing about things that aren't true'. This autobiography is telling about the way the ambitions of working-class kids were quelled: His careers advisor at school suggested his destiny would be as a supermarket shelf-stacker.
Yet those flights of fancy that Sister Galista so hated were to become his fortune, from the 'policeman inadvertently taking LSD' routine that made his name on the circuit – landing him a hosting job on the long-forgotten stand-up show Comedy Wavelength – to the sketches he and Irwin wrote that impressed first BBC radio producers, then Channel 4.
Life tries to put spanners in the works. His first solo Edinburgh was a write-off after he broke his leg playing football on day one, leading to a life-threatening pulmonary embolism and hepatitis A. A benefit staged by other comics saved him from bankruptcy.
And another health scare, of the mental type, almost scuppered his Channel 4 sketch show. He has spoken previously about his time in Maudsley Psychiatric Hospital, including making his experiences into an ambitious if ill-fated stage show.
Yet these passages are among the most compelling in the book, as he tells with a candid matter-of-factness, seasoned with a dry wit, of the hallucinations and paranoia that led him there. He certainly found it odd to be in this institution while his episodes of Whose Line Is It Anyway? were airing – especially as some of his fellow patients already believed hidden messages were being beamed to them via the TV. It turned out that his problems were caused by anti-malaria tablets he took for a holiday to Africa, but it's a reminder of the fragility of the mind.
He also suffered tragedy with the death from breast cancer of his second wife Sarah, which he does not dwell too much on but certainly pays fitting tribute to her strength of character. It was comedy that gave him some relief from the 'overriding feeling of loneliness' that struck after her death. Simply watching his friends in the Comedy Store Players work just days after the funeral provided respite – and it was only the sense of being 'misinterpreted' that stopped him from immediately joining them on stage.
Yet professionally he goes from strength to strength, and the book becomes a little self-congratulatory as every project is a triumph – from remaking the classic scrips of his writing heroes Alan Galton and Ray Simpson to hosting Room 101 – and comedy heroes line up to congratulate him. After all those childhood years of being told 'you can't', he could be forgiven for now wanting to proclaim: 'I could'.
Similarly, there's also a slight air of 'I know best' as he despatches clueless producers – or even the local bigwig who had the gall to cajole him into opening a village hall – with his superior comic brain. He has to have the last laugh – even to this day rubbing in the fact he got a bigger pinball score than US talk show host Craig Ferguson when they shared an Australian dressing room together.
In some ways Merton's career is an odd one. Relatively early he admits that he's not prolific in writing stand-up and finds more joy in improvising – not least because of the camaraderie. Sketches fairly quickly fall by the wayside, too, and he comes to live only on his spontaneous wit, whether on Just A Minute, Have I Got News For You or on stage.
He's a funny man, yet almost everything he does has an ephemeral quality. These memoirs are certainly something more permanent, conveying with no self-pity the early frustrations of having his dreams limited, even if being a little more perfunctory in covering his latter career.
• Only When I Laugh by Paul Merton was published by Ebury yesterday, priced £20. Click here to buy from Foyles for £15.
Published: 26 Sep 2014
What do you think?