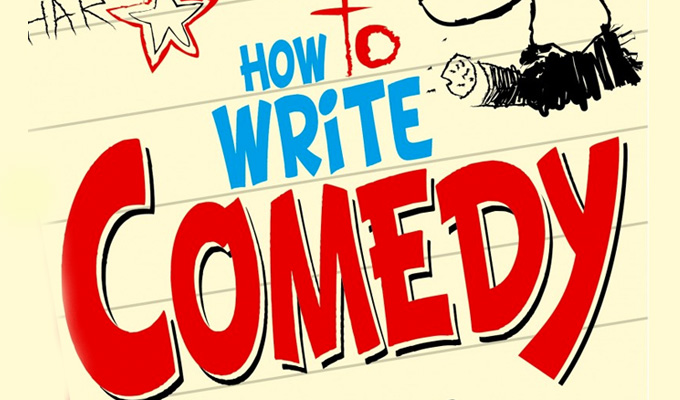 How To Write Comedy by Tony Kirwood
God, books like How To Write Comedy are depressing. Everything creative and original and surprising about comedy reduced to a series of rules and exercises; the tacit promise being that all the student need to do is follow them, and they'll be a successful comedy writer before you can say 'Graham Linehan'.
Of course, there are formulae behind sitcoms that even the most inventive creators follow – or knowingly subvert – just as there are exercises anyone can do to get your creative juices flowing, genius or hack alike. But one things books like this struggle to teach is how to make the tone of a piece shine; how to have a distinctive comic voice, whether in sketch, stand-up or longer format.  That, crucially, is what makes a a writer stand out, and certainly Tony Kirwood gives no clues here, possibly because it just can't be taught.
Certainly his own examples in the book don't seem distinctive or funny enough to be adopted. He suggests a recurring sketch character, an ingratiating irritant who treats every situation like a job interview - including talking to his own spouse (NED: 'Sure I know you from somewhere…' MARCIA: 'I'm your wife…' is perhaps the clunkiest exposition you could imagine) while his sample sitcom set in an arts centre makes The Brittas Empire seem cutting edge.
Which brings us to the inevitable question when reading books like this: If Kirwood knows all the secrets to comedy-writing, why doesn't he do it? The inside-cover CV vaguely says he's had sketches broadcast 'in Britain and all over Europe' but IMDB and a few comedy reference books throw up no credits. Instead, he has been teaching comedy writing and stand-up for the last nine years.
To be fair, his exercises are as good as any other book in the genre – they all tend to be similar idea-association games to generate new links – and he has all the details on script layout and finding outlets for your work you could need, as well as the very basics of how humour works: jokes subvert expectations, sitcoms need 'trapped' locations and so forth. But when it comes to creating sketch characters by taking a job from Column A and an adjective from Column B, the whole process of creating a pompous window-cleaner or lecherous gravedigger seems soullessly mechanical and one-dimensional. Meanwhile are plenty more insightful guides on wider aspects of writing that a comedy scribe might find more inspiring (John Yorke's Into The Woods on story, for example)
Although – or possibly because – it's aimed at kids, How To Be An Unstoppably Amazing Comedy Genius, seems a more useful introduction to stand-up at least. And being a slender 52-page booklet, it needn't complicate things to make up the page numbers.
Written by Isabelle Adam, producer of Comedy Club 4 Kids, the guide takes the junior would-be comic through the basics, from coming up with material to developing a distinctive attitude. Some of the more seemingly obvious practical advice like 'stay in the light' and 'look at the audience' isn't always followed by adult new acts.
Like How To Write Comedy, it can sometimes reduce the mechanics of jokes to simple formula such as the pull-back-and-reveal that ought to be used sparingly and cunningly. And some of the suggestions are a little too precise, perhaps inspiring a whole generation of proto-comics to write routines based on the foreign equivalents to animal noises such as 'woof' simply because it's given as a detailed exercise here.
Still, Adams has clearly seen a lot of young comics and is very familiar with the most common mistakes they make. At the very least her pocket guide might deter others from making them again.
• How To Write Comedy: Discover the Building Blocks of Sketches, Jokes and Sitcoms - and Make Them Work by Tony Kirwood is out on Constable Robinson, priced £9.99. Click here to buy from Foyles for £7.49. How To Be An Unstoppably Amazing Comedy Genius by Isabelle Adam is available from the Comedy Club 4 Kids website, priced £7.50 including p&p.
]
Published: 18 Jun 2014