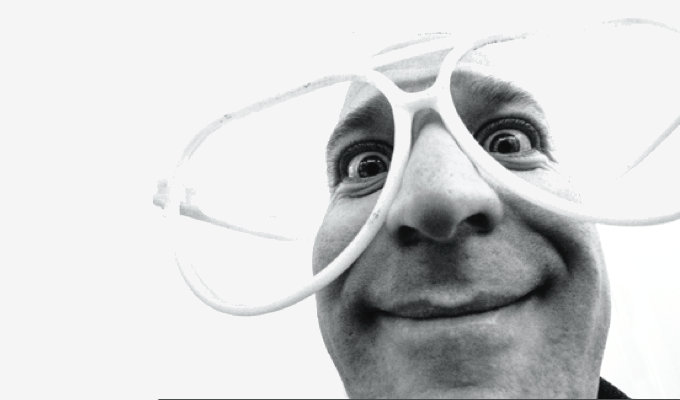 Comedy Snapshot, by Steve Best
He's called it Comedy Snapshot, but Steve Best's book is actually a pretty comprehensive portrait of the comrades in laughs that make up the current comedy circuit.
Over the past seven years, he's been photographing fellow comedians backstage – and occasionally elsewhere – and now has more than 400 black-and-white portraits to share with the world.
Mostly his subjects are not famous – though a few, like Jack Whitehall and Sarah Millican most definitely are – but they range from gnarled stand-up veteran to fresh-faced newbie. If they were on a bill, they can get in the book. You only have to go as far as the second spread to see Sean Lock facing off against last year's Chortle student finalist Tim Renkow, more than 20 years gap in experience between them.
What unites all the people in this book is that they are road warriors; woking, gigging comedians whose personality led them to a life in comedy; and whose life in comedy consequently informed their personality in a feedback loop of dysfunction.
Yet for their similarities, their personalities are diverse; conveyed in the brief panels of text that accompany each image. Best asked each comedian when they started stand-up, for three or four quirky facts about themselves, ideally not comedy-related, and for a one-line joke.
The veracity of the 'facts' might be a little elastic, too, judging by some responses, but fascinating are those that are apparently true. For example: Tom Price's family owns Hitler's phone; Fergus Craig auditioned to be the voice of Siri; Micky Flanagan is a trained bell-ringer; and Anvil Springstien been running people over in Viz photo love stories for 25 year, and always saying: 'Sorry mate, I didn't see her.'
There is, as they say, plenty more where that came from, with each comic's page a magazine-like distillation of their life into curious, funny soundbites, made wittier still with the inclusion of the gags. It's a book designed to be dipped in and out of at random – to plunge full-in would be like guzzling all your chocolate box at once; but each morsel is deliciously rich.
&bull: Comedy Snapshot by Steve Best is published tomorrow, priced £9.99 plus p&p. Click here to order direct for £7.99 if you buy today. Some portraits from the book will be on display at the Nancy Victor Gallery, Charlotte Place, London W1T 1SG from Wednesday until next Monday, where it will also be on sale for £7.99.
Published: 31 Mar 2014