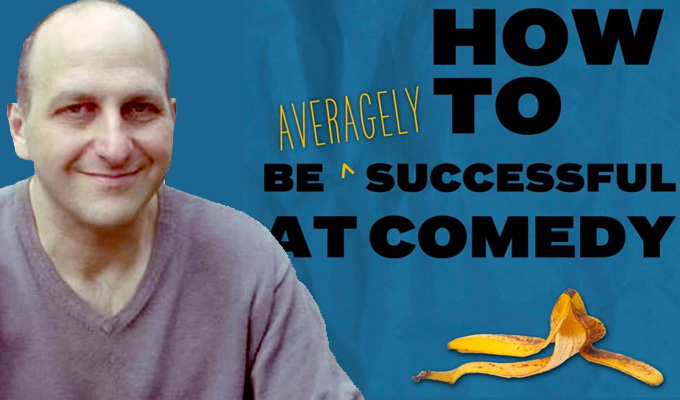 How To Be Averagely Successful At Comedy by Dave Cohen
Step forward Dave Cohen, self-described 'most averagely successful performer in comedy'. But although his book has one of those oh-so popular 'how to...' titles, this is not exclusively a manual. Tips are aplenty, sure, but they are interspersed with biographical chapters about his own career (and even relationship with his uncomprehending father) and musings on the wider world of comedy. You might have read pieces with similar sensibilities in his semi-regular contributions to Chortle's Correspondents section – the writing of which inspired him to put together this book in the first place.
The main impression here is that Cohen is someone who knows what he's talking about. Certainly he has put in the years. As one of the founder (but short-lived) members of the Comedy Store Players and a stand-up in the formative years of alternative comedy, he has gone on to write for a raft of TV shows from Have I Got News For You to Horrible Histories.
Such a long career allows him to paint an informed picture of how the comedy scene is and how it evolved, so it's not just a book for potential performers, but also for those who have an interest in how comedy is put together and the personalities of those who do it.
Yet the book is also full of useful advice won from sometimes hard personal experience. To save potential stand-ups the £10 cost of the book, or possibly the £10,000 cost of splurging on staging your own show, we can reveal that his prime bit of advice is to forget the Edinburgh Fringe.
But he knows most people will ignore that suggestion – as he has, against his better judgement, on several occasions. Best, then, to know what you're in for, and to think carefully about your expectations before embarking on the emotionally and financially draining month in the Scottish drizzle.
Cohen himself first went to the festival in 1977, spending four nights as a punter and falling under its spell. When he returned a year later he was part of the Bristol student troupe Revunions - and ignoring his own sage words has returned time and time again...
His tips are not just based around stand-up, but also cover how to write topical gags (the quickest way, he figures, to make money in comedy), sitcoms and screenplays ('don't'). Rather than specific writing tips, it's more about conveying the personal qualities of perseverance and a thick skin that you'll need. It's an incredibly useful guide to the practicalities of a life in comedy – and perhaps help practitioners understand that simply earning a living in comedy is a success, and that like any job it takes proper effort to get, and remain, good.
Meanwhile on the art in general his gaze encompasses Mrs Brown's Boys, the political power of comedy, Roy Chubby Brown, cruel gags, the death of pathos and much more besides. In typical self-deprecating vein, he describes some of this as 'sociological claptrap', but it's an engrossing, entertaining read for any comedy anorak.
As befits the subject matter, this is no dry tome. While the books's not laugh-out-loud funny, Cohen writes in a natural, easy style, conveying plenty insight and information as he succinctly tells things as they are – at least in his well-judged opinion. And as an averagely successful comedian, that's an opinion worth hearing.
• How To Be Averagely Successful At Comedy by Dave Cohen is published by Acorn Independent Press priced £10. Click here to buy from Foyles for £9.
Published: 3 Feb 2014
There are a lot of books that purport to tell you how to write and perform stand-up, and there are a lot of books from famous comedians telling you how they rose through the ranks of the circuit to achieve their elevated star status. But there are precious few books from jobbing, non-famous comedians – the largest caucus of all – explaining exactly what it's like, and what it takes, to do the job.
What do you think?