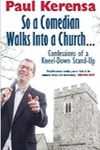 So A Comedian Walks Into A Church by Paul Kerensa
The first book from comedian Paul Kerensa is subtitled 'confessions of a kneel-down stand-up'.... but this 'jolly nice' middle-class boy is not about to reveal a catalogue of drug abuse, smashing up hotel bedrooms and wild sexual shenanigans. No, his admission is one that's considered much more shameful in comedy circles. He's a Christian.
And he's a practising one at that – although as a nomadic road comic he can't be too fussy about where he worships. Sunday mornings, he often finds himself in a budget hotel in an unfamiliar town and has to seek his spiritual nourishment wherever he may find it.
So over the course of these 175 pages, the Anglican Kerensa gets to commune with the Church Of Scotland, Baptists, Pentecostals, Quakers and 'neo-charismatic' evangelicals, among others, since these are the nearest places he can find with a cross on the roof.
Frank Skinner has previously described such 'church-hopping' in his memoirs, drawing parallels with the lot of the priest and the comedian, whereas Kerensa seems to have made it more of a mission to explore the conventions of various Christian sects to see how they vary from the traditional services he's used to.
He flits between his church-based encounters and anecdotes about the lot of the jobbing comedy-circuit comedian. He starts by describing a rowdy Glasgow show, but the next is at the opposite end of the scale: a pub gig in rural Wales that fails to attract an audience, not that such a minot drawback will stop the promoter insisting that the must go ahead nonetheless. Still, at least that's a better outcome than the 13-hour round trip through treacherous snow to a pub in York... only to find that the comedy had been pulled days ago.
Kerensa has been employed as a writer to punch up the scripts for the likes of Miranda and Not Going Out, but this is is the more mundane reality of an unfamous comic's life away from the glamour of TV. Yet he remains upbeat about that choice – even the energy- and savings-sapping ordeal that is the Edinburgh Fringe – given the enjoyment of being paid to make a room full of strangers laugh, the people he meets, and a routine that's never dull.
In So A Comedian..., he largely keeps the two sides of his life apart. Indeed, his dread seems to be that someone he meets in church on a Sunday was at his gig on the Saturday. Kerensa – who appeared as a talking head on Ann Widdicombe's TV programme about Christians being victimised by comedy last week – does however wonder about the effect of the increasingly godless comedy circuit.
He says that when he went to see an unnamed famous comic in Guernsey, the atmosphere of the room altered when he baldly stated: 'There is no God'. 'Something definitely changed among the audience,' Kerensa writes. 'There was shifting in seats. Many were laughing along, but a nerve had been touched.'
He also raises the question of whether such rife views are deterring people of faith (and there are still a huge number of them) from going into the atheist-infested circuit, where they fear their beliefs will be relentlessly mocked. Although, ever the reasonable man, Kerensa is careful not to condemn any comedians for pursing whatever path they choose.
As you will have gathered, this book is not a polemic, but a gentle stroll through Kerensa's twin lives as comedian and Christian, and although it's probably angled more towards fellow believers, it should have enough to appeal to both camps. At least once you've overcome the first few pages, in which too many try-hard jokes and gimmicks (including a contrived choose-your-own-adventure section) get in the way of conveying his personality.
Once he lets himself into the writing – including occasional descriptions of a developing relationship and a rather damning confession that he accidentally once submitted the same gag to two TV shows he was working on – the journey between gigs and various Sunday services is smoother. The reader ultimately gets a good feel for his life as a stand-up who's a Christian, even if some of the rituals, which he always describes non-judgmentally, will seem laughably odd to the outsider. And that's just on the comedy side. Boom-tish!
So A Comedian Walks Into A Church: Confessions of a Kneel-Down Stand-up by Paul Kerensa has just been published by Darton, Longman & Todd, priced £8.09. Click here to order from Amazon.
Tweet
Follow @chortle
Published: 2 Apr 2013