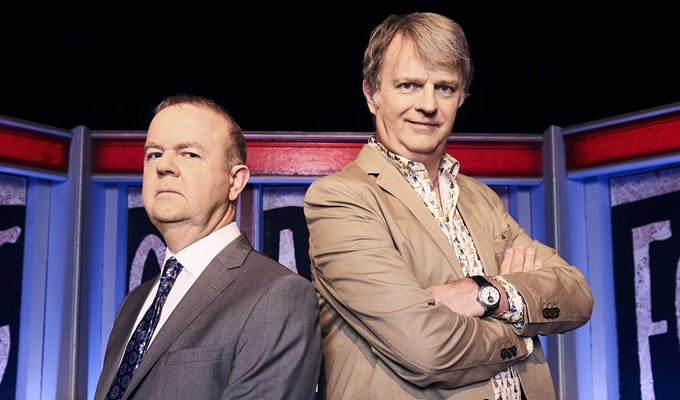 Have I Got News For You? Erm, no
Tonight's episode of Have I Got News For You was pulled by the BBC over fears it may election rules.
The programme, which was recorded last night, featured MP Heidi Allen, acting leader of the Remain-supporting Change UK party.
It appears that BBC bosses came to a last-minute decision that giving her such prominence during the European election campaign may have broken rules about impartiality.
The official HIGNFY Twitter account, run by the programme's makers Hat Trick Productions, announced the cancellation just half an hour before the episode was due to air.
Its message said: 'Sorry everyone. The BBC have pulled tonight's edition of #HIGNFY - no, we didn't book Danny Baker. We booked Heidi Allen, a member of a party no-one knows the name of (not even the people in it), because the Euro elections, which nobody wants, may or may not be happening. Sorry.'
In a statement, the BBC said: 'The BBC has specific editorial guidelines that apply during election periods.
'Because of this it would be inappropriate to feature political party leaders on entertainment programmes during this short election period, which does not allow for equal representation to be achieved.'
Broadcasting watchdog Ofcom also has tougher restrictions in place during an election campaign.
After one Twitter user pointed out that Nigel Farage was on Question Time yesterday, Allen posted: 'Maybe I'm just not as funny as Nigel Farage eh #hignfy @haveigotnews !? He's so funny, he seems to be on the BBC all the time! An explanation would be appreciated, not least to acknowledge the hard work of the entire crew who worked diligently to put the show together.'
Farage's appearnce is less likely to have breached rules as Question Time is a current affairs programme that seeks balance.
The broadcaster said it may air the episode – which was hosted by Jo Brand and features Phil Wang on the panel – at a later date.
Wang joked on Twitter: 'Sorry about Have I Got News For You not airing tonight folks. Something about my shirt being too nice? BBC have a rule about no one's shirt being too nice. And mine was a doozy. Hoo hoo let me tell you. Linens it was, and a delightful pale yellow. Soft to the touch, yet strong.
'The truth is tonight's Have I Got News For You was axed because at one point Boris Johnson broke into the studio, ran up to me, gave me *the most painful Chinese burn of my life*, while guffawing "your lot like this don't you. You named it after all. Stop crying". Horrible!'
Published: 10 May 2019
Recent News
What do you think?