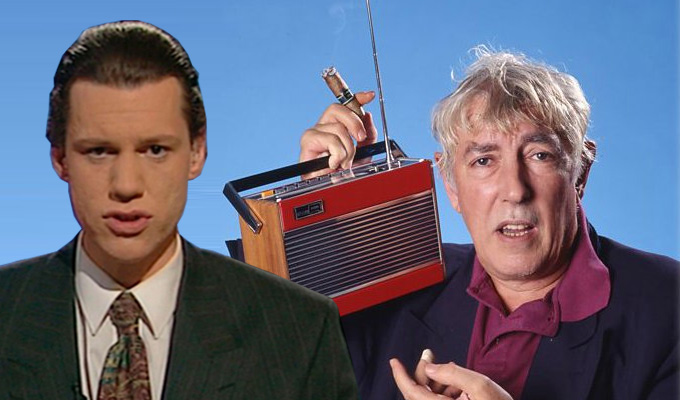 When Chris Morris met Peter Cook
The comedy week ahead.
Sunday January 8
LIVE IN LONDON: They are best known as the American pranksters on Comedy Central's Impractical Jokers… but they are also a genuine comedy improv troupe called The Tenderloins. Now Sal Vulcano, Joe Gatto, James 'Murr' Murray and Brian 'Q' Quinn are on tour in the UK with a new show, Santiago Sent Us. It's at the O2 Arena tonight, and Dublin, Glasgow and Manchester over the rest of the week. It coincides with the return of the TV series to the UK's comedy Central tomorrow night, with a British Invasion special where the team get behind the bar of a quintessential English pub, learn the difference between soccer and football and try out their best (terrible) British accents.
Monday January 9
RADIO: QI creator John Lloyd returns with a new series of Museum Of Curiosity with new curator Jo Brand. Radio 4, 6.30pm
RADIO: In late 1993, Chris Morris recorded a series of improvised spoof interview with Peter Cook, in the guise of  Sir Arthur Streeb-Greebling… one of the rare examples of a comedy show commissioned by Radio 3. The programmes, a unique meeting of two comic geniuses of different generations, have become the stuff of cult legend. Now, for the first time since its initial broadcast, the BBC is repeating Why Bother?, courtesy of Radio 4 Extra. 11.45pm
LIVE IN LONDON: Alison Thea-Skot is something of an underrated comic force, but she brings her fierce, frantic and funny brand of offbeat character comedy to the Soho Theatre for four nights this week.
Tuesday January 10
LIVE IN LONDON: Spectacle and silliness combine as Nick Mohammed's camp and hapless alter-ego, Mr Swallow, presents his musical tribute to escapologist Harry Houdini, if his mix of raging ego and wittering vacuity allows. This was a highlight of the Edinburgh Fringe and comes to Soho Theatre for an extended run, right through to February 18.
LIVE IN LONDON:  With a line-up comprising Daniel Kitson, Tim Key, Simon Amstell, Sara Pascoe and John Kearns, a benefit for the Cystic Fibrosis trust tonight  understandably sold out within a couple of hours. Still those who did manage to a secure their place at the 10pm show at the Old Vic, after Key has trodden the boards there in his role in Art, are sure of a treat.
LIVE IN LONDON: On the open mic scene, a club that lasts until its second gig is often an achievement - but The Lion's Den celebrates its tenth birthday tonight. (Its policy of charging new acts a fiver to get in with no guarantee of getting on, since names are drawn from a hat, isn't entirely ideal, though). Tonight's birthday bash at the Bar Rumba nightclub near Piccadilly Circus is a benefit for Mind with a packed line-up of Alistair Williams, Andy Storey, Brett Sharpe, Darius Davies, James Loveridge, Leo Kearse, Masai Graham, Nick Dixon, Boyce Bailey, LJ Da Funk, Julius Howe, Richard Wright, Sweet Steve and Tim Rendle.
Wednesday January 11
TV: It's the comedy show without comedians, or comedy writers. Common Sense takes a Gogglebox-style approach to topical wit, with members of the public discussing the major stories and bizarre headlines. Among the cast are a couple of East End market traders, dinner ladies from Leeds, Mancunian male nail technicians, Brummie butchers, Scottish launderette owners, supermarket co-workers and three great-grandmothers from Hull. Gavin & Stacey's Ruth Jones narrates. BBC Two, 9pm
Thursday January 12
TV: Chewing Gum, Michaela Coel's acclaimed and multi-award-winning comedy returns to E4 for a second series. Her character Tracey makes a return to the Pensbourne Estate - but her best friend Candice isn't happy to see her and mum won't let her in… E4. 10pm
LIVE IN MANCHESTER: It's a specially strong weekend at the Comedy Store, centred on the pin-sharp duo of Carey Marx, a stand-up at the peak of his powers, and Paul Sinha, displaying the same intelligence in his comedy that makes him a force to be reckoned with on The Chase.
Friday January 13
TV: Room 101 returns with Rylan Clark, Nigel Havers and Catherine Tate telling Frank Skinner their pet peeves in this series opener. BBC One, 8.30pm
TV: Not Going Out, now the longest-running BBC sitcom on air, returns with a new 'sit' as we pick up the story of Lee (Lee Mack) and Lucy (Sally Bretton) seven years after the last series, now as a suburban parents of three young kids. BBC One, 9pm
LIVE IN LONDON: Milton Jones graces a club gig with his pearls of comic invention, as he plays Headliners in Chiswick, part of a bill that also boasts the precision engineering of John Moloney, deadpan Eleanor Tiernan and veteran MC  Simon Bligh. It's the same bill tomorrow, too.
LIVE IN LONDON: Droll American stand-up Jim Gaffigan makes a rare visit to British shores, with three gigs at the Leicester Square Theatre, one tonight and two tomorrow. You'll be lucky to get in, though - all have long sold out.
• For full listings, use the pull-down menus at the top of the page to see what's on near you on any given day.
Published: 8 Jan 2017
What do you think?