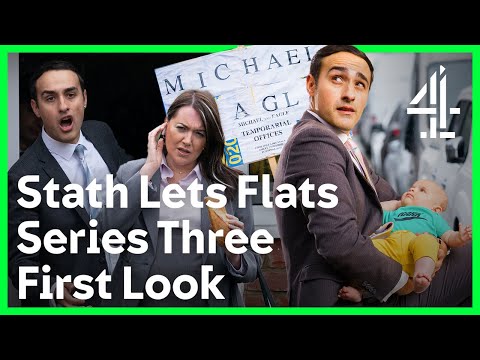 Stath Lets Flats series 3 trailer
Here's the trailer for the third series of Stath Lets Flats.
Jamie Demitriou returns as the hapless Greek-Cypriot letting agent for new episodes starting at 10.15pm next Tuesday on Channel 4 - with the full series on All 4 immediately afterwards.
In the new run, Stath must try to rescue the company Michael & Eagle from crisis following the death of Julian (Dustin Demri-Burns) – as well as his relationship with Katia (Ellie White), while expecting his first child by Carole (Katy Wix).
Meanwhile, his sister Sophie (Natasia Demetriou) and best friend Al (Al Roberts) deal with the fallout of finally declaring their feelings for each other.
Published: 22 Oct 2021
What do you think?