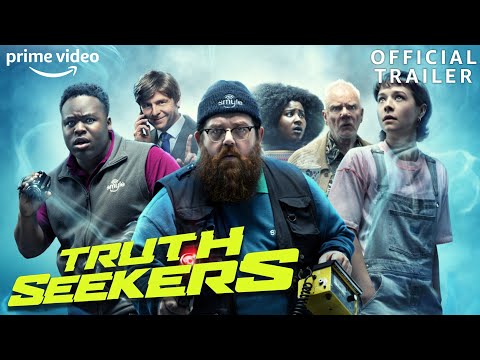 Truth Seekers: The first trailer
Amazon has released the first trailer for Truth Seekers, its new horror-comedy about a team of paranormal investigators starring Simon Pegg and Nick Frost.
Frost is teamed with Samson Kayo and Emma D'Arcy on the hunt for 'smouldering ghosts' and 'malevolent entities' in the eight-part series, which launches on October 30.
Pegg plays Frost's paranoid boss, while the show also stars The Boosh's Julian Barratt, Chewing Gum's Susan Wokoma and acting veteran Malcolm McDowell.
When the show was announced last year, Frost said: 'It'll start as a very parochial idea, a very small business venture for these people, but it will expand as the series goes on to be something far more global. It's a language everyone understands, the mystery of the unknown.
'Shaun of the Dead was a very parochial story set in North London and somehow it managed to get this global reach because everyone understands the language of zombie movies.'
Pegg and Frost wrote the series with Nat Saunders and James Serafinowicz, who previously created the Netflix comedy show Sick Note.
Published: 23 Sep 2020
What do you think?