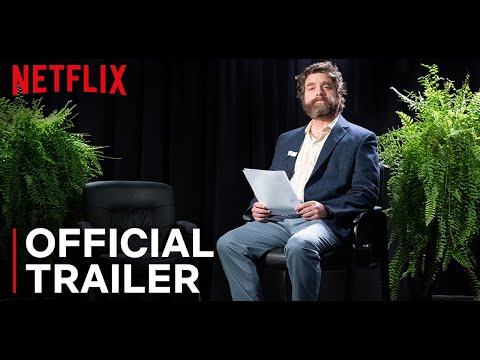 Trailer for Between Two Ferns: The Movie
Netflix has released the trailer for the movie based on Zach Galifianakis awkward internet talk show Between Two Ferns.
The promo reveals the plot revolves around the comedian and his oddball crew taking a road trip to complete ten high-profile celebrity interviews to restore his reputation after almost killing Matthew Mcconaughey during one interview.
Will Ferrell, who co-owns the Funny Or Die production company which makes the series, is seen giving the ultimatum. Galifianakis then demands the show be aired on a network, not just the internet, saying: 'I'm a white man and I'm straight – I deserve it.'
Interviewees include Benedict Cumberbatch, but the hapless host struggles over his name.
The movie co-stars Paul Rudd, Tiffany Haddish, Brie Larson, Keanu Reeves, Jon Hamm, David Letterman, Jason Schwartzman, Peter Dinklage, Adam Scott, John Cho, Chance the Rapper, Rashida Jones, Hailee Steinfeld, John Legend, Chrissy Teigen and Tessa Thompson.
The film will be released to Netflix subscribers on September 20.
Published: 5 Sep 2019
Recent Videos
What do you think?