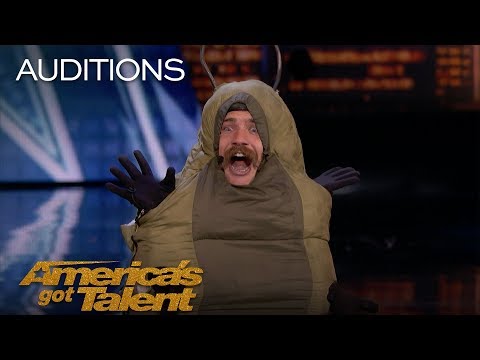 Watch Sethward The Caterpillar confuse America's Got Talent
Simon Cowell called it 'the worst act we've had' on America's Got Talent.
But comedian Sethward was nothing if not memorable after appearing on the show last night dressed as a giant caterpillar.
Cowell was clearly no fan of the avant-garde act, saying: 'What the bloody hell is that?' as soon he appeared on stage.'
And when the comic said he was called Sethward The Caterpillar, the clearly unimpressed head judge said bluntly: 'No, you're not.'
His sentiment seemed to be shared by the audience, who quickly booed him, and his fellow judges. Although it is perhaps no wonder that Mel B didn't get it, as she had to turn to Howie Mandel to ask: 'What do caterpillars turn into?'
Sethward appeared to expose himself asheemerged from his cocoon, with Heidi Klum saying: 'You have a hole in your stockings,' and Mandel adding: 'You're not wearing any underwear.'
As the crowd booed and hissed, host Tyra Banks came out with bug spray and chased him off the stage.
Sethward is really a Texan-born comic and improviser called Seth Allison, and he has previously appeared on The Gong Show on ABC as a snake, where he was praised for his originality.
Published: 13 Jun 2018
Recent Videos
What do you think?