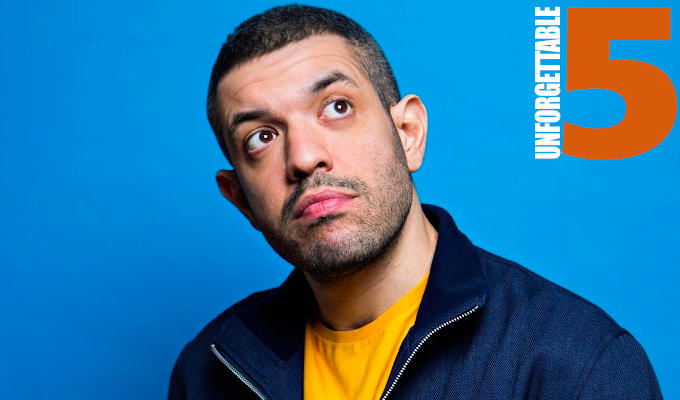 'My parents are getting used to the idea that their son is a professional idiot'
Italian comedian Francesco De Carlo is currently performing his show Winning Hearts And Minds – about love and politics – at London's Soho Theatre. Here he recalls five of his most memorable gigs..
First gig in London
An open mic gig at the Royal George pub. I didn't speak English very conversationally at that time, so I just memorised my set as best I could.
While the other comedians were performing on stage, I had been pretending to understand and laughed when the audience laughed, without understanding a single word. Before I was called onto the stage, a friend spilled a full glass of wine down my shirt. In Italy, we say a spill like that is good luck…and so it was!
Best gig
My best gig was the first time that my parents came to see my show, after ten years of me performing comedy. At the beginning they didn't accept my career, but now thankfully they are very happy and proud. I remember after that gig, my father didn't say that he Iaughed, but that 'people were laughing.' Today they are getting used to the idea that their son is a professional idiot.
Most unusual location
In Paris there is this incredible venue: Nouvelle Seine, a theatre in a boat on the river, just below Notre Dame. I performed there with my friend Yacine Belhousse, a French comedian, and the audience was amazing. That was the second time I've performed on a boat, but the first time was a bachelor party, so not very romantic.
Most exotic gig
Busan International Comedy Festival, South Korea. Amazing place. I was there with South African comedian Loyiso Madinga. Stand-up, especially international stand-up, is not a big thing there, comedy is more about characters and sketches, so when we were watching the opening gala we were very worried, because we were wondering how the audience would receive our just-talking one hour shows the day after. Luckily, the audiences were great.
Least welcome post-show comment
I've been doing comedy in two languages for a while now, and my videos in English are getting popularity in Italy. After a gig in Italian in Rome, someone approached me and said: 'It was great. But you are funnier in English.' It was a compliment, but somehow painful.
• Francesco De Carlo is performing Winning Hearts and Minds at Soho Theatre until April 23. Tickets are available here.
Published: 20 Apr 2022
What do you think?