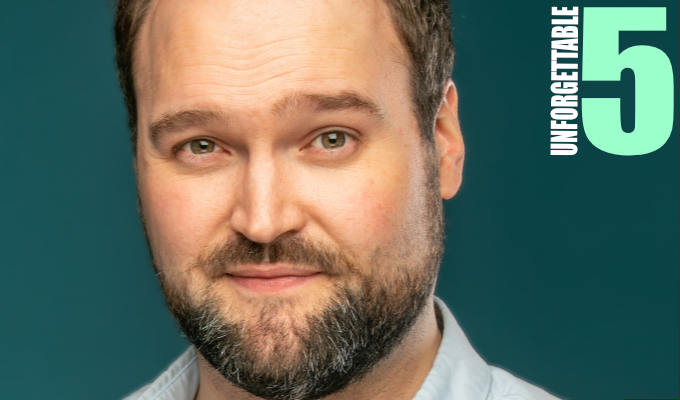 I'm pretty sure he didn't really know the Chuckle Brothers...
Paul Aitchison of sketch act Mixed Doubles is heading to the Edinburgh Fringe later this month with his character comedy and magic show Could It Be Magic? Here he recalls some of his most memorable gigs…
---
Gig that taught me the biggest lesson
One time I did a show at Edinburgh and another act's smoke machine randomly went off for about five minutes. The audience knew it wasn't supposed to happen, everyone, myself included, was in hysterics and we all had a really jolly show referencing it.
After the show I bought one from Argos to try and artificially recreate that glorious moment. I tried it and there were zero laughs. Simply put, no one was buying it.
I think that really cemented to me that an audience can smell BS a mile off and that every one of them will always be far, far smarter than you're first tempted to think.
It also showed that you have to let the audience join the dots when writing comedy and if that risks 20 per cent of them not getting it, so be it, the other 80 per cent will thank you for trusting them to do their part.
Most exotic gig
My first comedy gig was in a room behind a pub in Henley, Oxfordshire, so when 18 months later I was on Henley beach in Australia, relaxing before a show at the Adelaide festival… that felt pretty exotic and a fun parallel. Thinking about it, it's pretty much been downhill since then.
Strangest audience member
After doing a gig with my old sketch act Mixed Doubles in Just The Tonic at Leicester, a man introduced himself to get our email address. He told he was this huge comedy agent and started listing all his top clients (clients I now know to be with different agencies),
We were green then and didn't spot him for the fantasist he was. After giving increasingly weird and overly complex notes on our set, he then started rambling on about how he knew the Chuckle Brothers and wanted us to get pizza with him. We didn't go for pizza and I'm pretty sure he didn't know the Chuckle Brothers.
Worst gig
I did my character comedy/magic shtick at a big corporate company's Christmas do. I basically earned three months' salary in about 15 minutes but everyone there was so drunk by the time I went on, the distance between audience and stage so vast and the promised tech/sound quality so poor that I pretty much was just talking to myself.
Other times you can do a great show for next to no money, it's a weird industry like that.
Best gig as a punter
The one that sticks in mind the most was the first show I ever saw at Edinburgh Fringe. I was at the festival with our school play (which really had no right being there, tbh).
After the first show a pal and I snuck away to try to see a stand-up at the Pleasance. I honestly can't remember who we wanted to see now, but he/she was telly famous. They were sold out, as was our second and third choice of show.
So we ended up taking a punt on something unknown in a small bunker at the Pleasance, to see a Kiwi comic doing a physical/clowning comedy take on Dr Jekyll and Mr Hyde. set in space. I was about 17 years old and it just blew my mind. I loved it and it was the first time seeing that live comedy didn't just need to be jokes told into a mic. I suddenly knew I wanted to be involved in comedy someday. I went back to see it again...twice. That young Kiwi was Rhys Darby, by the way.
• Paul Aitchison's show, Could It Be Magic, is at the Pleasance EICC at 8pm from August 16 to 29. More details and tickets.
Published: 6 Aug 2021
What do you think?