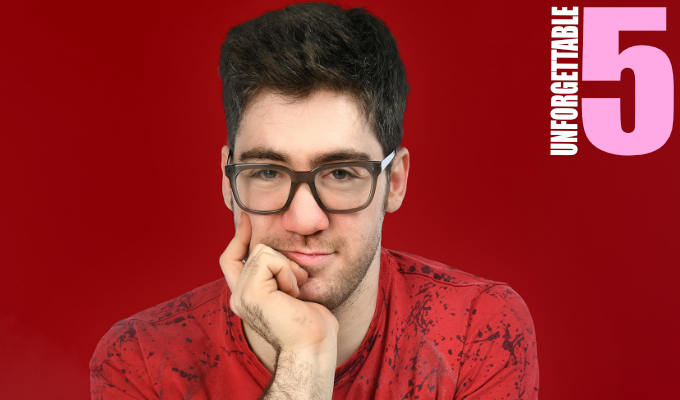 'They didn't want my comedy, they wanted me to open a toilet'
Later this month, Aaron Simmonds take his stand-up show Hot Wheel – named in honour of a reductive but pretty cool nickname he once got because of his wheelchair – to London's Soho Theatre. But first, he recalls some of his most memorable gigs…
Worst gig
I was asked to do a gig in a tiny village in Cambridgeshire (it was so small that the barbers' name was The Barbers because they only had one). This was at a point in my career where I would have to apply for every gig, but they asked for me by name.
I got there and it was a packed long thin room, not ideal, but not the end of the world. MC Ben Van der Velde goes on, smashing job as you'd expect. Opening act, nails it. Then the interval, and I realise that I've got to wait right by the stage for when I'm called on.
During the interval two women notice that I'm sat in front of their table and ask if I get nervous before gigs. I said 'not any more, I'm really good now.' I then proceeded to die horrifically for 20 minutes.
After my set it was revealed that they had asked me to perform because they had just built a disabled toilet and they wanted me to unveil it. I thought they wanted me to perform comedy; they actually just wanted me to use their toilet.
Worst heckler / Best heckler
I used to do a lot of gigs underneath a pizza place where they would sell pizza and comedy on Groupon for £8. One night there were six people in the audience; a couple in the front row, a family of four in the back row and an optimistic amount of chairs in between them.
When I came on, the couple instantly started making out and didn't stop for the entirety of my set. Once I finished, they then got up and left. To this day I don't know if this is the biggest insult or compliment I have received.
Gig that changed my life
In 2017, I got to the final of the BBC New Comedian of the Year. It was a fantastic experience, and certainly the first step towards comedy becoming my job. But the reason why it was a life changing gig is that I was watching it on TV in my pants when my girlfriend's dad walked in. Life is all about the relationships you have, and that relationship has never been the same since.
Least welcome post-show comment
All of the audience members who have come up to me after a gig to offer me the advice of 'you should do a joke about how you do sit-down comedy!' They have been exclusively men.
Gig that taught me the biggest lesson
I can't remember the exact gig, but early on (I would say within the first 20 gigs) I was at an open mic and the way the gig was laid out meant that I couldn't get to the stage with my wheelchair, so I figured I would just go up without it as I can walk and can stand for 5 minutes. What I learnt that night, was not about how resilient I am, nor was it about how I was going to do everything I could for this to become my job, but instead how if you are going to talk about how you are in a wheelchair, you need to be in a wheelchair. Otherwise people get very confused.
• Aaron Simmonds is performing his show, Hot Wheels, at the Soho Theatre in London at 7pm on August 13 and 14. Tickets.
Published: 4 Aug 2021
What do you think?