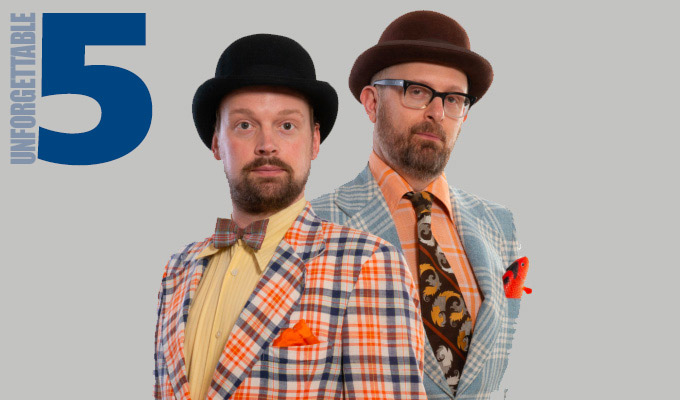 Whatever happened to the singing turnip?
First gig
Our first gig as The Establishment was at an alternative London comedy night called The Lost Cabaret; a weird and wonderful night of character and clown acts. 
To give you an idea, other acts on the bill that night included a man dressed as a rock eating Jelly Tots, followed by a singing turnip. So, the perfect environment for us to try something new. All we had were a couple of bowler hats, umbrellas and the phrase: 'I know where I'm going.'
Surprisingly it went OK and we've never looked back. Not sure if the rock guy is still going, but I hear the singing turnip just got through the first round of Britain's Got Talent. 
Worst gig
We used to perform as a trio called The Honky Bonk Comrades, a silent anarchic clown act. Not the ideal routine for a rowdy, Friday night, City-boy crowd… but that's what we were booked to do.
Each of us planned to come on about two minutes after each other. The audience just stared in disbelief. Last on was Dan, who conveniently decided not to join the others on this occasion and was later found looking sheepish at the bar. Neil and Ben were seriously pissed off. But Dan quickly diffused the situation with three pints and a round of shots.
Smallest gig
We got hired to play Latitude and were excited to perform at the prestigious festival. We turned up to find out we were performing in a tiny little shed, deep in the woods. There was barely enough room to swing a cat, so it was fortunate we'd left Tiddles at home. 
Most dangerous gig
This gig still haunts us. We had a major prop malfunction that led to an umbrella flying off its handle and hurtling through the air towards the audience.
In that moment, everything slowed down as the broken piece of metal hit an 80-year-old man. The room went silent, the most awkward moment imaginable. Thankfully he was OK.
There were around 150 people in the audience that night and naturally the prop honed in on the only pensioner present. 
Most unusual gig location
We once did a gig outside of a sauna at Glastonbury Festival.
People were hanging out (literally), cooling off between bouts of hot, sweaty sauna business and we were the entertainment. We entered the stage fully dressed, surrounded by naked bodies lying out in the midday sun. The biggest challenge was to know where to look, as a guy in the front row seemed oblivious as he played with his giblets.
• Dan Lees and Neil Frost perform as The Establishment in Le Bureau de Strange at Heroes @ The Hive at 20:40 daily. Details.
Published: 10 Aug 2019
What do you think?