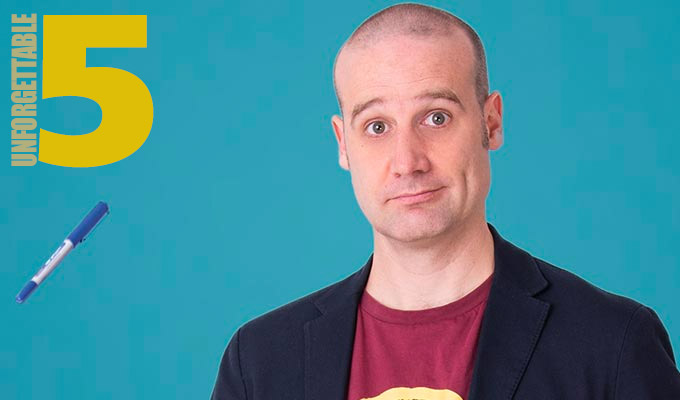 The hotdog got bigger billing than me!
Worst gig
It was a rugby club in Lincolnshire. You do the stand-up circuit for long enough and you'll eventually do one of these terrible gigs; some organisation has decided they want a comedy night but haven't thought it through.
We three acts and the compere drove together and pulled-up to see the poster out the front: 'Comedy tonight! Free hotdog!' The hotdog got bigger billing than any of us.
Inside it was like a bad wedding. Florescent lighting. A jukebox that randomly started playing during people's sets. The heckling was as tedious as it was tedious. It seems the only reason they had put the evening on was to prove they were funnier than professional comedians.
At least the shock and awe of me slamming into my maths+comedy schtick (with all the enthusiasm I could muster) caught them off guard. With the low-effort hecklers temporarily stunned, I gained enough momentum to make it through. And I spotted two people in the room who were really into it, having previously been having as little fun as I was.
Which is the perfect gig for me: most people are confused and a statistically insignificant handful of the audience are having the time of their life.
We didn't even get a free hotdog.
Best gig as a punter
The best gigs are ones which leave you crying with laughter, and they are rare enough that each one is a special moment. But that doesn't necessarily make them unique. Like the best gigs should be.
At the 2015 Edinburgh Festival Fringe I went to what might be the best gig I've ever seen. It was a duo called Foxdog Studios, who I had never heard of, doing a show in some derelict building which had been briefly uncondemned for human habitation to become a Fringe venue for the month. There were maybe ten of us in the audience, facing the most presentable wall in the room which now had a precarious digital projector pointed at it.
The show was a mixture of comedy, music and technology. Everyone's phones could interact with the show in a way that felt natural and not gimmicky. I can honestly say it is the best show about PAT testing I, or anyone, will ever see. It was during a game of 'guess what current-rated fuse is in the plug' that I knew I was watching something special.
So, yeah, I know the point of this is to plug my own show, but you should definitely go and see Foxdog Studios who are back for the 2019 Fringe (Heroes @ The Hive, 17:00).
Most on-brand gig
I was the after-dinner act at an actuarial conference. Not only is that my target demographic, but I was doing a double-act show with Timandra Harkness called Your Days Are Numbered: The Maths Of Death.
It's a cheery show we wrote for the 2010 Fringe and never has a show been more perfect for an audience than a comedy show about death stats for an audience of actuaries. A routine about how alcohol consumption affects all-cause mortality blew the doors off the room.
Best audience volunteer
This is a slight cheat because the audience member was pre-arranged.
On the Festival of the Spoken Nerd tour in 2017 I was doing a section where I calculated the mathematical constant π live on stage using an actual baked-good pie. It was all very funny. It involved suspending the pie from a piece of string a quarter the length of acceleration due to gravity and using the equation for the period of a pendulum to deduce pi. Classic comedy.
Each night I would bring an audience member up on stage to time the swinging of the pie. But when we were asked to do the routine at the Royal Albert Hall Space Shambles in 2018 they would not let me get someone out of the crowd. Instead they said I could use on of the hosts. Namely famous Canadian astronaut Chris Hadfield.
Which was all very exciting to start with. But in the key moment when the pie was swinging he appeared to be distracted. Normal volunteers would be nervous, and stay glued to the timer I had attached to a tripod. Not Chris. He was sauntering around the stage seemingly completely forgetting about the important task I had given him.
Then, in front of 5,000 people, when the pie was reaching the end of the swinging he nonchalantly reach across and casually stopped the timer. Of course! He's used to situations where if he doesn't push the right button at the right time: everybody dies. In this case if he gets it wrong, then what? We get a slightly less accurate measurement of a number we already know? In a stressful situation, astronauts are the best, and worst, people to have around.
First gig
It was an open-mic night upstairs at the Queen's Head near Piccadilly Circus. At the time I was a maths teacher and was doing an evening course in stand-up for the fun of it. The course was all well and good, but it was very safe and supportive. A bunch of us decided to see how hard it really was and so four of us signed up for the open-mic night. Only I showed up.
Undaunted, I put my name down. Because I had not brought any audience members with me, I was only given two minutes at the end of the evening, if time permitted. Those were the days where the more audience members you brought along, the more stage time you got. Like a test to see who had the most friends but was also the most willing to subject them to unspeakable horrors.
I did my two minutes at the end of the night. It was a routine about how grocery stores are not as logical as I'd like. And I loved it. Those two minutes are what convinced me to leave teaching and lead me to one day reach the dizzying career heights of playing a packed rugby club in Lincolnshire.
Matt Parker: Humble Pi is a t the Pleasance Dome at 20:20
Published: 1 Aug 2019
What do you think?