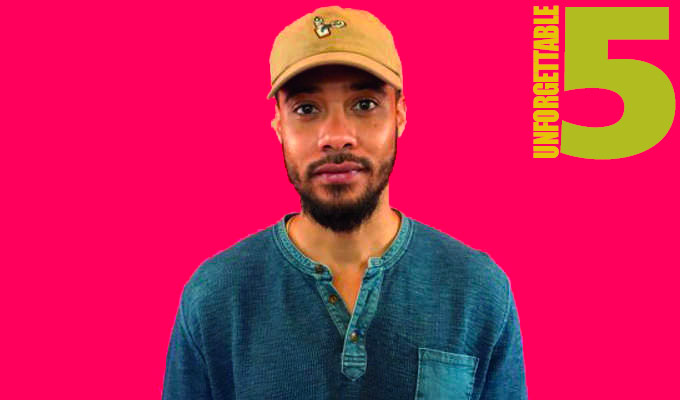 'Half the audience had either been punched in the face or opted to go home'
I've had some pretty amazing opportunities as a stand-up comic. I've performed in front of thousands of people in a packed arena. I've watched my jokes destroy on television. I've used the word pussy in front of countless children without any real repercussions.
This job is a dream but because, like many comics, my brain is broken, I mostly remember the bad parts. So here is a list (in no particular order) of some of the greatest misses, failures and nightmares I've experienced on stage.
If a boo falls in the forest
I started comedy in Chicago, Illinois, where I spent most of my first few months failing at open mics and then giving my mother drink tickets as rent.
One of the first real shows that I ever did was at a place called The Checkerboard Lounge on the South Side. To say that I was 'booked' for the gig would be a bit of a stretch. In truth, a guy who I used to bomb with knew a guy who ran an event, and he begged him for some stage time.
However, because my friend didn't have a car, he had to ask for a ride and a spot for me on the show as well. Driving an open-micer across town should've been enough evidence that this dream is stupid and I instead should focus on applying myself to my education; but, like I said, my brain is broken, so I was happy to be both opener and chauffeur to a guy whose best joke was a bit where he imagined Optimus Prime fucking.
When we got to The Checkerboard Lounge, I quickly discovered that the space, which seats about 250 only had 14 people in it. They were all scattered throughout the room, many as far from the stage as possible.
The largest group of five was there to celebrate the birthday of a rapper, who would be going on later in the show. He was wearing an all-white, oversized tuxedo, dark sunglasses and a glittered crown. To be clear, the crown wasn't real – he doesn't come from any royal bloodline, I'm sure of it.
Naturally, it was my job to go up first, since no one knew who the fuck I was (their words, not mine). I was supposed to go on stage without an intro, because again, no one knew who the fuck I was, and do five minutes. If it was going well, I was told I could stretch to six minutes. Spoiler alert: it did not go well.
In fact, it went so poorly that immediately after my first joke echoed through the jarringly empty space, a man at the back bar who was watching a Chicago Bulls game on the televisions (which were still on full volume by the way), yelled out without even turning to face the stage, "Boo! Nigga, Boooo!" I looked around at the other audience members who all seemed to be nodding in agreement, and then I decided to drive myself home alone and abandon that friendship forever, but not before I watched the rapper do a 30-minute set where he took off almost every article of clothing except for his crown.
Catholic school reject
College gigs are notoriously awful. The towns are hard to get to, the students are self-conscious, the stage is a lofted dorm bed. It's all pretty garbage.
One of the worst college gigs I did early in my career was at a very strict Catholic college in Pennsylvania. My former college agent booked it for me because the money was good and she didn't respect my art.
My job was to host a talent show for the students. I was meant to do 15 minutes of clean material up-front and then bring up the student acts for another three to four hours. Obviously, based on my writing, you can tell I love talking about clits and shit, so this wasn't the ideal gig for me. Still, I prepared all week and worked out a set that wouldn't offend the Pope or any of his bitches.
I opened the show as asked and I did 15 minutes of solid, clean material. The night was going exactly as planned. However, half way through the show, a student who was doing PowerPoint Magic (I don't know either) ran into some technical difficulties, and after more than three minutes of strange power outages in front of a quickly fading audience, I took it upon myself to run back out and distract them while the staff worked out the kinks.
Now, at this point, I only had about 35 minutes of material in total. And I only had about one joke left that anyone would qualify as clean, so when I found myself 10 minutes in and the issue was still not resolved, I was forced to go into my trusty filth database. I ended up having to do another 25 minutes on stage while they worked through the technical failures.
Obviously, with that much time I had to do every penis joke I had ever written down, and surprisingly the jokes went over really well. The students loved it and I was a perfect distraction, saving what could have been a major disaster. That night, I left believing myself to be the greatest hero that college had ever known.
And then the next day I got a call from my agent saying that they were docking my pay and I would not be welcomed back to perform because I used too much profanity. And no, they did not mention that I was a hero at all.
Strong Beach
About nine months back, I had to do a show at a club in Long Beach, California. I won't write the name of the club because they still book me, but I'll happily tell anyone who asks in person because they don't book me that often.
It was a normal Wednesday and the room was about half-full, which isn't too bad for a weeknight. I was set to go on third. From the start of the show a woman in the front row was drunkenly heckling every single comic. Mostly just blurting out during set-ups and making every story about her. Nothing any veteran comic isn't used to, although she was especially obnoxious.
Her boyfriend who was with her did not say a word the entire show. He didn't say anything to the stage and he didn't say anything to her. He just sat there and left her yelling in her drunken stupor. However, when the comic before me called him out for allowing her to continue upending the show, the boyfriend did not take that very well.
He immediately charged the stage and threatened to fight the dude with the microphone. To their credit, security immediately jumped in. To their detriment, the guy who charged the stage started beating the shit out of the security guards. He's punching them, he's choking them out, he's making it very clear that they need a few more training courses.
It took three of them to finally wrestle the giant man towards the exit, and just as they seemed to have gotten him under control, one of the audience members, a small white guy, on the other side of the room yelled out 'GET OUT AND KEEP YOUR ASS OUT!'
And like Popeye freebasing spinach, the man discovered a brand new strength, threw the security guys off of him and rushed the now flailing audience member. He proceeded to beat the shit out of that audience member and three others until eventually they all teamed up Avengers style and dragged him towards the door where he was met by the police.
When the dust had settled, there was shattered glass, broken furniture and half the audience had either been punched in the face or opted to go home. The entire place was a shell of what it once was, and we all knew there was no chance of returning the show to normal.
Anyway, I was told I had to go up immediately after and do 20 minutes; and yes, if you were wondering, the police did decide to gather evidence in the room while I was on stage.
Everything's lonelier in Edinburg, Texas
Did I mention that college gigs are bad? Because they absolutely are. A few months ago I did a gig in a place called Edinburg, Texas, which I absolutely won't ever confuse with Edinburgh, Scotland because one of them has way more Mexicans.
Because college gigs are often run by students, they rarely come with any real sense of management. It's usually just some 19-year-old figuring out how to turn the lights on in the room and hold eye contact for the first time.
This particular show was booked during the finals week of the college, so absolutely no students were expected to show up (which they knew well before I got there). The show ended up having eight attendees including the tech people in a 400-seat theatre.
Still, because they thought I'm famous (again they're stupid), the student in charge hired a police escort to walk me safely to and from the venue. However, because the school was as poorly designed as it sounds, there was no back entrance to the green room. So instead, in order to get to the back, I was forced to walk through the audience of eight people already in their seats with a fully armed cop on my shoulder.
And I had to face the reality that every single person in that audience probably thought that it was my idea to hire the police escort in the first place.
Bombing in IMAX
Every once in a while, we as comics come across people who happen to own comedy clubs and who also happen to do a shit ton of cocaine.
These cocaine sommeliers have a special ability to make comedy much worse by putting a lot of money behind their very cocained ideas. One such comedy club located in a movie theatre in Warwick, Rhode Island is a perfect example of exactly that.
To be clear, to call it a comedy club suggests that something was built or installed or even changed in the slightest from its original movie theatre form. This was not the case. They mostly just decided to start doing comedy in one of the empty theatres and hoped that no one noticed this room was identical to where they first got fingered in public.
It is also worth noting that in their more than five years of existence they were never able to sell enough tickets to fill the entire theatre space. Instead, the club could only fill those sad front rows that no one likes because you have to Look Up and hurt your neck when you're trying to watch Jeepers Creepers 2.
And as you may expect, just like Jeepers Creepers 2, I had a very rough opening weekend in that place, and I was not asked to come back. And sure, they were kind enough to offer me free movie passes (before 3pm) to make up for the offensively poor pay, but none of it could truly ease the pain of eating a dick on stage while the smell of popcorn wafts through a cavernous room.
Langston Kerman's Loose Cannon is at Underbelly Bristo Square at 19:45 from August 1.
Published: 28 Jul 2019
What do you think?