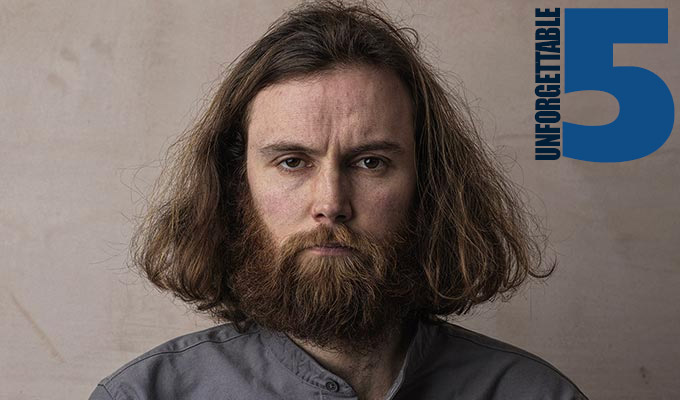 'I don't think the heckle was meant as a compliment... but I took it as one'
Worst gig
At the time of writing the worst and most infuriating gig I can remember was at a freshers' welcoming event at Imperial College London. It was the first night of Freshers Week and I was booked to go on after a band to do a 15 minute set at 9pm.
It would be fair to say very few people were facing the stage that I was on, apart from one young chap who had been standing against the railing watching. About five minutes in he shouted: 'Nobody's listening to you, look at the crowd, nobody is watching. Why are you doing this? We'll buy you a pint if you shut up.'
That got under my skin, yep.
Strangest audience member
There was a guy in a show once who slowly nodded his head at the bits of my set he liked and shook his head at bits he didn't like. Same expression on his face, just nodding and shaking his head.
It was unnerving as his eyes were locked on me and he wasn't blinking too much. I'd have stopped doing gigs ages ago if all audience members were like that.
Best heckler
I remember a woman at a tough gig in Turnham Green shouting 'You're the only one in here who has a clue what you're going on about.'
People laughed at that heckle a lot. I don't think it was meant as a compliment but I took it as one.
Sometimes I look back at gigs and think: 'Ah yeah, that was poor material you shouldn't have said that to anyone' but in that instance I was comfortable with what I was trying to get across but hadn't quite found a way to throw it to the audience for them to catch.
The gig that taught me the biggest lesson
Upstairs at the Arts Café in Southampton in 2013. I was doing my first hour-long show. It was about the colour yellow and was called The Yellow Show.
It was my first time performing in Southampton and it was one of those nights where the people in the audience had energy. I was saying things about the colour yellow and they were responding in the way I wanted them to. Everyone seemed to be on the same page apart from one man who was sitting in the middle of the front row.
I would call his expression 'fixed' but it wasn't 'fixed' it was different to that somehow. There wasn't the determination there of someone who has a fixed expression. No matter how much people around him were enjoying it, his face seemed to be twice as close to me as everyone else's on the front row.
After the show he waited until most of the audience had left and approached me. Sometimes when I do gigs it hits me just how exposed performers are to people in the audience. This guy could do anything, I had just put him through an hour of something. He had the same expression as before and said: 'Thanks so much for that Rob, it was exactly what I needed. I've had an awful day today and am going through some stuff and I just wanted to say thanks."'
From then on I have never second-guessed a person's face in my shows. Unfortunately people's thinking faces are the same as their 'I'd rather be anywhere but here' faces.
It also made me change how I act as an audience member. My watching and listening face is quite severe so if I am sitting near the front I try to make sure I have a supportive and encouraging look on my face.
Least welcome post-show comment
'Your flies are undone,' never fails to make me shut my eyes but the post-show comment that stuck with me most was from someone who came up to me after doing five minutes open mic at the Poetry Café in Covent Garden when I had just started doing gigs.
She said: 'You should just do funny stuff, why do you want to talk about serious stuff? Your funny stuff is much better than your serious stuff.'
I couldn't stop thinking about it for ages. I had given up a job and had been skint for ages to try to create a space for myself without a boss telling me what to do and suddenly someone was taking it upon themselves to guide me. Budum tssshh.
• Rob Auton's The Time Show is at Assembly George Square at 2.50pm from August 31.
Published: 24 Jul 2019
What do you think?